Now That's How You Make $43.3 Million on Custom-Installed Technology
CE Pro 100 integrator Just One Touch / Video & Audio Center earns 45% of total revenues from custom installation by incorporating home automation into every part of the retailer's new high-end L.A. mall location.
Jason Knott
·
June 27, 2018
Los Angeles-area integrator Just One Touch - Video & Audio Center might have built the magic formula for incorporating custom installation services into a retail location. The Santa Monica, Calif.-based company, which has multiple retail locations across Southern California, has just opened its new "technology showcase" location in the upscale Westfield Century City mall adjacent to Beverly Hills and other affluent areas.
The Video & Audio Center location has the fingerprints of the company's custom installation division (Just One Touch) in multiple ways.
Boxed Displays Strategically Placed in Store
The cornerstones of the space are three store-within-a-store set-ups featuring the tree top TV brands -- LG, Sony and Samsung.
"These are high-touch areas and we have knowledgeable salespeople who can help," says owner Joseph Akhtarzad.
For each TV brand there is a dedicated vignette with an array of their impressive displays, but the most striking area is a giant LG Electronics "display tree" that stretches high to the ceiling.
"I wanted to use the vertical space of the store," says Akhtarzad, who personally designed the giant circular LG display tree, as well as the layout of the location.
Akhtarzad also incorporates a subtle but effective display technique into each flat panel area. Sony, LG and Samsung TV boxes sit openly in the store in each vignette, right at the feet of the wall-mounted TVs. At first blush, it seems contrary to see shipping boxes sitting out on a retail floor.
"We discovered that displaying boxed units openly in the store subconsciously lets customers know that the TVs are available for immediate installation," says Akhtarzad. "It shows them that we are ready to bring it to their home and install it without having to retrieve anything from a remote warehouse somewhere."
Dedicated Custom Installation Area Next to Appliances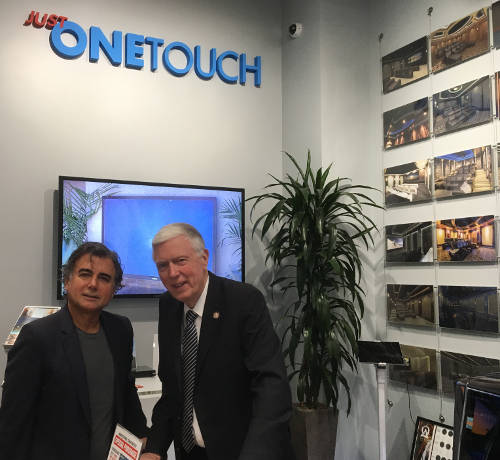 There is one vignette solely dedicated to the company's custom installation division, Just One Touch. The area includes multiple images of finished projects, including lavish home theaters, multipurpose rooms, outdoor areas and more.
The Just One Touch space is also situated adjacent to the company's new appliance area, featuring Samsung and LG.
"The reason we got into appliances is because they are very smart today. They need to be integrated with every Just One Touch home," says Akhtarzad.
Platinum Membership Club with $150 Home Site Survey
Video & Audio Center has developed a special membership program aimed at enabling custom installation more easily.
"We have created a platinum black card membership program that enables customers holding a membership card to waive the $150 fee for a home site survey," says Akhtarzad.
Members also receive same-day delivery and set-up service, special invitations to Video & Audio Center's private technology showcase events, and special product pricing in some cases.
Dedicated Vignettes for Niche Custom Products
Not only does Video & Audio Center showcase well-known mass-market brands like Ring, AudioQuest, Google Home and Nest, but the company made an extra effort to show off many of the niche custom installation brands it carries.
Visitors can find specialty brands like SunBriteTV outdoor televisions, Origin Acoustics speakers and audio systems, Screen Innovations video projection screens, IC Realtime surveillance systems, and BDI furniture.
"We have become a technology destination point."
— Tom Campbell, Just One Touch/Video & Audio Center
"We have become a technology destination point," says Tom Campbell, corporate director/chief technologist at Just One Touch/Video & Audio Center. "This is a 'technology showcase.' It is not a retail store."
He adds that shoppers are "just mesmerized" by the technology and they "want it now."
The retailer has Just One Touch representatives at each location, "so customers can talk to someone who really knows integration, installation and custom design," Campbell says.
The custom installation formula appears to be working well for the company, which is No. 6 on the CE Pro 100 list of highest-revenue home-technology integrators. In 2017, $43.3 million of its total $96.3 million in revenue was attributed to custom installation.
---
7 Clever Ways to Hide Home Technology - CE Pro Download
Most technology products are not that visually appealing. Black boxes and tangled wires do not add to the character of a high-end smart home project. Luckily, our integrator readers have a number of clever solutions so these components don't have to be visible in your next project.
---
About the Author
---
Jason has covered low-voltage electronics as an editor since 1990. He joined EH Publishing in 2000, and before that served as publisher and editor of Security Sales, a leading magazine for the security industry. He served as chairman of the Security Industry Association's Education Committee from 2000-2004 and sat on the board of that association from 1998-2002. He is also a former board member of the Alarm Industry Research and Educational Foundation. He is currently a member of the CEDIA Education Action Team for Electronic Systems Business. Jason graduated from the University of Southern California. Have a suggestion or a topic you want to read more about? Email Jason at jknott@ehpub.com
Follow Jason on social media:

Jason also participates in these groups:
LinkedIn · Google+
Business
Are Integrators Ready to be 'Energy Automation Contractors'?
AV Job Finder Facebook Group Makes Posting & Finding Jobs Easier Than Ever
People & Places: Seura Names Vintzel; CTA Hall of Fame; New DSA Members; WiSA adds Members
ProjX360 Releases QuickBooks Integration, Previews Inventory Management Software
7 Evolving Trends for Upscale Brands in 2019: Luxury Institute Report
View more on Business
Take Our Latest Quizzes
How Well Do You Understand Ethernet Cables and Connectors?
Quiz: Is Your Company Performance Above or Below Average?
How Much Do You Know About Cell Phone Signal Boosters?
How Efficient Is Your Service Department? Take the Quiz
5G and the Need for Cellphone Signal Boosters—Do You Know Enough?