Samsung Galaxy Home Smart Speaker Unveiled; Powered by Harman
Samsung Galaxy Home smart speaker will support Bixby voice control and is power by Harman AKG with six drivers, eight microphones and a subwoofer.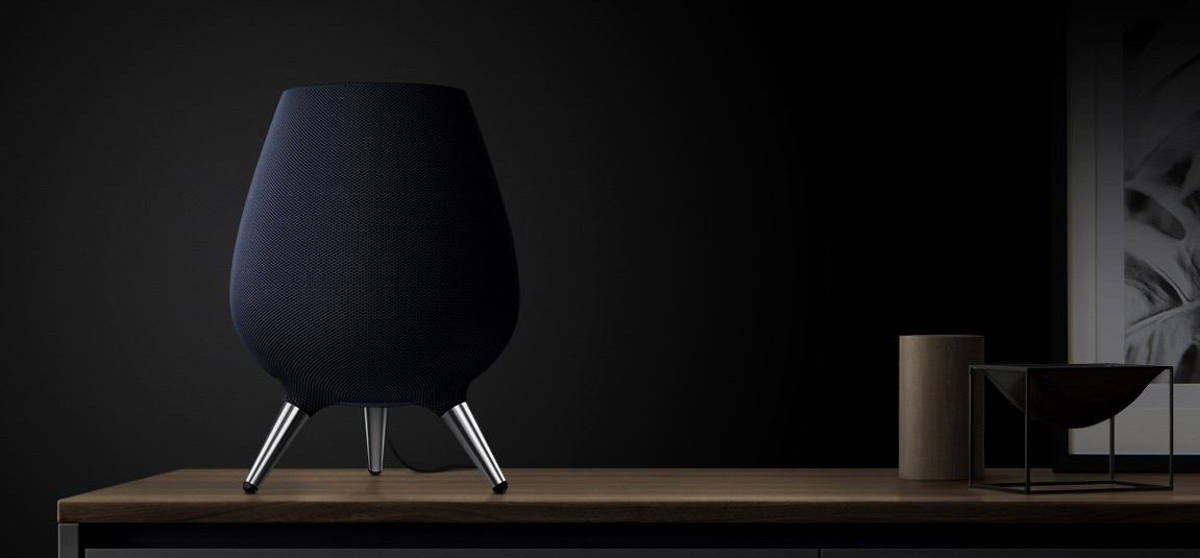 Jason Knott
·
August 10, 2018
Samsung is finally coming to the smart speaker market with its newly unveiled Galaxy Home, a Bixby-supported smart speaker voice control product power by Harman AKG technology.
The Galaxy Home sports a totally different look from any other smart speaker on the market when compared to Amazon Alexa, Google Assistant and Apple HomePod. The larger unit sits on a three-legged tripod and kind of looks like an urn or a vase, but is covered in black cloth.
It has a subwoofer, six drivers encircling the unit and eight microphones to pick up voice commands for Bixby. The unit incorporates what Samsung calls SoundSteer technology which allows Bixby to direct the sound towards the open part of the room versus against the wall, if the unit is placed near a wall.
Related: Sony, Samsung, LG Remain Top TVs in Smart-Home Channel - CE Pro 100 Brand Analysis
The unveiling took place at Samsung's "Galaxy Unpacked" event which was primarily focused on the new Galaxy Note 9 smartphone.
"Just say, 'Hi Bixby. SoundSteer' and the music is directed right at you."
A Samsung executive noted: "With Harman's Natural Sound Processing, you get a realistic surround sound experience that feels like you are right in the middle of a live concert. It detects your location and optimizes the sound based on where you are in the room. Just say, 'Hi Bixby. SoundSteer' and the music is directed right at you."
Samsung is also partnered with Spotify and will have "deeply integrated Spotify experiences on Samsung devices" according to Spotify. The Galaxy Home will permit users to switch between devices, such as the Galaxy Home and a Samsung TV, or another Galaxy Home.
There is no word if a companion smaller footprint device is in the works. Full specs and pricing are not yet available.
---
We're Looking for Your BEST Projects
Don't miss your chance to enter to win a 2019 BEST Projects Award. We'll be announcing winners at a special Gala event at CEDIA EXPO. We can't wait to see what you've been up to this year! Enter your projects now.
---
About the Author
---
Jason Knott is Chief Content Officer for Emerald Expositions Connected Brands. Jason has covered low-voltage electronics as an editor since 1990, serving as editor and publisher of Security Sales & Integration. He joined CE Pro in 2000 and serves as Editor-in-Chief of that brand. He served as chairman of the Security Industry Association's Education Committee from 2000-2004 and sat on the board of that association from 1998-2002. He is also a former board member of the Alarm Industry Research and Educational Foundation. He has been a member of the CEDIA Business Working Group since 2010. Jason graduated from the University of Southern California. Have a suggestion or a topic you want to read more about? Email Jason at jason.knott@emeraldexpo.com
Follow Jason on social media:

Jason also participates in these groups:
LinkedIn · Google+