Outdoor Technology Projects: Prices Grow 40 Percent in 2017
CE Pro's second Outdoor Technology Study reveals reasons for integrators to be optimistic: 44% growth in outdoor installations in 2017 and 40% average price increase.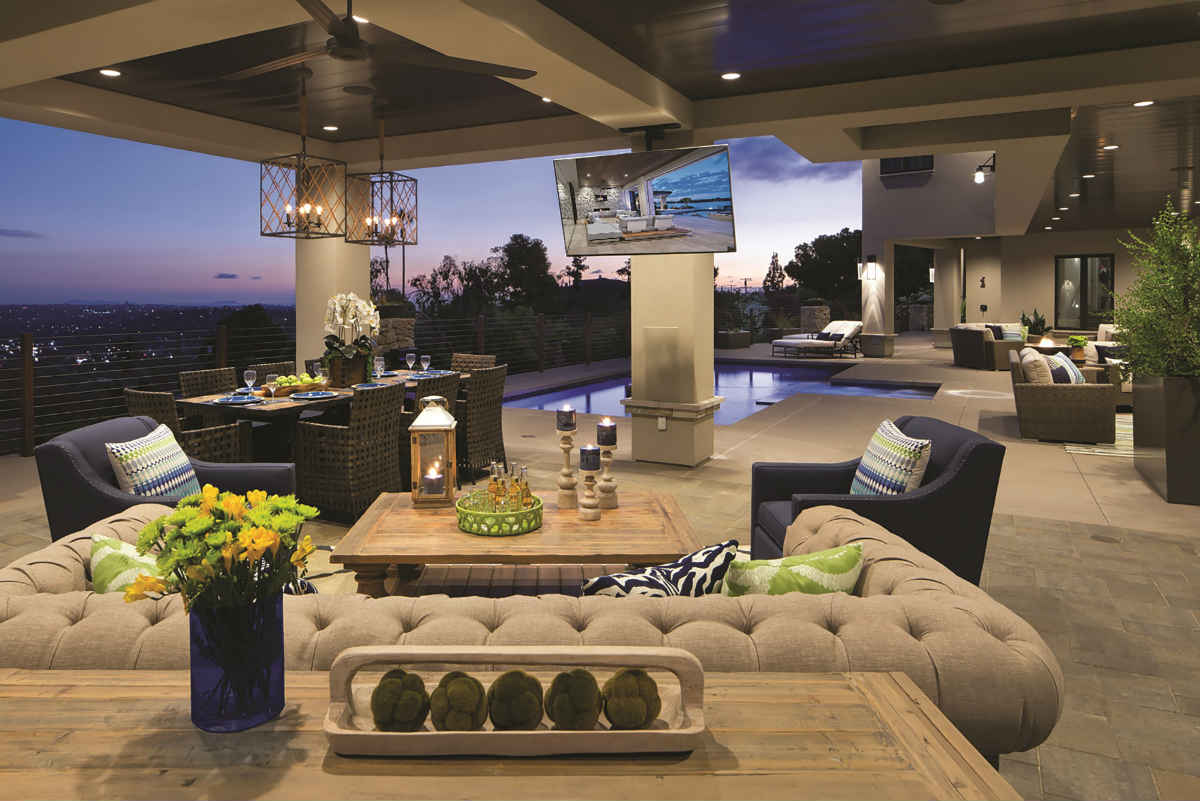 Jason Knott
·
April 23, 2018
Do we dare say global warming might be "good" for custom integrators? For dealers engaged in the installation of outdoor technology, if the weather is more mild, more clients are apt to spend time outside enjoying the outdoor TVs, audio systems, wireless networks and more.
Of course, climate change is not a laughing matter, but "whether the weather" had an effect or not, the outdoor installation market showed significant strength in 2017 and does not show any signs of slowing down. According to the second annual CE Pro Outdoor Technology Study, the average number of outdoor installations and average per installation both grew decidedly in 2017.
And outdoor installations are not just for warm-weather integrators anymore — in fact, customers in northern climates were clamoring to use their outdoor spaces as the highest average number of outdoor projects in 2017 (and the highest average price point) was among New England integrators, while Canadian dealers did very well too.
Also, there appears to be a direct correlation between the amount of outdoor business and the size of company. Smaller integration companies are able to perform fewer exterior installations.
The CE Pro Outdoor Technology Study was conducted in February 2018 and received 204 responses.

According to our 2017 data, the rate at which integrators are installing outdoor A/V systems is increasing by comparison to previous years.
Key Highlights of the CE Pro Outdoor Technology Study:
The median custom installation company performed 13 outdoor installations in 2017, up from nine in 2016. That represents a 44 percent increase year over year.
The median cost for an outdoor project in 2017 was $9,721, up from $6,920 the year before. That represents a 40 percent increase year over year.
An amazing 96 percent of integrators reported their outdoor installation business either grew or stayed the same in 2017. Of those, nearly half of integrators (46 percent) reported their outdoor installations grew last year, with 50 percent noting the number of outdoor projects stayed the same. Only 4 percent indicated a decline in 2017.
Exterior surveillance cameras continues to be the most-frequently installed outdoor technology, with 94 percent of integrators indicating they installed exterior security systems last year.
Outdoor security cameras were the No. 1 product installed in 2017, followed by under-eave audio loudspeakers, flat-panel TVs and mounts, outdoor wireless networking access points, and staked landscape satellite speakers rounding out the top five.
The hottest region for outdoor technology installations in 2017 was New England, where integrators installed an average of 16 outdoor projects in 2017 at an average cost of $13,200.
North-of-the-border Canadian integrators also saw solid business in outdoor installations with the typical Canadian dealer installing 11 projects at a price point of $13,136.
Burying cable is the biggest challenge integrators report facing in their outdoor installation projects, especially on retrofit projects where technicians might have to work around pre-existing patios, pathways or landscapes.
Roughly three out of every five outdoor installations (62 percent) are extended zones added to an interior audio, video or networking installation.
To see the rest of the charts and graphs, take a look in the slideshow section of the article!
To download the full 2018 "Outdoor Technology Special Report" featuring exclusive research, products, and projects, click here!
About the Author
---
Jason has covered low-voltage electronics as an editor since 1990. He joined EH Publishing in 2000, and before that served as publisher and editor of Security Sales, a leading magazine for the security industry. He served as chairman of the Security Industry Association's Education Committee from 2000-2004 and sat on the board of that association from 1998-2002. He is also a former board member of the Alarm Industry Research and Educational Foundation. He is currently a member of the CEDIA Education Action Team for Electronic Systems Business. Jason graduated from the University of Southern California. Have a suggestion or a topic you want to read more about? Email Jason at jknott@ehpub.com
Follow Jason on social media:

Jason also participates in these groups:
LinkedIn · Google+
Audio/Video
Product Briefs: Centralite Alexa Certified; Simpfony adds AirPlay; Legrand and Lumileds Partner
Limited Edition Pro-Ject Turntable Celebrates Beatles White Album 50th Anniversary
Review: Bowers & Wilkins 600 Series Offers Impressive Immersion at Affordable Price Point
Tech Opportunities in Senior Living: Tech Spaces, Man Caves, Game Rooms
Amazon Fixes Big Alexa Problem in Whole-House Audio
View more on Audio/Video
Take Our Latest Quizzes
How Well Do You Understand Ethernet Cables and Connectors?
Quiz: Is Your Company Performance Above or Below Average?
How Much Do You Know About Cell Phone Signal Boosters?
How Efficient Is Your Service Department? Take the Quiz
5G and the Need for Cellphone Signal Boosters—Do You Know Enough?