Why You Might Thank Metallica for Your Next Trained Technician
Iconic heavy-metal band Metallica donates $1M to fund workforce education initiatives for technical education in 10 local community colleges.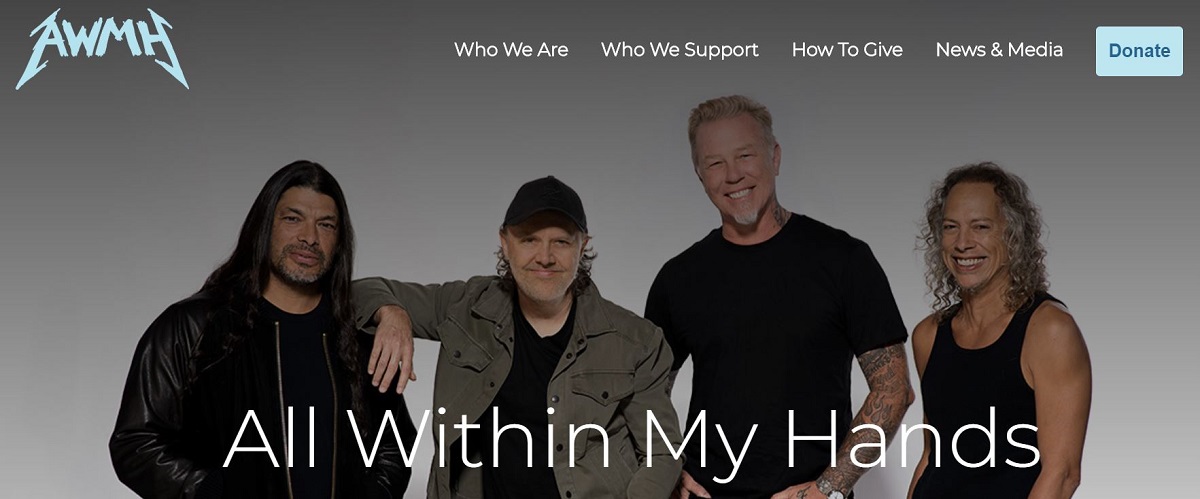 Jason Knott
·
February 1, 2019
It's "Sad But True" that the lack of new qualified technicians is holding back the custom electronics industry from growing. And for many integration companies, "Nothing Else Matters" than finding more skilled technicians. And the next generation of technicians might be coming from the unlikeliest of all sources: heavy metal legends Metallica.
In December 2018, Metallica announced a $1 million donation via its "All Within My Hands" (AWMH) non-profit foundation for a workforce education initiative that provides direct support to community colleges to enhance their career and technical education programs.
The band has chosen 10 community colleges from across the nation and donated $100,000 to each, hoping to train 1,000 students in technical trades. Those graduating students will be the first group of "Metallica Scholars."
Partnering with the American Association of Community Colleges (AACC), a Washington, D.C.-based organization that represents the nation's 1,103 community colleges, the Metallica Scholars awards are selected via a competitive application process and are designed to provide support of relevant job skill training for community college students, reinvest in communities that supported Metallica during its recent United States tours, and leverage the influence of Metallica to elevate the importance of career and technical education.
Metallica All Within My Hands Foundation
"The All Within My Hands Foundation and Metallica are proud to announce this major new initiative," says Dr. Edward Frank, executive director of AWMH. "While the foundation continues our support for the fight against hunger and emergency community aid, we are now expanding our mission to include support for career and technical education.
"The goal of our Metallica Scholars Initiative is to improve career opportunities for community college students in the trades. Equally, we hope to raise the awareness of the tremendous importance, value and impact of the education provided by our nation's community college system. The foundation and the band are thrilled by the quality of proposals we received from these colleges, and are excited to do our part to help educate students so that they have the skills and training necessary to find meaningful and well-paying jobs in their communities."
We want to share our success with others so that they can find a job where they can do the same."
— Lars Ulrich, Metallica
AWMH will work closely with AACC to implement and manage the program. "We welcome Metallica as a partner in the career and technical education work of the nation's community colleges," says Walter G. Bumphus. Ph.D., AACC's president and CEO.
"Colleges across the country provide pathways to well-paying jobs through programs, services and training that lead to in-demand skills, certificates and degrees for students. These programs are responsive to the needs of local businesses and provide a pipeline of qualified workers to local industry. It's a win-win for our students and the local economy.
"For Metallica to see the benefit of these programs and invest in the communities that have supported them is a testament to the power of education and we are proud to do this work with them," Bumphus says.
In addressing why the foundation chose workforce education as part of its mission, Lars Ulrich, Metallica's drummer and co-founder said, "All of us in the band feel fortunate that music has provided us the opportunity to be successful doing something we are passionate about. We want to share our success with others so that they can find a job where they can do the same."
The recipient colleges are all AACC members and based in and around stops on Metallica's 2017-2019 WorldWired Tour. The 10 sites are:
Central Piedmont Community College, Charlotte, North Carolina
Clackamas Community College, Oregon City, Oregon
College of Lake County, Grayslake, Illinois
Community College of Baltimore County, Baltimore, Maryland
Gateway Technical College, Kenosha, Wisconsin
Grand Rapids Community College, Grand Rapids, Michigan
Lone Star College, The Woodlands, Texas
North Idaho College, Coeur d'Alene, Idaho
Spokane Community College, Spokane, Washington
Wichita State University Campus of Applied Sciences and Technology, Wichita, Kansas
At least one of the schools, Gateway Technical College, has already announced the funds will be used specifically for its electronics training program.
The AWMH Foundation was established in 2017 by Metallica as a means to invest in the people and places that have supported the band. It also provides a mechanism for Metallica's fans to become engaged in philanthropy and volunteerism.
The foundation is focused on supporting sustainable communities through workforce education (in addition to combatting hunger through an alliance with Feeding America), and is fully supported by the band, the AWMH board, and by fans.
All expenses of the foundation are covered by the band, the board, and a few special friends so that 100% of donations go to the organizations it supports. AWMH is a registered 501(c)3 non-profit organization.
---
2019 State of the Industry Special Report - CE Pro Download
The custom electronics industry saw a healthy 8 percent growth rate in 2018, down slightly from the blazing 11 percent growth in 2017 but still admiringly strong. Our 2019 State of the Industry indicates that readers expect to see even more growth in 2019. Get your copy today.
---
About the Author
---
Jason has covered low-voltage electronics as an editor since 1990. He joined EH Publishing in 2000, and before that served as publisher and editor of Security Sales, a leading magazine for the security industry. He served as chairman of the Security Industry Association's Education Committee from 2000-2004 and sat on the board of that association from 1998-2002. He is also a former board member of the Alarm Industry Research and Educational Foundation. He is currently a member of the CEDIA Education Action Team for Electronic Systems Business. Jason graduated from the University of Southern California. Have a suggestion or a topic you want to read more about? Email Jason at jknott@ehpub.com
Follow Jason on social media:

Jason also participates in these groups:
LinkedIn · Google+
Business
People & Places: AWA adds Spolar; James Rep of the Year; Park West Hires Demple
Focal, Naim Parent Company Acquires Audio Plus Services & Plurison
Dirac Research Closes $13.2M Round of Financing
CEDIA Releases 2019 Boot Camp Schedule
Amazon to Acquire eero Network Routers
View more on Business
Take Our Latest Quiz
How Well Do You Understand Ethernet Cables and Connectors?
Bose