JL Audio Adds New LED Speakers to its Marine Lineup
M3 Series marine speakers from JL Audio designed to match nearly all boat styles, colored LED lighting is optional.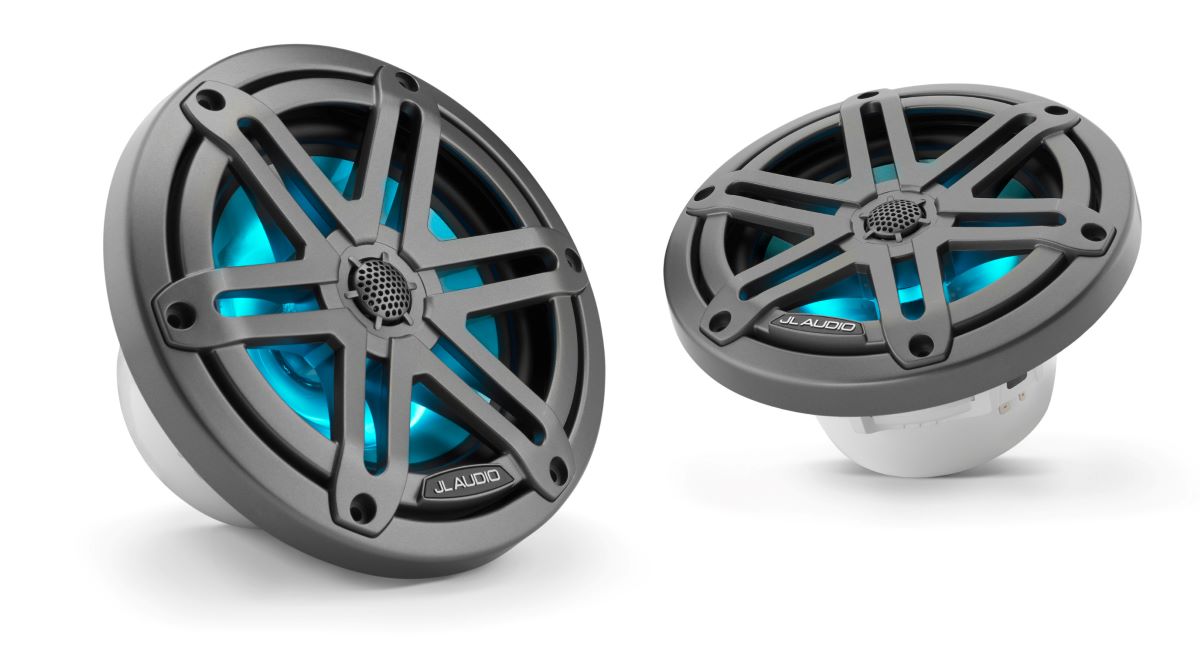 Lisa Montgomery
·
June 11, 2019
Summer is hitting its stride and owners of boats are beginning to spruce up their vessels. It's a good time to promote marine-grade speakers. JL Audio added a new line of marine loudspeakers and subwoofers to its portfolio, the M3 Series. In addition to sounding good, the speakers also look good, with the option to add RGB illumination to them.
According to a statement by JL Audio, the M3 Series is suitable for all types of boats from runabouts, luxury yachts and pontoons to center consoles and towboats.
Two grille designs are available: Classic, which features a gloss white slat grille, and Sport, which features a split-spoke grille design.
The Sport version is available in gloss white or a gunmetal finish. For an extra visual punch, the Sport speakers can be ordered with built-in LED RGB illumination. Users can select from a limitless palette of colors with the speakers are paired with an RGB controller.
JL also offers the Model MLC-RW RGB controller, which features a rotary knob for adjusting the speakers' illumination color and intensity.
Related: JL Audio Now Shipping 8-inch Fathom IWS and ICS Architectural Subwoofers
"Earlier this year we unveiled our incredible new M6 speakers and subwoofers to the marine industry. We are continuing our momentum in this category with the introduction of M3, a more affordable speaker line that still maintains JL Audio's high standards for audio quality and durability," says Andy Oxenhorn, President of JL Audio.
"These two key product line introductions will form the foundation for JL Audio's marine audio business for several years to come."
JL Audio Marine Loudspeaker Options
Models in the M3 Coaxial Series include:
M3-650X: 6.5-inch marine coaxial system with 0.75-inch (19 mm) silk dome tweeters, optional LED RGB illumination, 60W, 4 ohms; $229.99 - $299.99
M3-770X: 7.7-inch marine coaxial system with 0.75-inch (19 mm) silk dome tweeters, optional LED RGB illumination, 70W, 4 ohms; $299.99 - $369.99
M3 Subwoofer Drivers
M3-10IB: 10-inch infinite baffle marine subwoofer, optional LED RGB illumination, 175W, 4 ohms; $229.99 - $269.99
M3 Enclosed Speakers
M3-770ETXv3: 7.7-inch enclosed marine tower coaxial system, optional LED RGB illumination, 70W, 4 ohms; $679.99 - $779.99
ETXv3-CVR: Gray neoprene, zippered cover protects ETXv3 systems during storage and trailering
---
Secure Your Free Pass to CEDIA EXPO 2019
Register before Sept. 2 to gain free access to the opening keynote, product training & education series as well as the show floor including Innovation Alley and much more. Don't miss your chance. Sign up today.
---
About the Author
---
Lisa Montgomery has been a member of the CE Pro and Electronic House editorial teams for nearly 20 years; most of that time as the Editor of Electronic House. With a knack for explaining complex high-tech topics in terms that average consumers can understand, her style of writing resonates with people who are interested in adding electronic systems to their homes, but are unsure of the steps involved and the solutions available. From basic lighting control systems to full-blown automation systems, Lisa understands the home electronics market well, and is able to point consumers in the right direction on their quest for a smarter, more convenient, efficient and enjoyable home. Over the years, she has developed close relationships with key manufacturers and seasoned custom electronics professionals, giving her a keen sense of what home technologies are hot now and what is on the horizon. She shares this wisdom regularly through feature stories, product roundups, case studies technology spotlights and comprehensive guides and books. Have a suggestion or a topic you want to read more about? Email Lisa at lisa.montgomery@emeraldexpo.com
Follow Lisa on social media:

Lisa also participates in these groups:
LinkedIn · Google+