Ever since the flat-screen TV first became available, AV enthusiasts have been hanging TVs with such aplomb you'd think it was going out of style. However, that's far from the truth, as TV mounts are still the bread and butter of any major integration practice.
It's almost to the point where it doesn't even need to be mentioned in the advertising. If you were to ask any integrator if they could mount a flat screen TV to a wall, they'd probably look at you and say: "Oh that? Yeah. Of course, we do that."
But TV mounts have certainly changed over the years, moving from simple, fixed pieces of hardware to fully articulating, motorized systems that can hide in the wall, the ceiling, or even other pieces of furniture. In turn, where homeowners like to see their TVs mounted has changed alongside the technology.
That's not even considering the emergence of projectors, screens and outdoor-rated TVs, which have opened entirely new realms of possibilities to AV systems.
Part of the reason why is that there's no denying how much space wall-mounting a TV saves. Likewise, as design tastes have leaned more into minimal, modern aesthetics, the clean lines and portrait-like appearance of a wall mounted flat screen is simply too good to pass up for clients.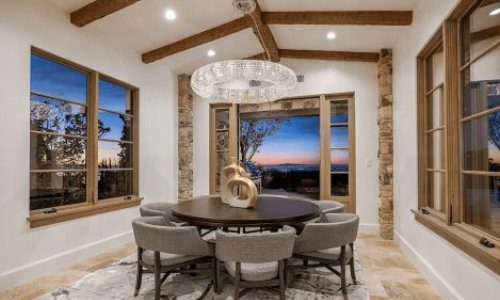 As a custom integrator, lighting is in demand. Effective communication, education and showcasing the value proposition of LED light fixtures in conjunction with integrative control systems are the keys to overcoming challenges and closing sales in this specialized market. Join us as we discuss the future of digital lighting and control with David Warfel from Light Can Help You and Patrick Laidlaw and Mark Moody from AiSPIRE.
Register Now! 
From flush wall mounts over massive fireplaces to TVs that rise on lifts out of luxurious beds, we're digging through the CE Pro project archives to find the projects that highlight one of the staples of the industry: the humble, yet versatile TV mount.
If you're interested in looking at any more projects from the CE Pro Project Archives, be sure to check out our other articles covering challenging AV installations or themed home theaters.
---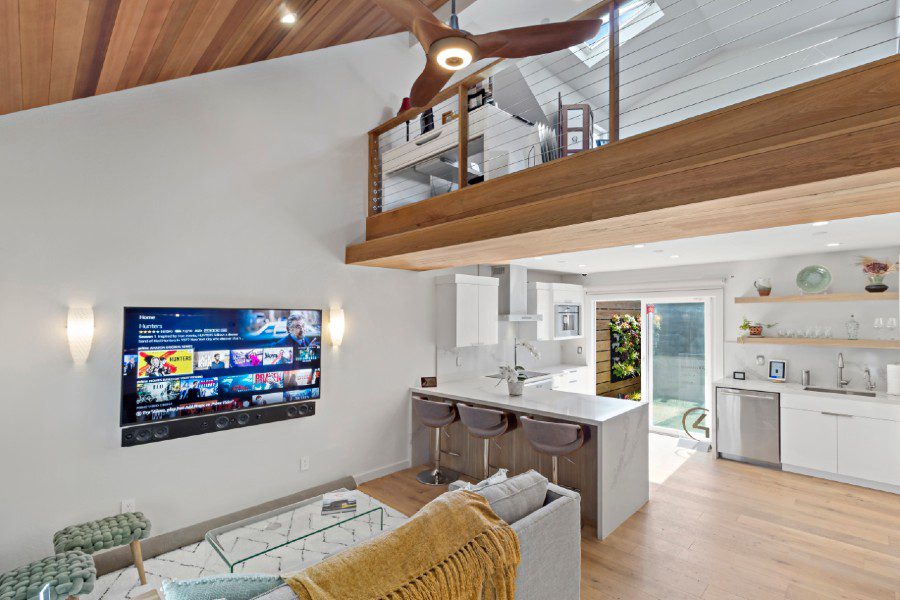 The NHTC, which is a Control4 Certified Showroom built behind cyberManor's corporate office, highlights smart, healthy, sustainable and connected living from the front entry station to the connected appliances to intelligent bed and therapeutic shower systems to solar and energy distribution technology, wellness/biophilia "living wall" and more.
---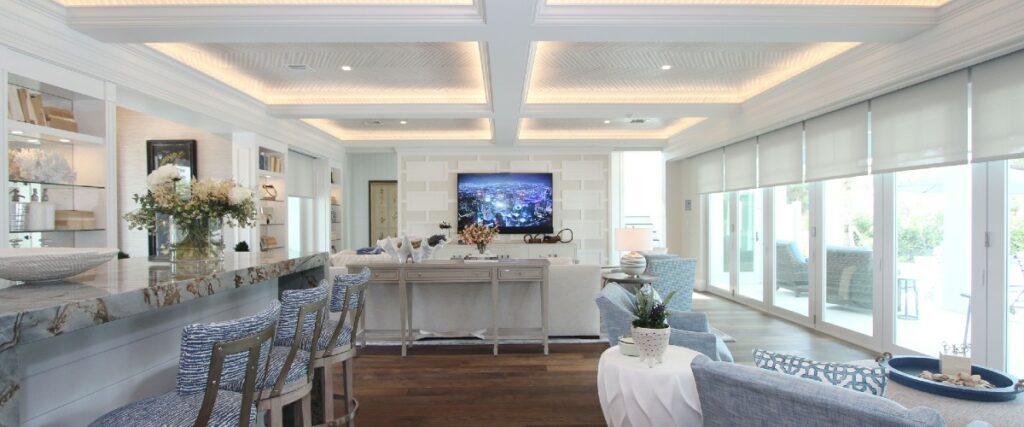 The customer on this tremendous secondary home project was a New England couple looking to build a vacation home in Juno Beach, Fla. They wanted to integrate as much technology as possible, to enjoy as much comfort and entertainment while in the home but also to have full remote management capabilities of the home while they are away, says Dan Hanga of Florida-based Geeks of Technology.
Read more on Florida Vacation Home
---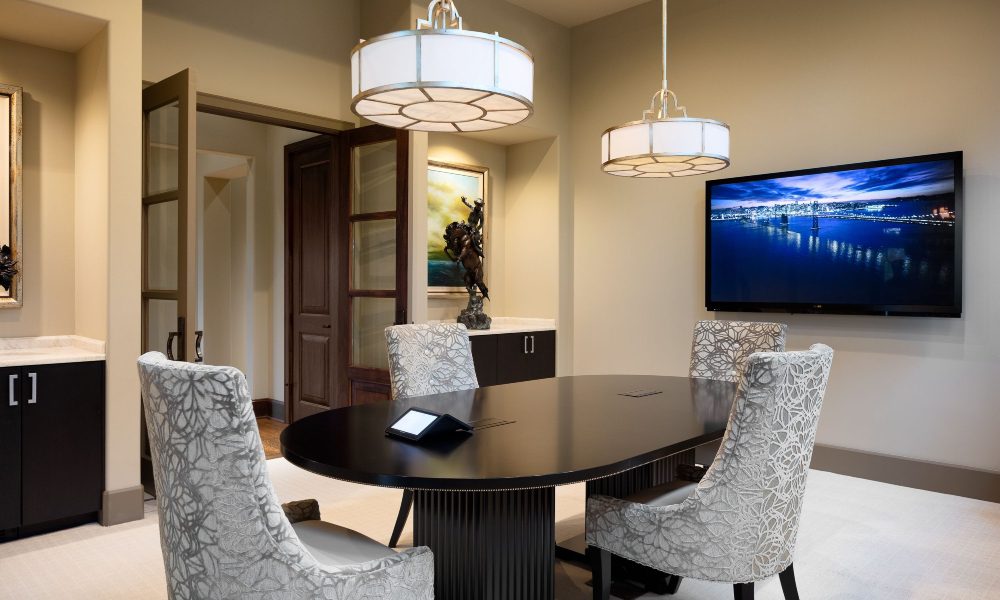 Like many people, the owner of this stunning Italian-inspired luxury home took refuge in his home office during the pandemic. And like many people, the conveniences and comforts of working from home (WFH) were hard to give up. Who can blame him, given the remarkable technologies integrated into the space by Domotek.
Read more on Creature Comforts
---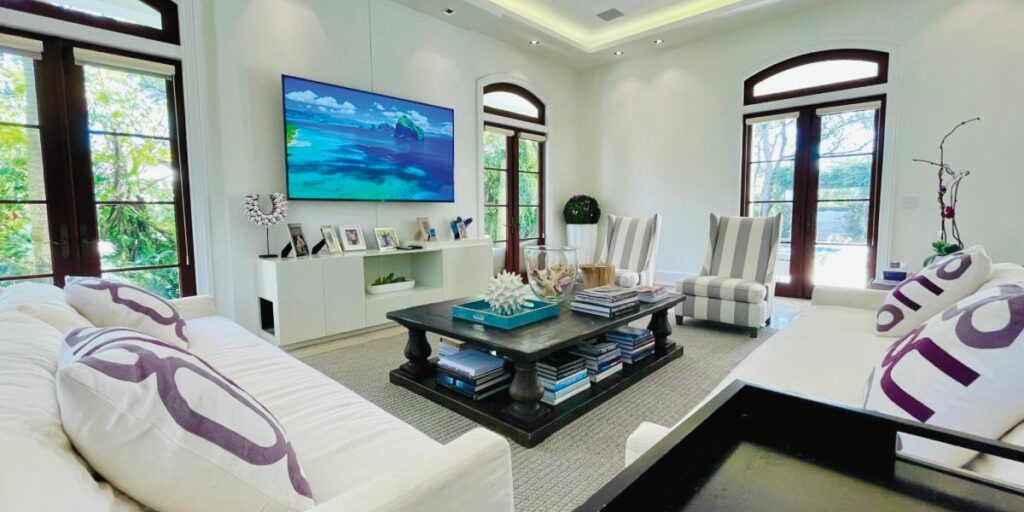 Hemag, Inc., a local integration firm in Coral Gables, Fla. was recently asked to take on a particularly daunting task: update a high-end estate featuring a pool area, gazebo, and front gate with the latest in smart home automation and AV technology, all while maintaining the home's unique charm.
"With the advancements in technology, URC has been able to help us achieve the goal of convenience for the end user," says Eberto Garcia, president and product specialist, Hemag, Inc.
Read more on Entertainer's Dream
---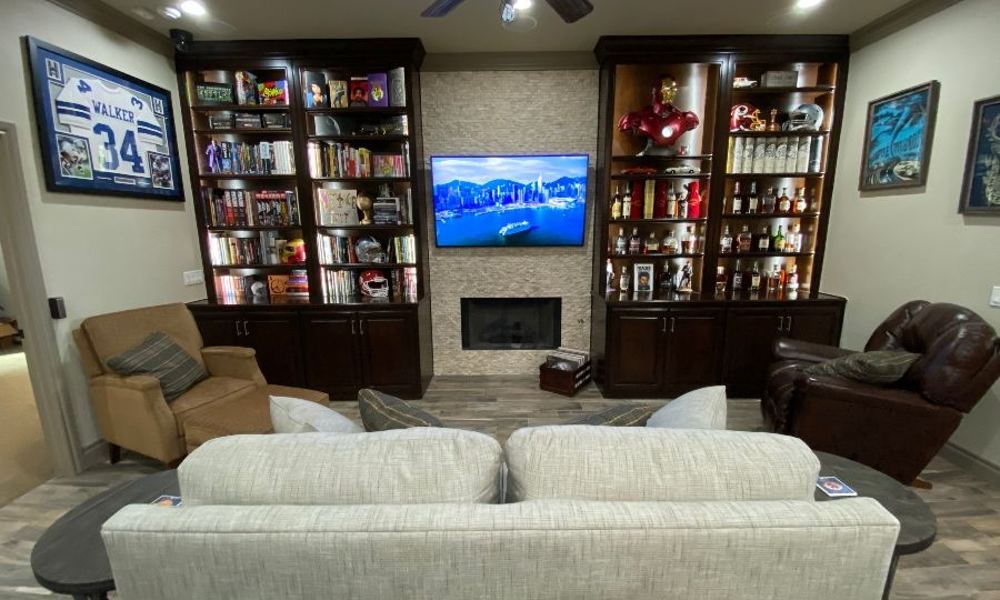 After living with spastic paraplegia all his life, Jason Price had wanted to create a home where it really felt like his home. A professional in the disability field, he had some resources that could help him get started, but he still needed a company that could bring his idea of a accessibility-focused smart home to fruition. Eventually, he came to settle on Crestron as the control system of choice before being introduced to Isaac Rosario, VP and Lead Programmer of Voyager Home Systems (Oklahoma).
Read more on the Price Residence
---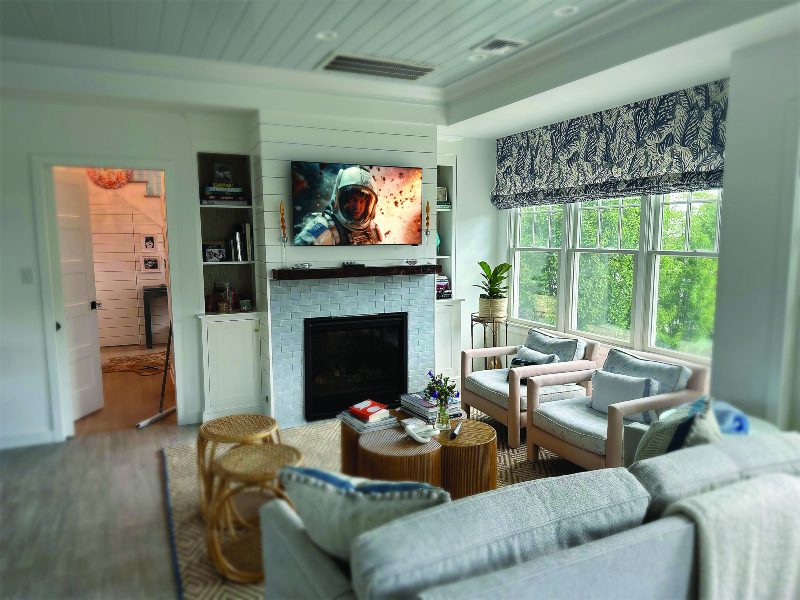 Integrator frayednot provided a simple, budget-friendly and yet amazing result for this client's beach house. The owner was looking for a reliable, simplified and cohesive solution for their family's summers on the property while keeping costs within an allotted budget, and frayednot delivered with another award-winning install for the company.
Read more on From Beach House to Barn House
---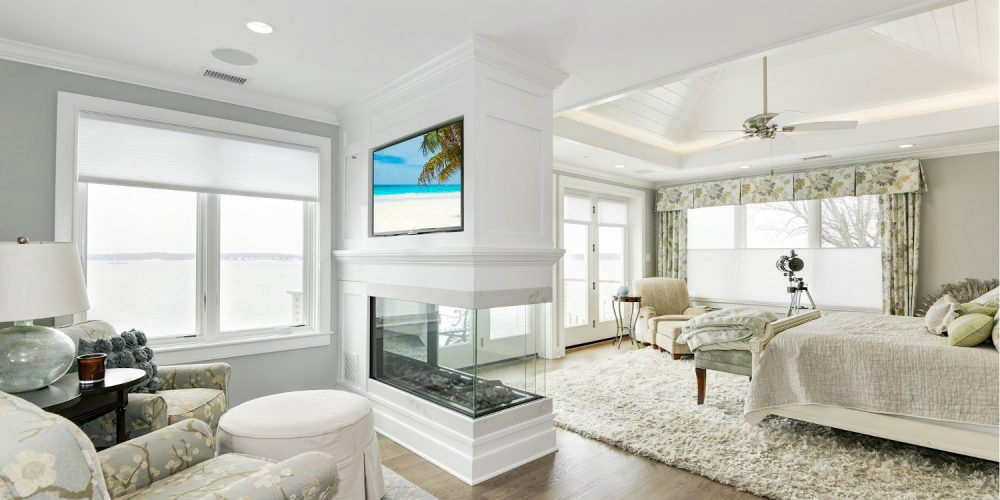 It's not often an integrator is challenged to mount two displays on a single fireplace, but that is exactly the sleek design Atlantic Control Technologies (ACT) achieved in this recent project for a client's master bedroom. After ACT, based in Annapolis, Md., mounted one 55-inch OLED TV from LG on one side of a massive triple-paned gas fireplace in a master suite, the homeowners were smitten. Stretching from floor to ceiling, the hearth offered a great place to mount a TV.
The concept was so cosmetically in tune with the owners' wishes for a sleek, modern install that they and (ACT) decided to mount another, identical TV to the other side of the structure.
---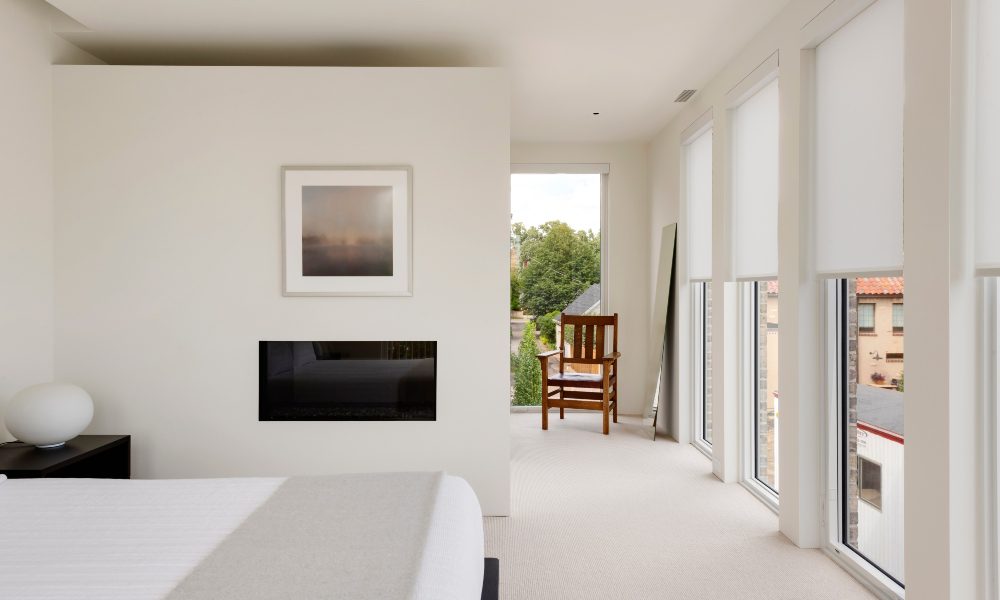 Clean lines, extreme attention to detail and a minimalist style were the commanding pillars of this elaborate custom home project. Its construction, design, and technology integration were all honed around a very specific cosmetic formula that the clients of the project, who were both architects themselves, wanted to see upheld when laying out the plans for their expansive home.
Read more on the Minimalist Mansion
---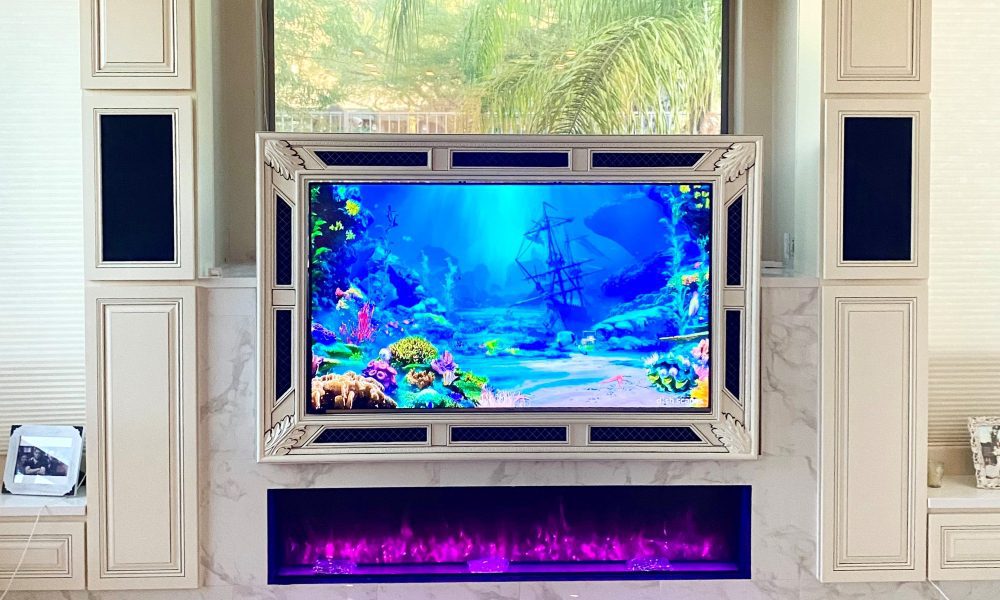 What goes up, must come down. But when it comes to the innovative TV mount installation that Joe Courtney of Bigfoot Concepts created for one of his customer's "mini" home theater, it would be more accurate to say that what goes down, must come up. That's because a critical part of the installation is the MM540 MantelMount unit that goes beyond the traditional swivel mount in terms of functionality.
Read more about Cozy Mini Home Theater
---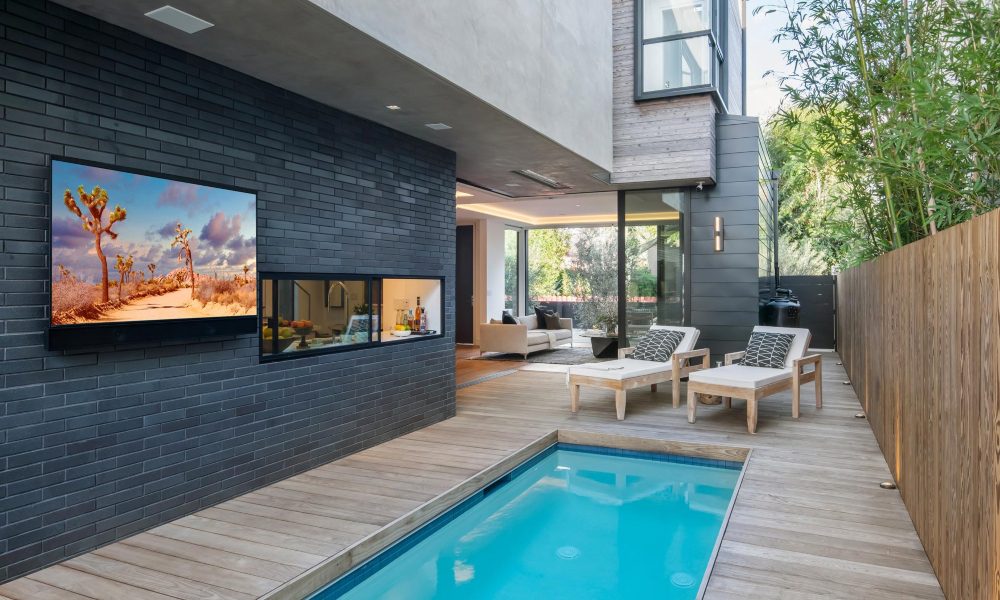 Set in the coveted walk-streets of Venice, California, Scandifornian Modern offers a secluded oasis to those seeking relaxed coastal living. Given the location, and the perfect weather that this section of the United States sees year-round, it would be an absolute sin if the home wasn't built with the outdoor living at the heart of the homeowner experience.
Read more on Scandifornian Modern
---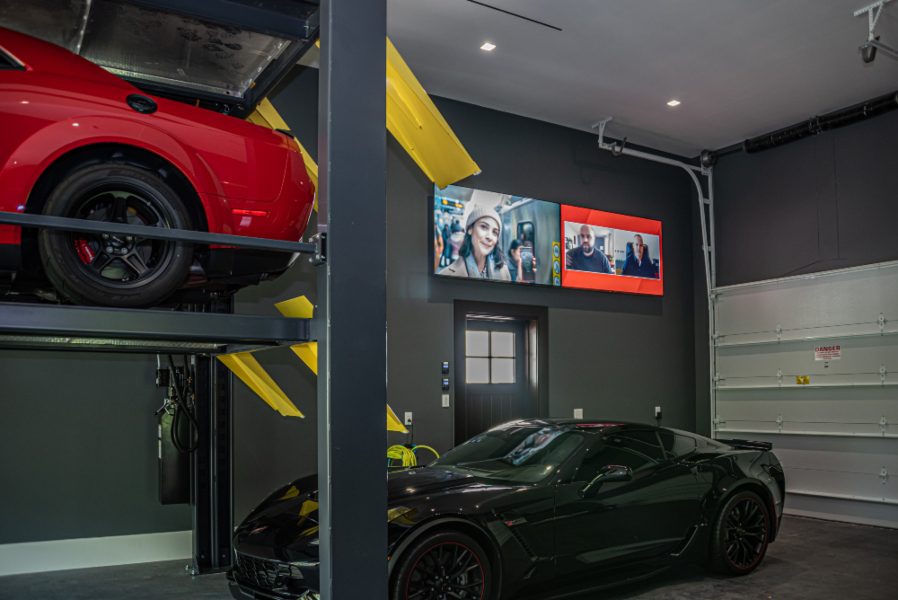 Acting as a calling card to the business of this particular homebuilder, this particular waterfront show home, dubbed the Riverfront Resort Paradise, is a collaboration between the client himself and ETC West Palm, who helped set up the extensive smart home integrations throughout the residence.
"Our team decided to approach this as if we were building our own home with the client. Our sales representative spent mornings, evening, weekends with him walking the property and discussing the clients' specific needs," notes Biava.
Read more on Riverfront Resort Paradise
---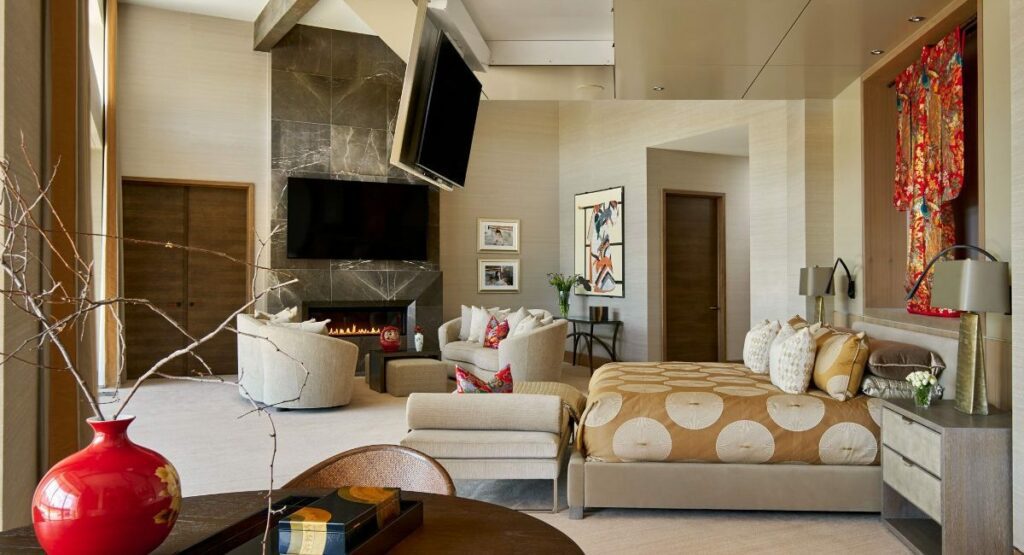 When residents wish to watch TV in this primary suite, all they need is to press a button, and a 4K 65-inch flat screen descends from the ceiling on a hinge-style motorized lift. Meanwhile, around the room, dual-roller shades with sheer and blackout fabrics lower with the lift to optimize viewing conditions.
"When the lift is closed, it blends in seamlessly with the ceiling cloud. When it is open, the master suite shades automatically close for optimal viewing conditions," explains Harrison Home Systems' Kassa Harrison.
---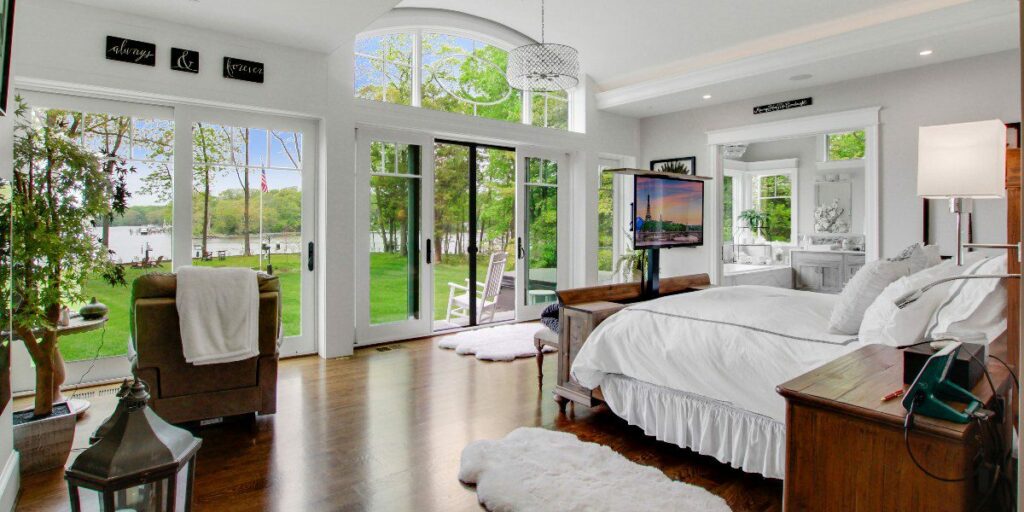 Another primary suite project, this client sought out Atlantic Control Technologies (ACT) to create a tech-filled space that was both entertaining and restorative through ease of use and immersion. As such, understated, if not completely concealed technology was a core focus on the project.
A primary consideration was the owner's own health issues, which led to the incorporation of the in-bed motorized TV mount, which rises from beneath the frame at the touch of a button.
Read more on Primary Suite with a View
---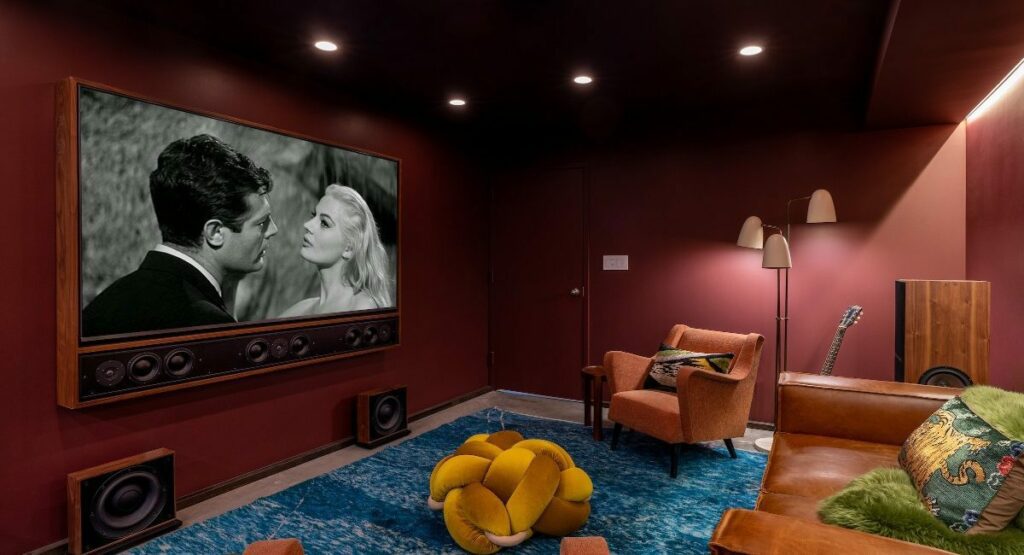 When renovating his five-story brownstone in Brooklyn's Clinton Hill neighborhoods, Adrian Grenier (best know for his leading role as Vincent Chase in HBO's "Entourage") sought to create a sustainable smart home living experience, while indulging in his passions as an audiophile.
While working on the project, Powers IoT worked with Leon to create a one-of-a-kind wall mounted TV display and sound system framed with a bespoke, sustainably crafted wood frame.
Read more on Smart Sustainability
---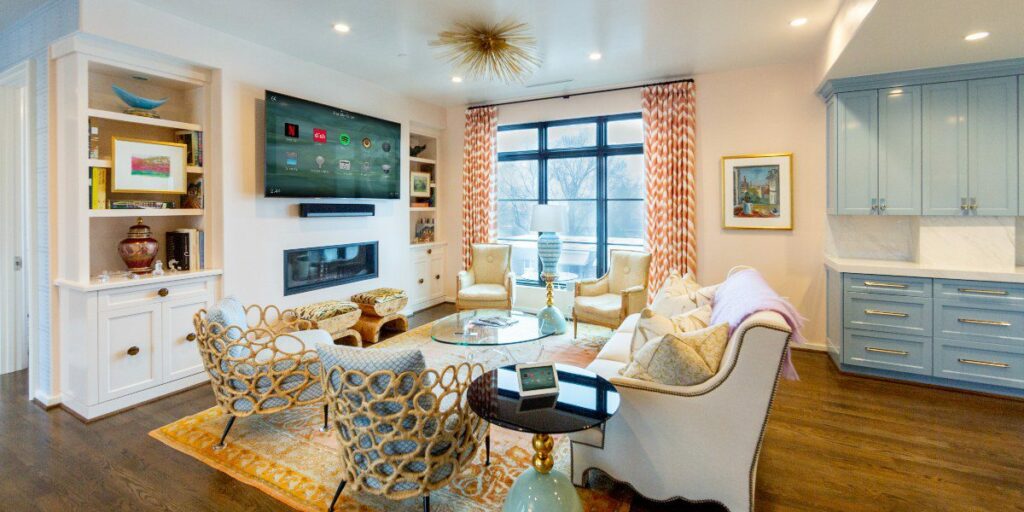 Beyond the physical design, smart tech is an essential part of what makes Opus Myers Park so luxurious. Early in the project, Developer Jim Gross brought in Home Technology Solutions (HTS), a local integrator he'd worked with on several previous developments, to oversee the extensive installation.
Each condo comes with 5 automated lights, 4 zones of audio and a wall mounted TV hooked up to a Control4 automation system. The system is even designed to periodically activate and deactivate devices to simulate occupant presence in the event of extended departures.
---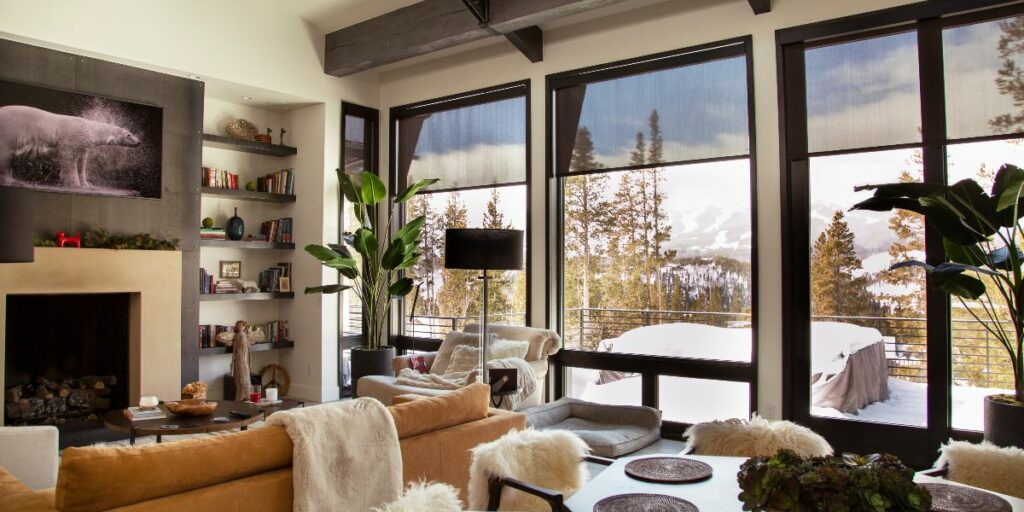 As a builder of luxury homes, the client of this project was no stranger to the benefits of luxury home tech. He was also no stranger to travel, which led to the core focus of the project: allow for surveillance and control of home systems while away so he could easily slip back into comfort when he returned.
In addition to the thoughtfully programmed Control4 system that allows the homeowner to check statuses of the home on his phone, Cinegration also created an understated entertainment area where blackout shades adjust automatically to allow complete cinematic immersion no matter the time of day.
---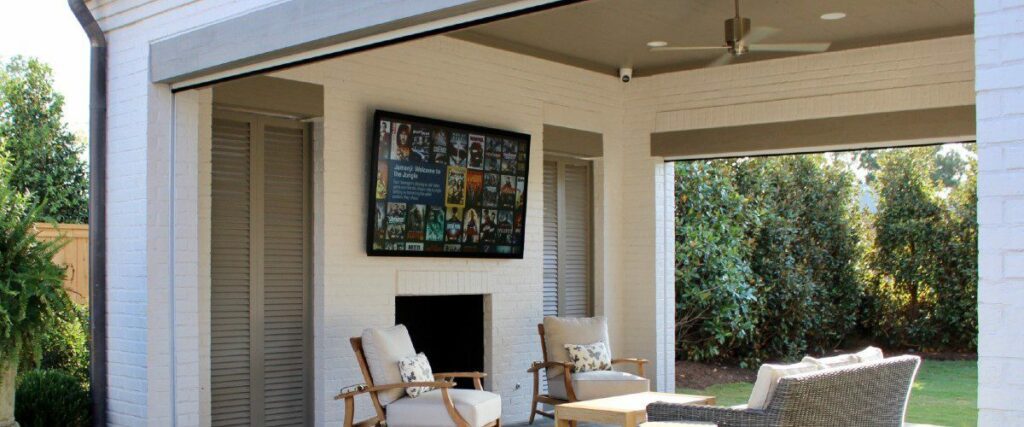 In making this home in Memphis, Tennessee, Miestro Home Integration rolled out over five miles of structured Cat 6 and duplex fiber cabling, enabling clean, unseen smart home integrations throughout the home, including an outdoor TV mounted over a patio fireplace with no wiring to show for it.
Lamar Gibson stated that the homeowner wanted the infrastructure to be able to upgrade his equipment in response to technological advancements. "So if they get a new 8K television or streaming player, all we need to do to bring it into the fold is add a transmitter or receiver," he clarifies.
---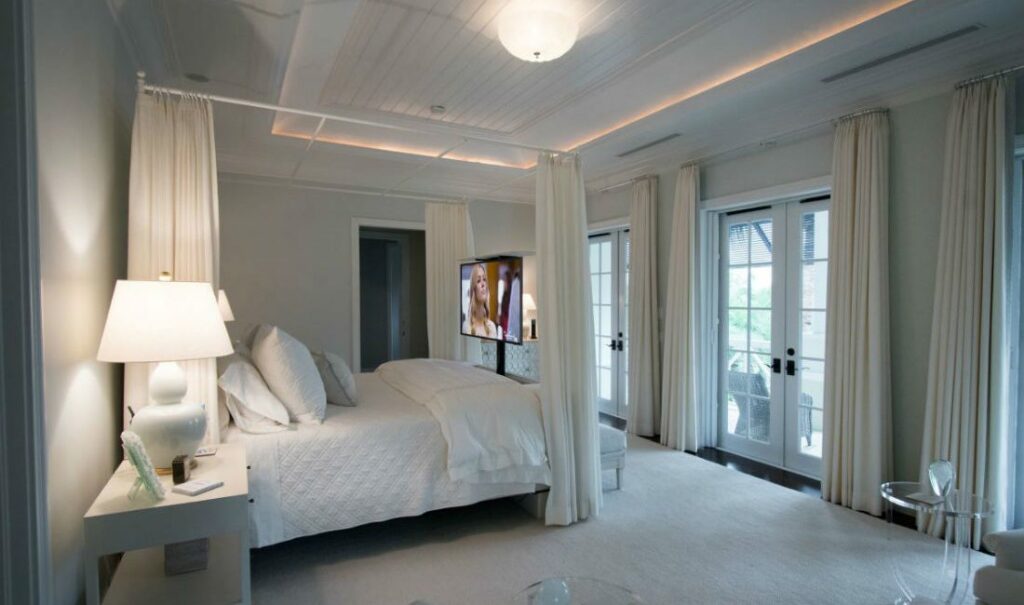 While working on this beachside vacation home in Florida, Think Simple worked with decorator Phoebe Howard to greatly update both the visuals and the technology.
The family room in particular turned out rather impressive, employing a motorized TV mount that, when not in use, will dip below the furniture in the room to reveal ocean views from the window.
Originally, the TV had been mounted on an inside wall so the seating had everyone with their backs to the window, which both Howard and Think Simple made poor use of the room's available assets.
---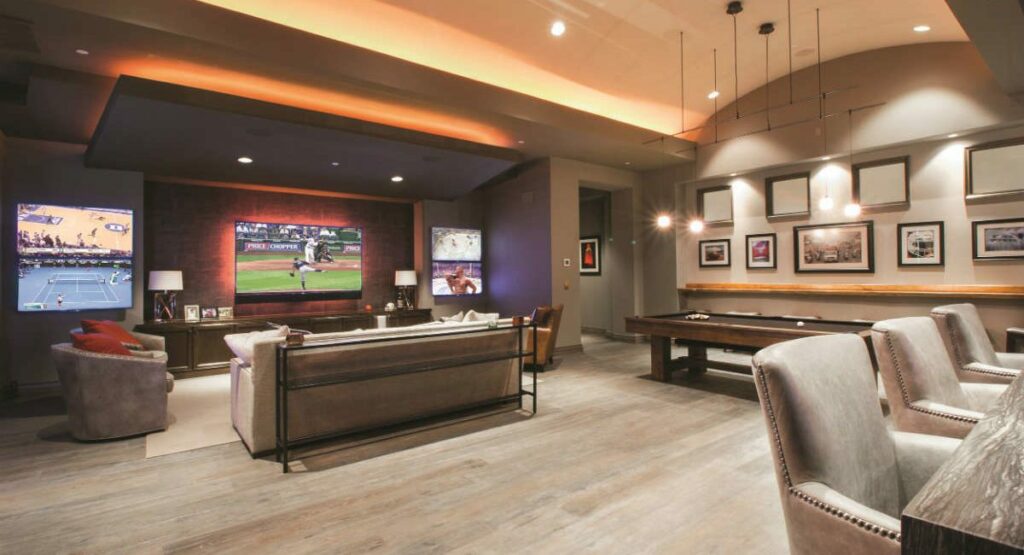 Local systems integrator Service Tech Audio Visual was hired to handle the conversion of the unfinished space into a multiscreen viewing environment complete with several wall-mounted displays.
The client also happened to be a massive University of Texas fan, so Service Tech added in a lighting system and custom smart controls all programmed around the iconic University of Texas sports theme.
One hit of the 'Hook-em' button on a Savant home automation remote and all five Sony TVs tune to his favorite sports stations while triggering Philips Hue smart bulbs to glow burnt orange.
---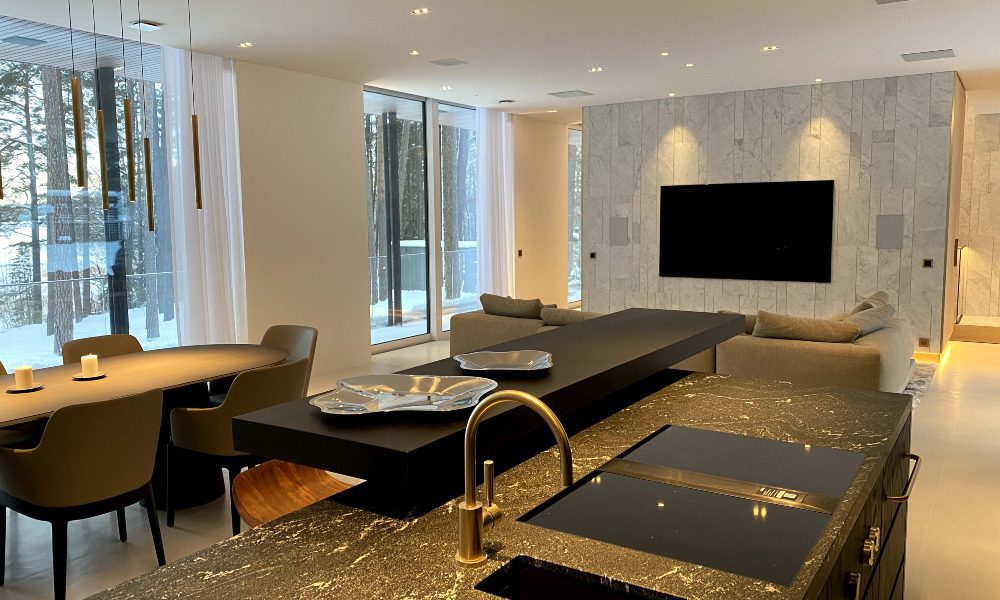 Seeking occasional escape from weekly work rigors, the owners of this luxury smart home selected a secluded, woodland space outside of Helsinki to build their ultimate getaway called Villa Jubilee.
At first, Digisahko Oy notes the focus was simple with lighting and audio high on the list. However, that soon gave way to motorized TV lifts, automated window shading, choregraphed heating and cooling systems, and many more features all controllable remotely for early prep of weekend excursions.
If you enjoyed this article and want to receive more valuable industry content like this, click here to sign up for our digital newsletters!