Local integrator Hemag Inc found a way to connect the home's pool area, gazebo, and front gate to the same URC system, allowing the homeowners to control lighting, audio, and security with the touch of a button.
Hemag, Inc., a local integration firm in Coral Gables, Fla. was recently asked to take on a particularly daunting task: update a high-end estate featuring a pool area, gazebo, and front gate with the latest in smart home automation and AV technology, all while maintaining the home's unique charm.
Featuring 12 zones of URC's High-Definition Audio with multiple sources, hundreds of voice commands, and seamless integrations with several sub-systems, the smart home is an entertainer's dream. Controlled by URC's Total Control system and several URC controllers, base stations and remotes, the installation featured lighting powered by Lutron's RadioRA 2, DoorBird intercom, gate control and front door, Somfy's RTS shade motors, Rachio irrigation, Roku TV and DirecTV. 
"With the advancements in technology, URC has been able to help us achieve the goal of convenience for the end user," says Eberto Garcia, president and product specialist, Hemag, Inc. He continued, "The large level of integration with URC and many other third parties has certainly made everything convenient for the end user."
With 12 zones of audio and multiple sources, this system offers an amazing audio experience that includes Dolby Atmo. In addition, the system is designed to be easily controllable with one of many touch screens placed throughout the home, allowing the homeowner to easily launch an immersive AV experience.
Outdoor Space Gains Custom Scenes to Help Create the Perfect Vibe
Hemag, Inc. also created two unique scenes, Pool Day and Pool Night, to activate the beautiful outdoor space. Pool Day turns on the speakers in the terrace and ambient speakers near the pool, while the Pool Night scene turns on some cool jazz and the pool lights using an Aqualink sub-system.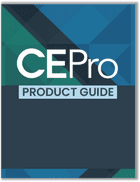 CE Pro's 2022 Product Guide showcases some of the latest and innovative solutions from manufacturers serving the custom electronics industry in a cross-section of categories.
Download the guide now!
In addition to music, Hemag brought video distribution to the pool area with an inflatable screen, video projector and sources like Roku delivered via a nearby HDMI outlet box. Audio is streamed seamlessly through the pool and terrace speakers in case they want to watch from the terrace, while the video distribution system allows the homeowner to "mirror" content from his gazebo to the terrace with a click of a button. 
Voice Control is accomplished via Alexa and allows the user to activate elements from video entertainment to lighting levels to front gate activation. The owner can initiate over 150 commands anytime with a universal remote or through an Amazon Echo device, and when they want to turn off the system they simply say "Good Night" and the entire house turns off and lets the homeowner know that they do not need to do anything else. 
Keeping the house safe is important as well. Hemag, Inc. programmed an HSIM module into their system so they can monitor it easily. Depending on the day, the house reacts and welcomes the homeowners with various messages like "Good afternoon, sir." Homeowners can accept or deny this notification ensuring secure access. With full remote control, the homeowners can control the system even when they are out-of-town. 
Temperature control in the hot Florida sun is maintained by seamlessly integrated Somfy RTS shades controlled through various touchscreens throughout the home or via a universal remote. 
"We can program these systems using platforms like Bond, Rachio and even Somfy to bring them all together in one centralized app thanks to URC," says Garcia. He continued, "The homeowner is happy and loves the system and we can thank URC for building a very powerful platform that makes it easy for both the dealer and homeowner." 
Click here to see a few more photos of the finished home!