LG Electronics has not only been at the forefront of the latest display technologies like OLED, 8K and ultra-short throw projection, but has pushed connected smart appliances into the mainstream too.
That influence was evident during KBIS (Kitchen & Bath Industry Show) Virtual 2021, held Feb. 9-12, in which LG's innovative Studio WashTower single-unit washer/dryer took top honors in the annual Design Bites competition by impressing the panel of designers and media judges.
Hosted by the "dancing carpenter" and star of HGTV's "Extreme Makeover: Home Edition" Darren Keefe, Design Bites was part of KBIS' NeXT Stage program, unaffected by the show's technical problems that led to the closing of the exhibit hall.
"I learn so much about the industry each time I go and I have a great time," Keefe says of the annual KBIS show, adding that Design Bites participants were judged on aspects such as "which product was most innovative, which had the most wow factor."
With the affable Keefe handling the moderator duties, Design Bites – similar to the now-annual Tech Bites that has taken place during recent CEDIA Expo events – incorporated prerecorded short video pitches from eight manufacturer participants about a slick new offering.
In this updated Wage & Salary Report, you'll find out results for salaried occupational categories broken down by 14 regions of the U.S. & Canada. Uncover valuable information about where your company stacks up when it comes to paying your important people by
downloading your free copy today!
And like Tech Bites did as it pivoted to a virtual event last fall, after each video Keefe welcomed a company representative to live chat on Zoom about the product – in this case, answering a question from one of the "Design Hounds" representing the show's design-heavy contingent as well as a question from event attendees in the chat box.
LG Studio WashTower Combines Top-Notch Cleaning & Built-in Intelligence
The LG Studio WashTower beat out stiff competition from seven other manufacturers that mostly catered to the kitchen and bath contractor crowd but did include other smart home devices. Namely, SnapAV's Control4 brand with its Chime Video Doorbell showcasing integrated smart home capabilities, and Brondell with its AG+ technology incorporated in its sanitizing air purifiers highlighting today's indoor air quality trend.
Other entrants into Design Bites included: Monogram (Pro Range of major appliances); Kohler (Tone Collection faucets); Miele (G 5000 Dishwasher Series); Signature Kitchen Suite (undercounter "convertible dual drawer" refrigerator); and Wellborn Cabinet (new paint and stain colors, dropdown desk, floating shelves and more).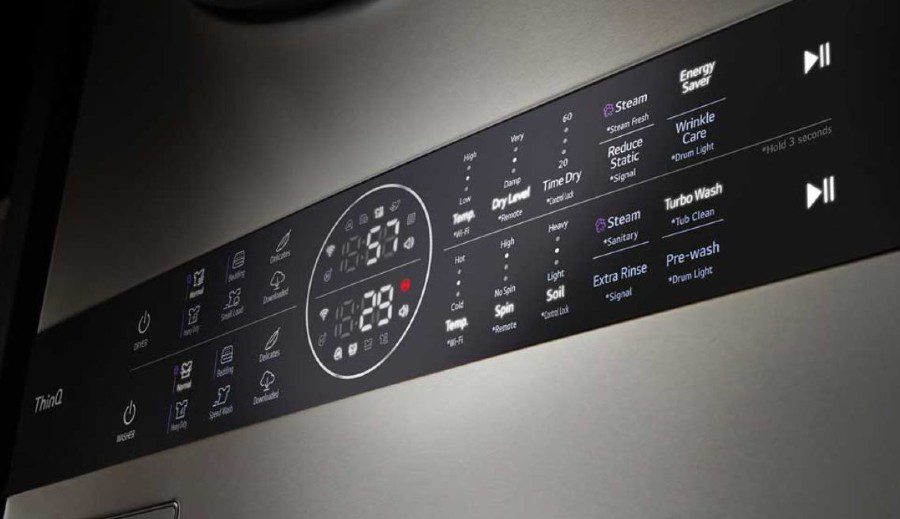 The gorgeous LG Studio WashTower had plenty of wow factor and innovation, offering a sleek steel finish, single-unit dryer-on-top/washer-on-bottom design and Center Control intelligence panel smack in the middle.
LG's Josie Salazar explained that the built-in intelligence incorporates sensors with AI to assist with cleaning by detecting things like fabric texture and load size, and will learn from preferred settings in the LG ThinQ app.
Meanwhile, consumers may recognize the ThinQ platform from other LG connected appliances and its lineup of smart TVs. In this case, as Salazar notes, ThinQ helps provide things like "installation reports, maintenance tips and preventative alerts of issues before they become a problem."
When questioned about the noise potential of product that in a luxury home might be tucked away on a second-floor laundry room or closet, Salazar adds, "LG takes pride in low-decibel operation – ours always in the 40s, so it's not going to shake and create ton of noise."
Control4, Brondell Products Show Smart Home Trends
As mentioned, Control4 and Brondell gave the KBIS designers a taste of some trending smart home technologies.
Kordon Vaughn, Control4's VP marketing, campaigns & creative, used a fun video showing how he can interact with the Chime Video Doorbell remotely using the company's Smart Home OS. He explained how the device can integrate with other smart technology in a home, display video on touchscreens, be programmed for events to happen when motion detection occurs, and lock/unlock with other interactions right from the app.
"It's the first video doorbell engineered to work with all of that technology in today's homes," Vaughn said, and gave a plug for partnering with the custom channel. "Start by finding a smart home pro in that area, or go to Control4 and find a dealer, and they will help create the smart home."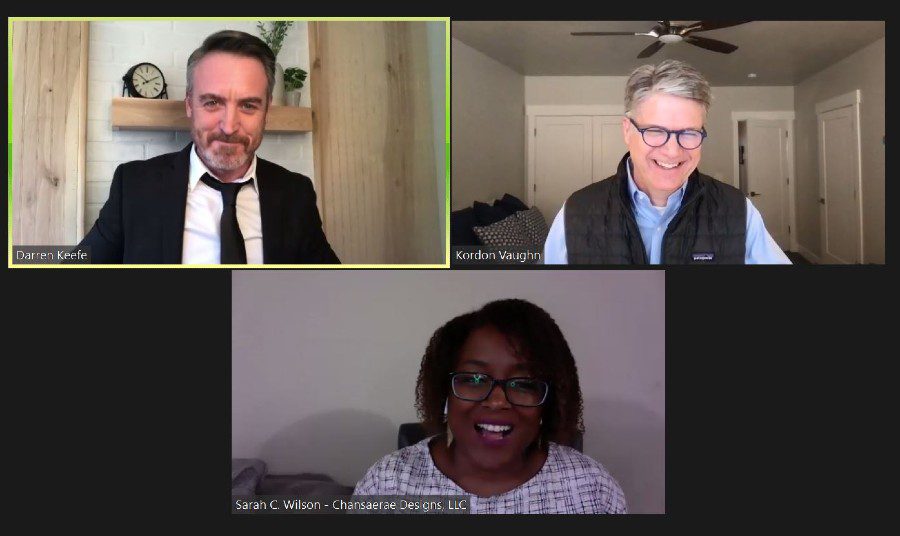 For Brondell, the coronavirus pandemic certainly put demand for IAQ squarely in its sights, and president Steve Scheer told the Design Bites attendees how its AG+ technology has been proven to capture and eliminate ≥99.9% of the COVID-19 (SARS-CoV-2) virus within 15 minutes, and the only non-enterprise air purification system to do so.
"People are feeling a loss of control as we combat an invisible enemy," Scheer said. "How can we bring back normalcy? This question led Brondell in search of new technology."