One of the inherent risks to running "virtual" online conferences in this era of COVID-19 is the potential of technical difficulties. Such was the case with this week's annual co-located Kitchen & Bath Industry Show (KBIS) and International Builders' Show (IBSx) being staged digitally Feb. 9-12.
Due to unresolvable accessibility issues impacting the virtual exhibitor booths, it was announced late Tuesday that both IBSx and KBIS Virtual have been modified – notably the exhibit halls being postponed – respectively by the National Association of Home Builders (NAHB) and National Kitchen and Bath Association (NKBA).
Meanwhile, educational programming, conference sessions, special pavilions, press conferences and other portions of both shows will continue to be accessible via the BuildersShow.com and NKBA.org websites, the associations note of the now-modified events.
"After a deep dive into the exact sequence of events and consequences that occurred, we have learned that these are unresolvable technical difficulties," states Brian Pagel, EVP, Emerald, which produces the KBIS show (as well as the CEDIA Expo Virtual event, which was held last fall).
"The servers that house the platform are down, requiring that we make the difficult decision to close access to the exhibitor booths. Looking forward, we remain committed to exhaust all efforts to ensure a successful future experience. We understand the gravity of the situation for our exhibitors and attendees, as the KBIS platform is critical to accelerate their business for the year."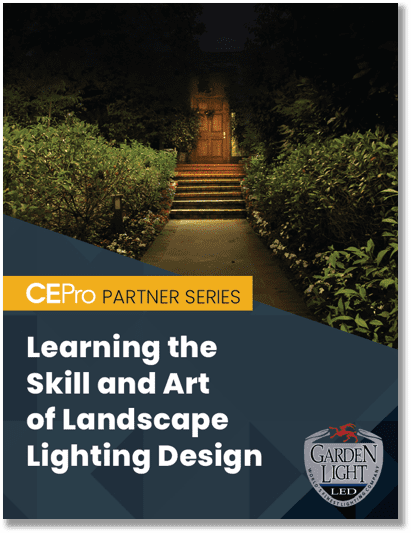 Experts recommend landscape lighting design as an entry point for integrators into the revenue opportunity of home lighting. Check out our new resource for tips and best practices. Download "
Learning the Skill and Art of Landscape Lighting Design
" today!.
The NKBA and KBIS are exploring alternative solutions that may allow the exhibitor experience and booth activations to be relaunched. When that may occur has yet to be determined; Pagel emphasizes that "we'll go through as much testing as possible to move forward with, but will not move forward if something is not up to our standards … so this is a pause for us to see what is possible."
Updated communications and scheduling reminders are being sent to show attendees.
KBIS, IBSx Programming Slate Still Accessible Online Through June
From this week through the end of June, attendees will be able to tap into programming and education that includes NKBA Voices From the Industry conference; Design + Industry Awards; and KBIS NeXT Stage and Pavilions on NKBA.org; and the likes of General Sessions; Game Changers; the Sales Rally; Demo Zones; and Shop Talks on BuildersShow.com.
"We regret we could not fix the platform, so the show floor is not moving forward as planned for the moment, and we apologize to those exhibitors and attendees. On the content side, all the sessions, we worked to take that piece that was working and put it on BuildersShow.com, and we're very thankful we could initiate that quickly," says John McGeary, SVP business development and brand strategy, NAHB.
A full refund process for exhibitors and attendees is already under way, the associations and Pagel note.
"The kitchen and bath and design and construction industries are healthy and vibrant, despite all the challenges of 2020/2021," adds Suzie Williford, EVP and chief strategy officer for NKBA, which owns KBIS. "Businesses are still strong and we look forward to celebrating together in Orlando, Fla., in February 2022."