Have you ever bought something and wound up using it in a totally different manner than you anticipated? Fair warning, LG's HU85LA projector is not your typical 4K projector, and I did not use it in a typical home theater scenario.
True, when I contacted LG about reviewing the unit – full name HU85LA 4K UHD Laser Smart Home Theater CineBeam projector – I was looking at it for my bonus room theater. Having recently tested out the solid BenQ HT5550 4K projector, I wanted to see how another 4K product performed in the space.
But theoretically an ultra-short-throw (UST) projector like the HU85LA CineBeam opens the home theater door to just about any room in the house, so why not test out that possibility? As it turns out, that might be the real fun of the LG HU85LA unit when integrators start discussing potential media rooms with customers – it gives new meaning to installation flexibility.
I discovered that while grinning giddily as I turned the wall of my home office into a gorgeous 100-inch home theater screen/videowall in a matter of minutes.
LG HU85LA Projector Features & Setup
Out of the box, this is a substantial piece of equipment – it's hefty at nearly 27 pounds, but also speaks to LG's melding of design and technology it has demonstrated over the years with products like its OLED displays and previous projector offerings.
One reason I decided to test the UST aspect in my office is that thanks to features such as LG's built-in webOS platform and 5W stereo speakers, I didn't have to worry about running any AV connections to use it as a huge TV. That's another beauty in the projector's flexibility (remember, this is just one way of implementing the product).
Accommodations are there for hooking into more content sources and external audio systems. Inputs/outputs include a couple of HDMI ports, S/PDIF digital audio out, two USB (plus one USB type C) ports and wireless Bluetooth audio output. There's also a digital tuner, and control options that include RJ45, IP and voice recognition for Amazon Alexa and Google Assistant.
I have several record crates on top of an AV console against the wall, so I used the top as a makeshift shelf for the projector, still not quite knowing what to expect – I've seen UST demos at InfoComm shows ceiling-mounted for education/whiteboard use and saw the LG product at CEDIA Expo, but not a real-world setup.
The HU85LA projector sat only a few inches from the wall, meaning my screen size would be around 100 diagonal inches – in between the 90-to-120-inch spectrum LG specs the CineBeam to produce (90 at 2.2 inches, 100 at 3.9 and 120 at 7.2 it states on the website).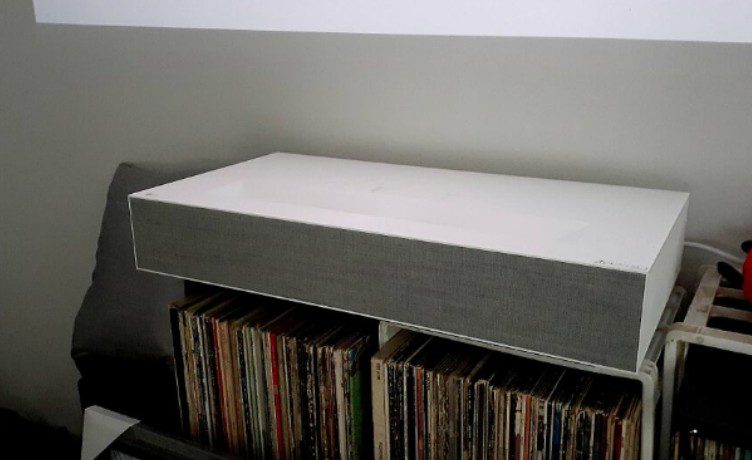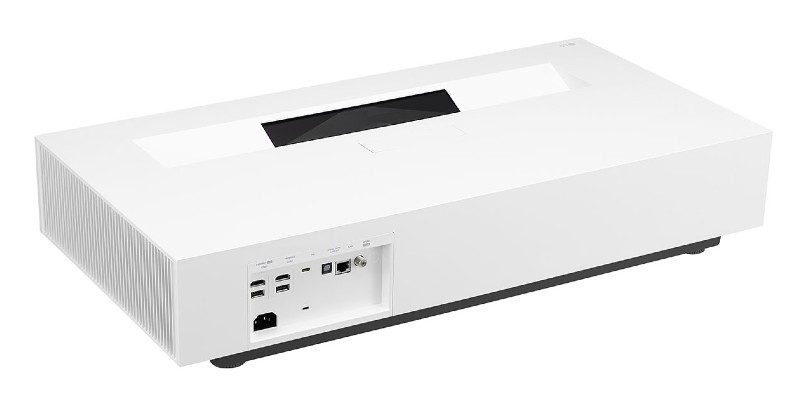 Then you can hit the hidden compartment and find the focus wheel to get things looking clear. Instead of employing the test pattern generator and de-warping function (which lets you align 12 adjustment points), I fixed keystone issues just by slightly moving the projector. After powering up LG's Magic Remote, the setup process ran through its webOS platform and preferences.
As part of the steps, I connected the HU85LA to my wireless network. Since I skipped the sources connection portion next (though I did add a Sony Ultra Blu-ray disc player later on), I went straight to services like YouTube and Netflix, which both offer a variety of 4K content.
LG HU85LA Projector Performances & Conclusions
It was easy to see the capabilities of LG's 4K pictures, so I examined convenience, ease of use, app capabilities and other aspects perhaps more so than the image quality (though for roughly $5,600 MSRP, customers will want to be assured that the quality is stellar, which I can say it certainly is).
For instance, compared with other projectors, LG's is lightning fast to power on and off (12 seconds on, 2 seconds off), so it's much more TV-like in that respect. Meanwhile, the laser light source has up to 20,000 hours' lifespan, according to LG, so it can be used with the frequency of a TV.
Using LG's webOS gets you the extra benefit of its assortment of channels as well, in addition to the typical services like Netflix, Disney+, Amazon and Google. Plus, the search functionality, including the voice support, aggregates results together no matter where they are from on the apps.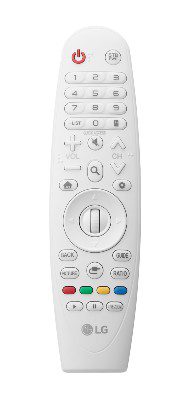 The web platform also provides access to a photo and video storage area, too, which is great for tapping into your own stills and videos to show on the large screen in super clarity and detail. There's web browsing capabilities as well.
For users, a word of warning is that the remote does take some getting used to. Between the clickability, the scrolling through sources/functions and more, a cheat sheet might come in handy. I had reviewed an LG smart projector many years ago that employed the remote, so I was ready for a device that's more like a gaming controller than a traditional clicker.
Specs at a Glance
DLP 3-channel laser display
3840×2160 resolution; HDR10 supported
Screen sizes roughly 90-120 inches from 2.2-7.2 inches from surface
Brightness of 2700 ANSI lumens
Contrast ratio 2,000,000:1
Lamp life up to 20,000 hours
webOS wired/wireless smart platform
5W+5W stereo speakers; Bluetooth support
26.8″ x 5.0″ x 13.7″ (WxHxD) dimensions; 26.9 pounds
lg.com; $5,499
I put on an episode of "The Blacklist," on Netflix and there was stained glass of a church that looked gorgeous with all the punch and well-saturated colors – aided by LG's three-channel laser technology – as well as other architectural details. Image quality is super crisp and very bright. You can watch even with ambient light on, which really makes setup in a secondary room even more attractive when you think about sports viewing and gaming on weekend days.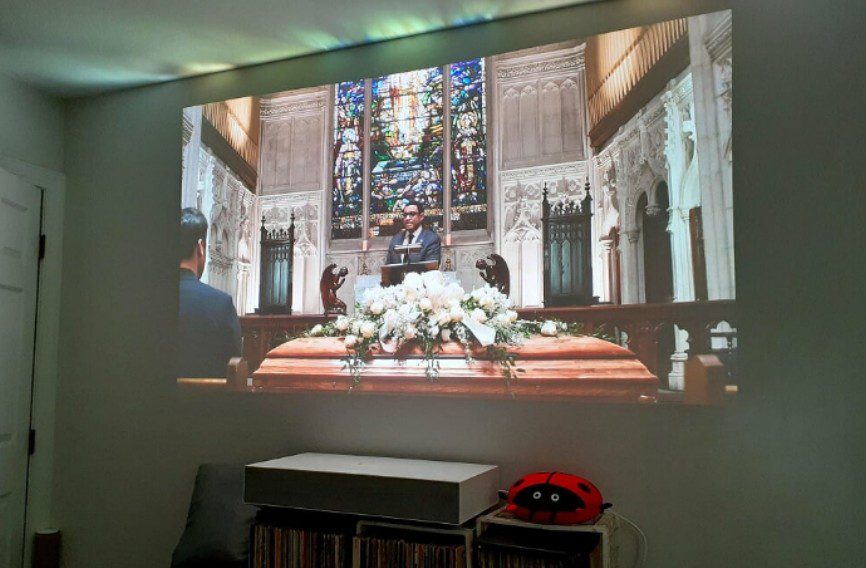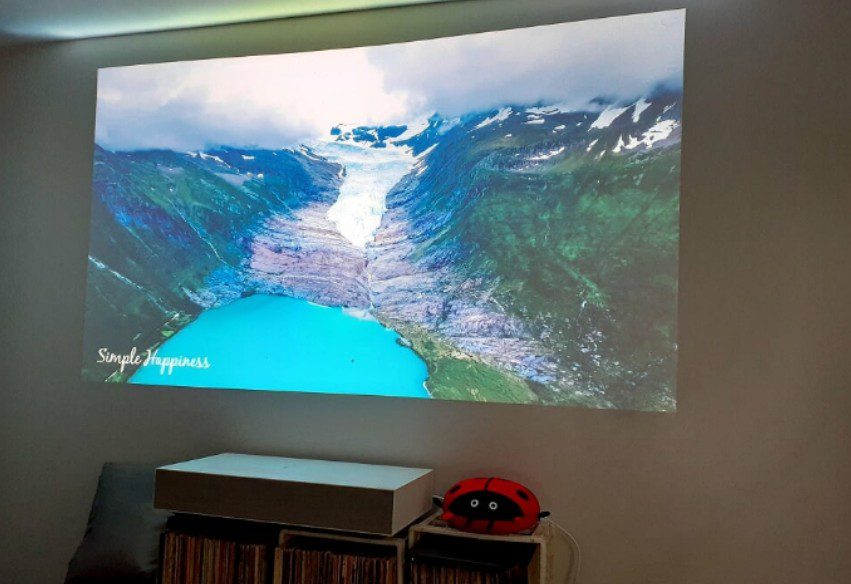 A non-performance positive I can share is the wow factor and spousal acceptance factor pass with flying colors. My wife was floored when she entered the office room and saw how our white wall had turned into a giant screen. "I love it! It's very cool-looking too, kind of mid-century modern," she said of the rectangular white housing, which is accented by a stylish gray Kvadrat textile grille that conceals the speakers.
One thing I will say about not having the projector paired with a screen is that I did not have to worry about messing around with any zoom (or motorized lens) to adjust for the proper aspect ratio onscreen, as I do when using my Elite Screens 2.35:1 model in my media room. If you do a lot of toggling between HD sports, 2.35:1 movies and even 2.0:1 Netflix content, it's a lot of adjustment back and forth – score one for the wall.
Users can choose among several picture modes: Standard, Cinema, Sports, Game, HDR Effect, Expert (Bright Room), Expert (Dark Room), Vivid. At first I thought Standard was fine, but after going through the various options, to me Cinema was the most natural so I stuck with that. The "Expert" options were similar in their lifelikeness, while Sports and Vivid leaned to bright.
The UST projector offers a great attachment sale opportunity for furnishings that double for equipment rack purposes, or further enhance the technology's design flair. Either way, LG's "glamor" images of the product show it sitting by the wall it's beaming onto, but note you can't see any wires, not even the power cable … your customers may want a similarly minimalistic install. I had a power outlet right behind the record crates the projector rested on, so that was not a problem.
Some HU85LA projector reviews on LG's website noted having an issue with a hot yellowish line developing toward the center of the screen, but I never encountered anything like that while viewing Netflix, "The Mandalorian" on Disney+, nature videos on YouTube, etc. In fact, one "trending" application that I tried out in much shorter doses is the ability to fire up incredible 4K landscape and travel videos on YouTube, some of which run upwards of 8 hours – the UST projector makes for a fantastic digital art/wellness canvas opportunity.
On the audio side, give credit to LG for incorporating audio that's better than what most flat panels provide and can play quite loud. It will serve a rec room pretty well, though integrators may want to push for a higher quality surround-sound system and something with more bass output.
The price point certainly creates a bit more exclusivity of client base, but consider that LG has also been ushering forward premium-priced OLED products for years, and a high-performance UST projector falls into that area. Current LG 4K OLEDs featuring the same AI ThinQ top out at 77 inches for $3,500 to $10K depending on the model, while the 88-inch signature 8K OLED runs 5x as much as the HU85LA.
All in all, I couldn't be more impressed with the HU85LA as a versatile video product that integrators can use for a range of applications, home theater or otherwise.
CE Pro Verdict
Pros: Bright, inky, detailed UHD images; fast on/off function; webOS delivers simple wireless streaming access; ultra short throw provides installation versatility; long lamp life
Cons: Max screen size might be too small for some customers; price will be prohibitive to some
post
If you enjoyed this article and want to receive more valuable industry content like this, click here to sign up for our digital newsletters!