There is no doubt that interior designers are likely to be among the biggest fans of Ultra Short Throw (UST) 4K projectors like the new LG Cinebeam recently shown at CEDIA Expo 2019. Simply put, UST projectors enable the benefit of a larger screen size but eliminate the barriers of having to redesign the room to accommodate a piece of technology.
"There are a lot of rooms where people may not want to have a flat panel display on the wall," says Tim Alessi, head of home entertainment product marketing at LG Electronics. "Keep in mind that a flat panel display pretty much tops out at 77 or 88 inches. If you want to go larger… says 100 or 120 inches… now you are in the realm of projectors.
"However, traditional front projectors require a room redesign… you need to have a lot of lighting control, you are hanging the projector from the wall or ceiling, or placing it in the middle of a room. Those options are not very convenient.
"Our Ultra Short Throw projector can be placed only 7.2 inches from the wall and get a 120-inch screen size," says Alessi. "Our new Cinebeam Ultra Short Throw projector employs a three-channel laser system, meaning it uses laser as a light source and it doesn't need a color wheel. Traditional DLP-based projectors require a color wheel. The three-channel laser gives you a more accurate color reproduction, an expanded color gamut, and you don't have the rainbow effect that some people see with DLP projectors."
The new LG CineBeam AI ThinQ ultra short throw projector with IP control integrates with Crestron, Control4 and Savant. can be placed 7.2 inches from the wall to project a 120-inch 4K UHD image. Full 4K resolution is 3840 x 2160 and the screen size can vary from 90 inches with the projector placed 2.2 inches from the wall, to 100 inches at 3.9 inches away from the wall, to 120 inches at 7.2 inches from the wall.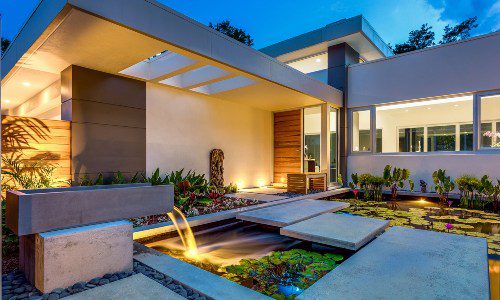 Landscape and architectural lighting create a magical and elegant ambiance for homeowners. The outdoor lighting industry has always been a phenomenal one and continues to grow in popularity. Now is the ideal time to learn more about this rapidly growing and highly profitable industry. Join our panel of esteemed lighting experts that will dive into why it's time for integrators to rethink their role in the outdoor lighting industry.
Register Now! 
It boasts a contrast ratio of 2,000,000:1 and a lamp life up to 20,000 hours. Other key specs include HDR10, HDCP 2.2, advanced edge adjustment digital keystone correction, Inputs and outputs include two HDMI, 2 USB 2.0, one USB Type C, one RJ45 and one optical.
Barry Schurr, COO of Osbee Industries, a top custom integration company based in Harrison, N.Y., is a fan.
"We've demo'ed the product in our showroom. Technically we love the specs on it. It is super bright with great picture quality and a fantastic footprint. I think it is going to find its way into some of our upcoming projects real soon," says Schurr.
If you enjoyed this article and want to receive more valuable industry content like this, click here to sign up for our digital newsletters!