For all of the CEDIA Expos I've attended and other trade-shows or manufacturer demos, I actually had not had any 4K display products to enjoy in my own home before testing out BenQ's HT5550 CinePrime Ultra HD DLP projector.
It was long overdue, so I reached out to BenQ for my entrée into 4K because I wanted to begin with a value projector. I had been borrowing an old Panasonic HD projector, and admittedly part of my motivation was potential shopping for a modern replacement. The BenQ model was indeed a perfect place to start.
Features & Setup
In my second-floor bonus room, my 92-inch 2.35:1 motorized Elite Screens Osprey screen is on a wall facing the doorway, near one window that's shielded with blinds and perpendicular to a wall with two windows that have blinds and thick red drapery. It's not ideal, but it does probably represent the increasingly common multimedia spaces integrators work in these days.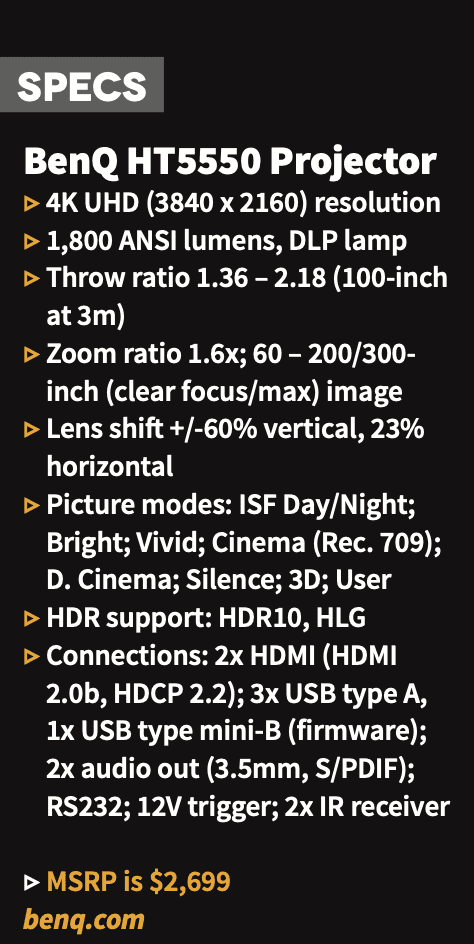 I placed the HT5550 on my media rack opposite the screen, roughly 11 feet away. It's an elegant projector with kind of a black matte finish and center-placed lens flanked by fans. It weighs just 14.7 pounds but has a sturdy build quality and measures roughly 19.7 (W) x 6.6 (H) x 13.7 (D) inches.
Connecting and setting up the HT5550 was simple, though calibrating it can get much more complex depending on how much expertise an integrator wants or needs to employ. I plugged the unit's power cable in and used both HDMI ports, for which I revolved four sources — my laptop, an Amazon 4K Fire TV Stick, Spectrum cable box and Sony UBP-X700 Ultra Blu-ray player. The projector also offers a trio of USB ports for media drives, and two audio outs (3.5mm and S/PDIF), which can come in handy when using something like a Fire TV Stick.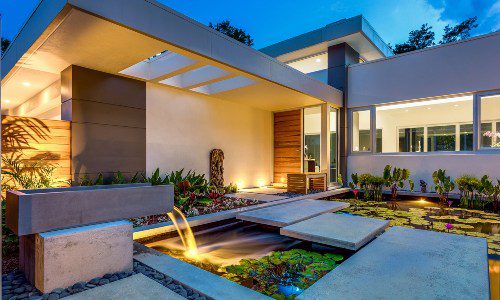 Landscape and architectural lighting create a magical and elegant ambiance for homeowners. The outdoor lighting industry has always been a phenomenal one and continues to grow in popularity. Now is the ideal time to learn more about this rapidly growing and highly profitable industry. Join our panel of esteemed lighting experts that will dive into why it's time for integrators to rethink their role in the outdoor lighting industry.
Register Now! 
My initial throw to the screen was for a 16:9 aspect ratio (filling vertically), since I used it first for broadcast cable from the Spectrum STB and YouTube via my laptop. The HT5550 has manual adjustments for vertical and horizontal lens shift on top, and zoom and focus on the rings surrounding the lens — that made it easy to dial in the image, and also since I don't use an anamorphic lens when playing 2.35:1 content it's quick to zoom out and get the image just right to fill the super-wide screen.
BenQ says the projector comes factory calibrated for color accuracy out-of-the-box, tested and adjusted. Suffice it to say that beyond some tinkering, I did not dig too deep into the granularity afforded by advanced menu settings for gamma selection, color management & temperature, Cinema Master, dynamic iris, brilliant color, wide color gamut and more.
I mainly stayed with the Cinema (Rec.709) picture mode, which kept basics like brightness, contrast, color, tint and sharpness on the middle of their scales (which seemed to underscore that factory calibration). Other picture modes include Bright, Vivid TV, D. Cinema and User — any time I changed things, I wound up going back to the default because it did look better. I tried out the Economic light mode (there's also Smart Eco), but my room needed the brighter output of the Normal mode.
I made sure the HDR was set to auto, as the HT5550 handles HDR10 and HLG formats; I appreciated the menu page that gave resolution information so I knew 2160p 60Hz was being displayed, for instance.
Performance & Conclusions
Because I didn't have a home reference for 4K, I watched regular HD Spectrum content first, and the HT5550 played everything solidly whether it was live golf or HGTV or CNN, etc. I expected some pixilation with HD going through a 4K projector blown up on the big screen, but things were quite smooth, bright and punchy.
Before purchasing the Ultra BD player, I used my laptop to watch YouTube, since there is a wealth of nature and travel content in 4K, as well as concert videos from Phish that I'd been excited to finally view in the format. I was not disappointed — in fact, it was a truly jaw-dropping moment when after I switched display output to the higher resolution (and saw the little 4K designation come up as an option on YouTube video settings) I played a Sony demo showing African landscapes, giraffes, lions, tigers, flamingos and more. There was so much more detail compared with the HD setting it was like a CEDIA Expo demo — every strand of fur on the animals, the textures, the individual outlines defining hundreds of birds … just stunning realism.
For those Phish videos, the resolution made a big difference too. The constantly changing lighting effects and dark stages can wreak havoc on their HD concert clips, creating lots of blocky pixilation and banding artifacts. I found the 4K not only made those unpleasantries disappear and smoothed the video, but everything just stood out more — woodgrain of the guitar; microdetails on various black objects like piano, microphones, amps; hair on the heads and arms of band members; faces rows back in crowd shots.
From the Fire TV Stick, I watched "The Mandalorian" on Disney+ and was equally impressed. The jagged sandstone scenery and every blemish, dent and shiny curves on Mando's armor suit and spacecraft were just a few of the well-depicted details. I also looked at some content on Netflix that I'd previously seen but not in 4K, like scenes from "Stranger Things" and "The Blacklist," and again found the experience elevated by the HT5550. Both are gorgeously shot shows to begin with, which surely helps, but the beginning of a Season 3 "Blacklist" episode, for example, begins with an aerial pan of D.C. and all the crammed buildings are much better outlined. In "Stranger Things," as the main characters ride up to school, their bikes and clothes, the bricks, the grass all look sharper than in HD.
With the Sony Ultra BD player, I used a few discs: "Star Wars: The Rise of Skywalker," "Die Hard" and "Oceans: Our Blue Planet" — modern digital film, a 30-year-old upconverted classic and a video with challenging scenery. Frankly, when I saw it in the commercial theater I thought "Star Wars" looked rather bland, a little muddy and unspectacular for what it should be; on Ultra BD via the BenQ, scenes were so much more vibrant, from Rey's jungle training that popped with lush colors to her dual with Kylo Ren in the ocean storm and the shadowy Sith throne sequence, details breathed new life into it.
"Die Hard" was a bit more of a mixed bag, as some graininess was rendered here and there — which I encountered back when moving from standard to HD on older content too — but did benefit from greater detail overall. With "Oceans," oddly enough a sequence showing clouds made white-level definition crisply stand out, while marine life glistened in detail, beautiful to watch.
I will say one setting I dabbled with was the pixel enhancer, which I found aided certain scenes but was best turned off for others in which it amplified graininess. One other word of warning, when HDR content is on, you will hear the HT5550 working to employ it; going from the YouTube menu to an HLG Phish video, for instance, and if an ad starts to play you'll hear it switch back and forth, a minor nuisance.
Overall, if customers are on a budget but want high-quality, large-screen 4K with HDR, the BenQ HT5550 will fill the bill quite nicely. For integrators, this projector really speaks to what a great time it must be to sell home theater dreams
---
CE Pro Verdict
Pros:
Nicely saturated and accurate color
Excellent detail and black levels
Great bang for the buck for 4K HDR projection
Cons:
Fans run a little warm
Makes noise when HDR content kicks in
Tad grainy on older content
If you enjoyed this article and want to receive more valuable industry content like this, click here to sign up for our digital newsletters!