While it's admittedly easy to default to a flat screenl TV when installing products in a room filled with both natural and artificial light, with the advent of Ultra Short Throw (UST) technology, integrators would be wise to reconsider. 
More Ultra Short Throw projectors are hitting the market lately, and Hisense, the fastest growing U.S manufacturer of televisions, believes these products have the ability to not only replace but improve upon traditional flat screen display setups. 
"Hisense has been working on Ultra Short Throw Technology since 2007 and we are on our sixth generation right now," says Kevin Cahill, head of sales and marketing, Laser TV, Hisense.
In that time, the company has managed to give its L10E series of UST projectors a 25,000-hour lifespan, which equates to approximately 13 years of average use.
Plus, integrators maintain the same flexibility that a flat screen TV provides thanks to the projector only requiring between 8 inches and 10 inches of space in front of a screen.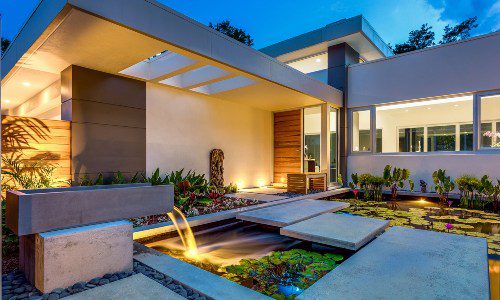 Landscape and architectural lighting create a magical and elegant ambiance for homeowners. The outdoor lighting industry has always been a phenomenal one and continues to grow in popularity. Now is the ideal time to learn more about this rapidly growing and highly profitable industry. Join our panel of esteemed lighting experts that will dive into why it's time for integrators to rethink their role in the outdoor lighting industry.
Register Now! 
Seeing is Believing
The trick, according to Cahill, is to make sure customers know the UST option exists.
"Everyone that sees this picture, both the size and picture quality…they love it! So it's all about getting it out in front of the customer."
"You can team it with an ambient light rejecting screen and [place] it in a well-lit room, a boardroom, and many other options," adds Cahill, noting that this simply isn't possible with traditional bulb projectors.
Cahill urges integrators to simply go out and show customers the product. Bring it into their homes, set it up for them, and step back while the product speaks for itself. 
"It's really just getting it out in front of the consumer. Having them see it, having that wow moment of the size, the immersive experience, and the picture quality," he says.
Integrators can also get the L10E series bundled with an ambient light rejecting screen, allowing customers to have a much larger picture in their favorite binge watching location without the integrator having to balance multiple brands or specifications.
If you enjoyed this article and want to receive more valuable industry content like this, click here to sign up for our digital newsletters!