CE Pro Podcast Holiday Edition: Editors' Picks from 2020
The CE Pro Podcast welcomed guests from all areas of the custom industry – integrators, manufacturers, associations, distributors and more – in our first year.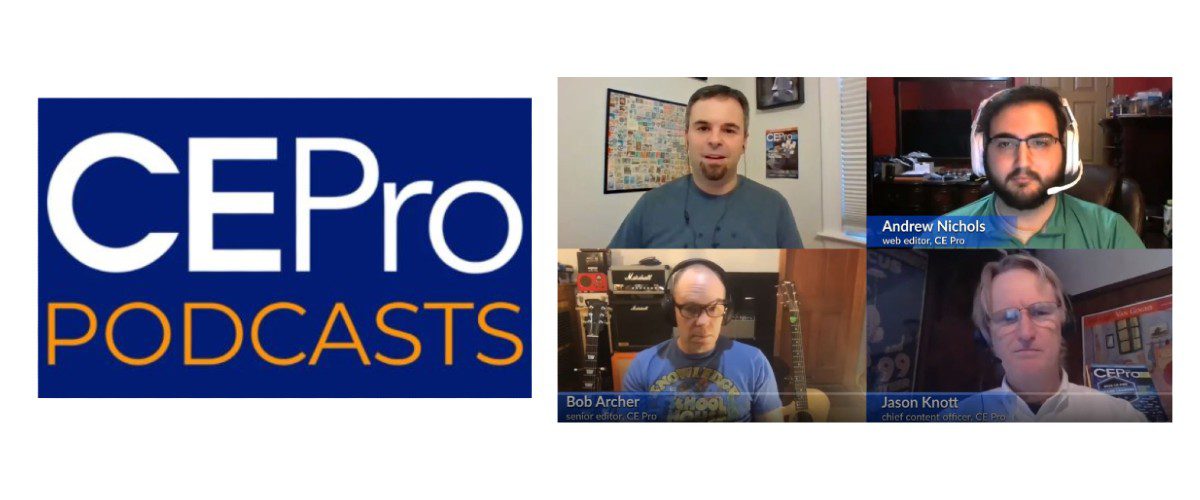 Well, we made it to the end of 2020 – congratulations all around to the custom electronics industry in weathering a year filled with unprecedented challenges.
As custom integrators, manufacturers, distributors, reps and associations all shifted processes in some manner while adjusting to the coronavirus pandemic, CE Pro did as well. Just like many, Zoom became our calling card for communications this year.
Also, like many, we rolled out a podcast in 2020 and used the video platform to chat with a wide variety of industry insiders throughout the year.
The CE Pro editorial team of Jason Knott, Arlen Schweiger, Bob Archer and Andrew Nichols – aided by multimedia director Larry Holmes – shared the screen with guests representing all sectors of the CEDIA channel to stay on top of how the industry was responding to pandemic scenarios nationwide.
CE Pro Podcast Welcomed Guests from All Segments of Custom Industry
Whether one-on-one or roundtable discussions, the weekly CE Pro Podcast episodes helped shed light on how integrators pivoted their sales and installations; how manufacturers dealt with supply chain issues; how associations like CEDIA addressed strategic initiatives to support the changing times; how the CEDIA Expo Virtual event would take shape; and much more.
In our second episode we interviewed CEDIA CEO Tabatha O'Connor to delve right into the introduction of CEDIA Strong and other initiatives.
And as we saw over the course of 2020, the challenges early on in the pandemic turned into opportunities for many CE pros as homeowners faced the reality of extended shared time working and learning from home.
CE Pro Podcast guests underscored the increasing demand for improved home networks, wellness solutions, home entertainment and more. We also welcomed industry experts to chat about technical topics such as video and audio calibration, wireless AV, HDMI 2.1 and other items.
The podcast recordings also gave us a platform to present some of the other talents and hobbies for a bit of lighter content that we can all relate to – check out Bob Archer's favorite "Industry's Got Talent" episode picks highlighting those fun shows later this week.
In the meantime, check out the slideshow to rediscover or watch/listen for the first time some favorite topic discussions you may have missed among our first 37 CE Pro Podcast episodes. You can subscribe to the CE Pro YouTube channel to find all of our shows.