CE Pro Podcast #10: Why Sonos Launched the Dolby Atmos-Friendly Arc Soundbar
Cullen Harwood of Sonos explains the process the popular audio company employed to develop its new Dolby Atmos compatible Arc soundbar and its S2 OS.
Listen to this podcast using the embedded player below, or use the link to download (right-click to save) or to listen using your system's media player. On mobile devices simply click the Download this Audio File link below and your devices player will automatically play the file.
Listen to this podcast right now.
Format: mp3 • Length: 13:25 • Filesize: 12991722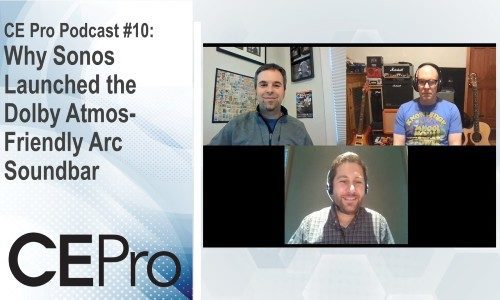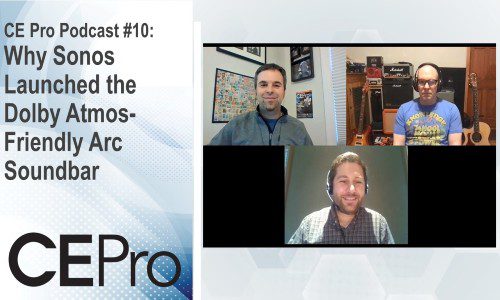 Over the past decade, Sonos has transformed from the "Little Engine that Could" following its launch in the mid-2000s to its current UFC "Lioness" Amanda Nunes level of wireless audio category dominance.
Flexing its market muscle, the popular company just released its new Arc soundbar. Sonos' latest soundbar is a completely new design that provides immersive audio capabilities via the Dolby Atmos format, and an active multidriver array.
Further augmenting the soundbar, the Arc incorporates Sonos' brand new S2 operating system (OS), which also just became available, and its new streaming solution called Sonos Radio.
Cullen Harwood, product marketing manager – architectural, Sonos, spoke with CE Pro executive editor Arlen Schweiger and myself about the company's design approach to the Arc, its differences from previous soundbar products, and where it fits into the current ecosystem.
More Than Just a New Soundbar Coming from Sonos
Taking the conversation beyond the Arc immersive audio soundbar, Harwood also discussed in greater detail the S2 operating system and the Sonos Radio service the company now offers to users.
Harwood like many people links music to specific points in his life, and the newlywed mentions as an example the association with Sonos Radio's New Orleans-themed "Fat City Gumbo" channel and his wedding, which took place in New Orleans.
The big takeaway from Harwood's comments without giving too much away is the company worked hard to not only deliver a state-of-the-art home theater solution, but to also provide users with a stable successor to its long-running original operating system.
To hear the complete conversation, click the video or audio above, or check out the CE Pro Podcast from your favorite podcast providers, which include Apple and Spotify.
You can also read my take on the latest soundbar: Hands On: Sonos Arc Immersive Audio Soundbar. The review explores the Arc soundbar, the S2 operating system, and the free Sonos Radio streaming service.
Check out more episodes of the CE Pro Podcast here as well as our YouTube channel.