Sonos S2 OS Confirmed for June Release
Through its online support section, Sonos has confirmed the launch of its S2 platform.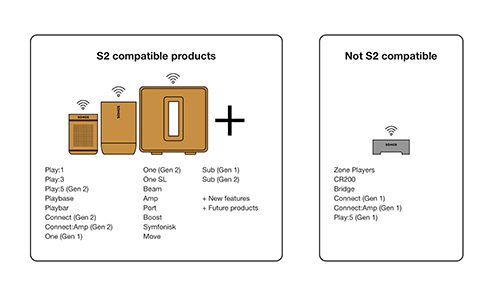 After several reports that Sonos was set to launch a new platform, the company has confirmed those reports through a support page.
The support page states the Sonos S2 OS will launch in June and it will include a companion app. Sonos goes on to say the new S2 OS, "will power the next generation of products and experiences. In addition to new features, usability updates and more personalization moving forward, Sonos S2 will enable higher resolution audio technologies for music and home theater."
Listing products that are compatible with the new Sonos S2 OS, the company notes that users can use their systems just as they always have.
Here is a list of products that are compatible with the Sonos S2 OS:
Play:1
Play: 3
Play: 5 (Gen 2)
Playbase
Playbar
Connect (Gen 2)
Connect: Amp (Gen 2)
One (Gen 1)
One (Gen 2)
One SL
Beam
Amp
Port
Boost
Symfonisk
Move
Sub (Gen 1)
Sub (Gen 2)
Sonos also confirmed that if users have products that are not compatible—Zone Players, CR200, Bridge, Connect (Gen 1), Connect: Amp (Gen 2) and Play:5—they can keep on using their Sonos systems.
"The app you are now using will be renamed the Sonos S1 Controller, and it will continue working with your existing products, music services and voice services. When prompted to update in the app, simply confirm that you would like to continue with your current experience," says the company on the support page.
"If all of your products are compatible with S2, however, we recommend you update so you can enjoy the new software features."
Sonos also points out that products made after May 1, 2020 will not be compatible with the S1 system, and the respective S1 and S2 apps are only capable of controlling products in each respective platform.
"You can continue using the S1 Controller app to control your system. You also have the option to create two separate systems: One with products that are S2 compatible, and one with products that are not. You can also upgrade incompatible products."
Sonos adds that S1 users will continue to receive system patches and bug fixes for their system.