CE Pro Podcast #16: Digging Deep into Wellness with PureTech Alliance
PureTech Alliance of reps tells CE Pro why the wellness trend is ready to take off, and which categories are set for growth.
Listen to this podcast using the embedded player below.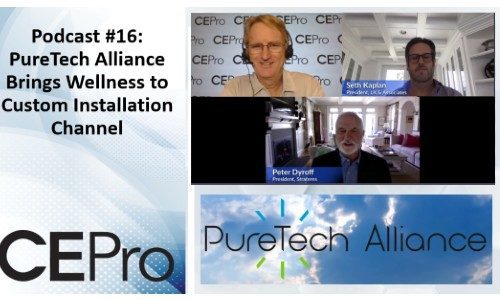 It's no secret that the wellness and biophilia category has become a major trend in the CE industry lately, and as sales opportunities continue to grow, so do the number of companies offering products focused on indoor air quality, water monitoring, and human-centric lighting, among others.
As a result, the new PureTech Alliance is hoping to capitalize on this forward momentum by gathering together 12 veteran independent reps to create a wellness-focused national sales organization.
To help understand the potential of the wellness market and how integrators are likely to benefit from these products, CE Pro reached out to PureTech Alliance's founding partners, Seth Kaplan of LK & Associates and Peter Dyroff of Strateres Associates for this week's episode of the CE Pro Podcast.
Wellness Is the Way of the Future
According to Kaplan and Dyroff, the mission of the PureTech Alliance is to create the ultimate national sales organization, with all territories benefiting from a unified sales, support and training regimen that will maximize productivity and operational efficiency for each regional firm.
As a national sales solution for manufacturers of health and wellness technologies, the PureTech Alliance will be highly autonomous, capable of providing vendor partners with the sales performance they must have while minimizing the internal resources typically required to oversee each region.
"It is real clear that the wellness category is ripe to fit in with integrators in high-quality homes and installations," says Dyroff, suggesting that wellness products are ready to be a part of every install.
Dyroff is right to be optimistic, as according to the upcoming CE Pro 2020 Wellness Deep Dive Study that will be revealed in the August 2020 issue of CE Pro, integrators expect the percentage of projects with wellness technologies included to nearly double over the next 12 months, from 20% of projects pre-COVID-19 to an estimated 38.9% of projects post pandemic.
"Over 90% of integrators will start to integrate wellness solutions and focus on wellness solutions going forward. We really see the CI channel, with their technical skill set and abilities, as the right types of dealers to be integrating these solutions," says Kaplan.
It may take a while for wellness products to reach mainstream audiences, but for now there are plenty of reasons for integrators to keep an ear to the ground. To hear more about the wellness category and the PureTech Alliance, click the video or audio above, or check out the CE Pro Podcast from your favorite podcast providers, which include Apple and Spotify.
Check out more episodes of the CE Pro Podcast here as well as our YouTube channel.