CE Pro Podcast #21: How to Navigate the CEDIA Expo Virtual Experience
CEDIA Expo associate show director Ashley Sprengnether takes attendees through cediaexpo.com highlighting how to find education, events, exhibitors and more.
Listen to this podcast using the embedded player below.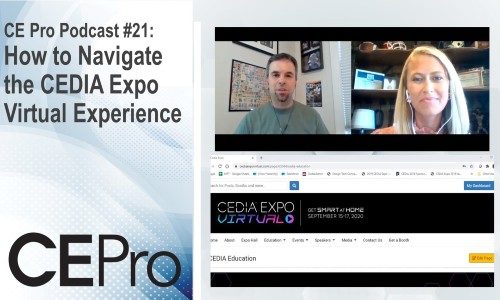 Registration for this year's CEDIA Expo Virtual Experience is now open at cediaexpovirtual.com … but with the new virtual platform this year, do you know what to do after registering for the Sept. 15-17 event?
There's a lot packed into the three-day event, and the website is attendees' central hub for navigating it all. On this week's episode of the CE Pro Podcast, associate show director Ashley Sprengnether points out key areas of the site, effective ways to find exhibitors and education, and advice for optimizing time during the CEDIA Expo Virtual Experience.
"We've thought really long and hard about the many things that we love and appreciate about the live event and really tried to recreate as much as we could within the Virtual Experience," Sprengnether says.
"As always, education is a huge component of the live event and CEDIA has done a really phenomenal job pulling together over 50 live and prerecorded sessions and over 30 on-demand sessions for the Virtual Experience."
As CE Pro detailed in last week's podcast, the full slate runs all day on September 15, the first day of the show, until 10:30 p.m. to accommodate all time zones in the U.S. (and others joining internationally, like instructor David Meyer from Australia), and from 8 a.m. to 1 p.m. on September 16.
For those who have already registered or are plan on registering for the event – at cediaexpovirtual.com – they will notice a navigation dropdown menu for the "Expo Hall" this year.
That's where attendees can find exhibitors by product groupings into some key categories, which Sprengnether says hopefully makes things easier on attendees as they search for exhibitors (which they can also do from a search bar at the top of the page). Plus, there are brand-specific URLs for exhibitors, with company.cediaexpovirtual.com (like savant.cediaexpovirtual.com, for instance).
Expo Hall, Smart Stage Elements Enhance CEDIA Expo Virtual Format
Expo Hall hours will run Wednesday, Sept. 16 and Thursday, Sept. 17 from 10 a.m. to 6 p.m. ET.
"During these hours we really are advocating our attendees to meet with the exhibitors and watch demos, join their trainings and check out all the exciting things they have going on within their booths," Sprengnether says.
She adds that there will be a New Product Showcase for attendees to explore the new offerings being introduced by exhibitors for the CEDIA Expo Virtual Experience – just as they would be doing for the in-person event.
Other elements continuing this year that Sprengnether discussed will be there again, via the virtual platform, include the Smart Stage sessions such as Tech Talks and Tech Bites programs, as well as the Design+Connection initiative.
Tech Talks will cover trends ranging from lighting to resimercial opportunities to 5G, outdoor AV and more. Meanwhile, Sprengnether notes the strong Design+Connection content lineup will enable integrators to improve their relationships with designers and architects, whom she says will also comprise a segment of attendees again this year.
"We'll be doing a series of sessions that aims to deepen the conversations between the CI channel and design-build professionals," she explains.
"This has been a core focus of our event strategy the past couple of years, and we believe that because we've taken away the barrier of entry for these design-build professionals to have to hop on a plane, stay in a hotel, we'll definitely have a larger group of them engaging in the virtual platform."
Expo Exhibitors Will Be Ready & Waiting in Virtual Booths
In addition to the CEDIA education sessions, exhibitors will be staging various trainings and presentations that attendees can find within their booths, and content will be available on-demand until the end of the year.
For those wondering how they will be able to schedule one-on-one time with exhibitors, the CEDIA Expo Virtual platform has areas built in where attendees can easily request meetings, including the Schedule a Meeting tab within their booths; another way is to go into the Meeting Lounge as well as a live chat capability.
"We're giving everyone multiple ways in order to engage with the exhibitor," Sprengnether says.
And don't be shy, she says – the exhibitors will be there, ready and waiting for attendees just like they are on the Expo show floor every year!
Also, look for a link on your attendee dashboard, once you do register for the event, that provides a document outlining best practices for navigating the event.
Additionally, apart from the actual "networking" product category, attendees can do some virtual networking at this year's CEDIA Expo Virtual Experience. Look for networking Lounges, where you'll find special Zoom rooms set up to engage with colleagues and chat about tech trends, business operations and much more, and Forums, where integrators can start and respond to topical Q&A threads.
Other familiar events for attendees to find in the cediaexpovirtual.com navigation include the Women in Consumer Technology (WICT) 12th annual Expo luncheon (Sept. 16, 2 p.m. ET), and the CE Pro Awards revealing winners in the BEST Products and Home of the Year Awards programs (Sept. 16, 9 a.m. ET).
Oh, and don't forget about virtual swag and prize opportunities. No, you won't be tossing your business cards into fish bowls this year for drawings, but attendees can earn points by submitting information with exhibitors – and prizes include an all-expenses paid trip to CEDIA Expo 2021 in Indianapolis, a large Yeti cooler, and Visa gift card!
Check out our YouTube channel for all of our previous podcasts, or click here to watch them all on our site!