CE Pro Podcast #17: Virtual Tour of New CEDIA Website & Academy
CEDIA's Samantha Ventura and Desiree Friedman join us to highlight details, navigation, education modules and much more about the revamped website and online learning tools.
Listen to this podcast using the embedded player below.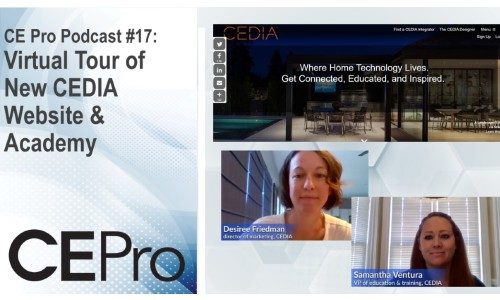 The ongoing coronavirus pandemic certainly has not slowed down the folks at CEDIA. In fact, the custom integration industry association has been super busy throughout these past several months, with a flurry of activities and initiatives rolled out to members.
As integrators began dealing with shutdowns and work-from-home situations, the association began offering free education online, publishing new white papers and adding 'Financial Fitness' webinars to aid business operations.
In April, CEDIA launched its CEDIASTRONG initiative that included such elements as online education, financial and legal advice, a financial assistance fund, regional roundtables and more.
Just recently the organization also announced it would revive some in-person education events beginning in August, and even scheduled a day-long Lighting Conference that will take place August 11 and cover trends ranging from lighting controls to human-centric lighting to working with lighting designers and more.
President Tabatha O'Connor joined CE Pro as guest on our second-ever CE Pro Podcast Episode to share insights and details about CEDIASTRONG.
Revamped Website, Online Academy Deftly Merge Digital Tools
Meanwhile, the association continued to plug away at other endeavors that included revamping its website and developing the CEDIA Academy, whose debuts align with CEDIASTRONG and help integrators easily access the organization's wealth of digital tools and online curriculum.
To better understand all that the new cedia.net site works and everything entailed that is available to members, and to go into delve into details of the new CEDIA Academy, the latest CE Pro Podcast features director of marketing Desiree Friedman and VP of education and training Samantha Ventura.
"We did both phone interviews and online surveys with [members] to gauge what they were using now, what our current site was missing – what's an ideal scenario for them and then dug into that," Friedman says of the process for developing the website redux.
"Along the way, once we had different pieces in place, what we thought the navigation was going to look like and what the different pages would offer we touched base with those people as well to really keep everybody engaged in an ongoing basis and make sure we were staying on the right path."
Thanks to the ability within Zoom to share screens, we asked Friedman and Ventura to walk us through various aspects of these platforms, how integrators can best navigate them, ways they can upload project galleries and company information, work their way through training modules and much more.
"Everybody who's put in presentations, proposals, different things from Expo to ISE to classes we've had in the past – the education at CEDIA is something that the organization has been truly, truly proud of," Ventura says.
"But then looking at how we were going to scale that, especially with the idea about how we are going to globally align with the UK but also using a learning management system specifically to have the reach we really want to our global markets is paramount to what we're trying to do with education. So we knew immediately we were going to have to have a strong enough platform to support that."
You can watch the video version above for the full walk-through of the new website and CEDIA Academy, or listen to or download the audio version. Also be sure to subscribe to CE Pro's YouTube channel for previous CE Pro Podcast episodes.