CEDIA Webinars Assist Integrators with 'Financial Fitness'
The industry association's CEDIASTRONG initiative continues to add webinars to its busy upcoming schedule, including several business-related events.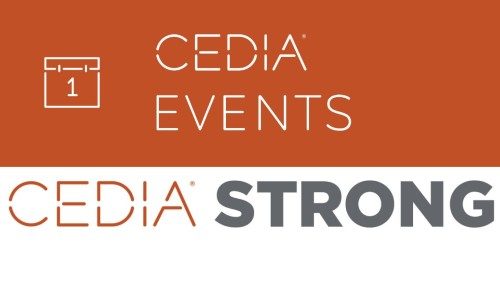 Custom integrators can use as much help as they can get these days as the coronavirus (COVID-19) outbreak continues to impact small-to-medium businesses and their potential customers.
Fortunately, myriad suppliers and associations are stepping up with loads of online trainings and webinars to help guide integrators with the latest technical know-how and business advice during this difficult time.
Particularly noteworthy among these has been the recent rollout of CEDIA's CEDIASTRONG program, "comprised of new services and tools to empower, educate, and inspire" integrators, according to the association.
CEDIA Slate Features 'Financial Fitness'
As part of the initiative, there's no shortage of webinars integrators can attend, but CE Pro wanted to highlight some of the upcoming financial-related online events CEDIA is hosting, since the bottom line remains the biggest focal point for businesses and any assistance should be welcomed.
The association continues to deliver tech and business webinars twice weekly (Tuesday/Thursday), and has announced the addition of "Financial Fitness" webinars on Mondays.
With that in mind, here are five upcoming webinars and brief descriptions, courtesy of CEDIA, to be added to your calendars where possible (the full list of upcoming CEDIA events can be found here):
The Economy and Your Business: Where to from Here?
Monday, April 27 – 2 p.m. EDT
How is the economy tied to the markets in the U.S. and around the world? How can government response mitigate – or exacerbate – an astonishing and sudden downturn like the one we're experiencing? Is a quick recovery – what's called a "V shape" – likely, or will things slowly creep back to pre-pandemic levels? And how can this affect your business during – and after? Michael P. Heneghan, CFA, CAIA, Senior Investment Strategist; and David M. Hunt, Financial Advisor of the money management firm Bernstein will join CEDIA members for this webinar.
Cash Flow Forecasting in a Time of Crisis – The COVID-19 Example
Tuesday, April 28 – 11 a.m. EDT
Amid this global pandemic, many companies have discovered they need to create a better cash flow forecast. As you consider the impact of the CARES Act, PPP, FMLA regulations and/or the SBA economic injury disaster loan, you still need to take a look at your current financial situation. In this webinar, hosted by Leslie Shiner, you will learn how to create a system to forecast cash flow and create different scenarios to project your cash needs.
EMEA: Business Survival Post COVID-19
Monday, May 4 – 11 a.m. EDT
How can you minimize the impact of this global pandemic on your business? Luke Desmond of the U.K.'s Crisp Accountancy has advice. Luke will help you understand what to consider immediately, offer tips to build resilience in your team and family, provide a template for creating your Business Continuity Plan, help craft supporting information so you can engage with your suppliers, employees, bank and advisors to drive empathetic and effective conversations, and summarize the ways in which you can fast track the development of your plan.
Understanding the Business Impacts of COVID-19
Thursday, May 14 – 11 a.m. EDT
As part of the CEDIASTRONG initiative, market research specialists The Farnsworth Group will explore and explain the results of CEDIA's COVID-19 Impact Survey. Covering the U.S., Canada, and U.K. regions, the presentation will cover topics such as project bidding, ongoing jobs, impact on current operations, and near-term outlook.
Top Five Pivot Opportunities for Integrators
Thursday, May 21 – 11 a.m. EDT
The reality of the current lockdown period is that regardless of creativity, innovation and tactics, most companies in most regions are not currently able to do business. BUT, now is the perfect time to pivot on strategy, rethink opportunities and come out of the other end of this crisis as a stronger company able to embrace new opportunities. This webinar, hosted by CEDIA's Peter Aylett, will suggest five pivot strategies including practical ways of developing them now to then implement once the lockdown pedal is released enough to do business again.