Important moments in history require leaders to take action, and CEDIA is answering the call during the devastating COVID-19 pandemic with its new CEDIASTRONG initiative, a sweeping array of new services and tools to empower, educate, and inspire the industry to weather these turbulent times.
CEDIASTRONG will provide members free financial planning tools and services, technical training and webinars, career planning resources, online business roundtable discussions, and marketing content that members can use to promote their services locally. As part of the initiative, CEDIA also plans to establish a CEDIASTRONG Fund to provide financial assistance to members in need with the goal of awarding grants later in 2021.
"CEDIASTRONG was born from the COVID-19 pandemic and was designed to serve as a rallying cry for our industry," says CEDIA President and CEO Tabatha O'Connor.
"Today, as people hunker down and work from their homes, technology solutions are all the more paramount, as is the role of the professionals who design and install them. We want to help members power through this challenging period and prepare them for the future to ensure they are ready to resume business as usual when this crisis is behind us."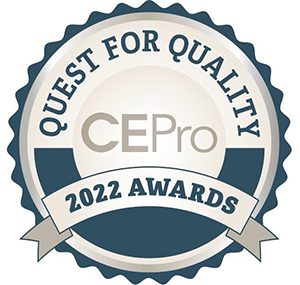 CE Pro urges integrators to recognize their suppliers that go above and beyond to deliver premium support and service. Cast your vote today to recognize the services (not the products) from your favorite manufacturers and distributors.
Cast your vote today!
O'Connor hopes the CEDIASTRONG program will be a rallying cry for the industry at CEDIA Expo 2020 in the fall in Denver. Former longtime Control4 executive Susan Cashen lent her expertise to the association in the development of the initiative.
"There are all walks of life in the custom electronics industry. Now more than ever, the industry needs to unite to get through this challenging time," she says.
Cashen notes that CEDIA worked relentlessly to put the CEDIASTRONG initiative together in a matter of weeks.
"It is amazing that the association is doing this so the best and brightest in the industry can share with each other. This program represents the best of CEDIA," she adds.
CEDIASTRONG Initiatives
Under the CEDIASTRONG banner, CEDIA is rolling out a number of new programs to support the industry and to help promote the importance of their work in their local markets:
CEDIA has enlisted the services of financial advisors who will be sharing their expertise with members in weekly financial sessions – free of charge.
COVID-19 Resource Center features financial, legal, and regulatory information to assist CEDIA members across the globe.
New career planning resources feature an online library of content that will assist displaced workers in resume creation, job search strategies, and interviewing tips and tricks for the jobseeker.
CEDIA has waived all fees for our current online training for CEDIA members so that technicians can hone skills during downtime and business owners can brush up on a variety of business issues. CEDIA is hosting two new webinars each week, tied to white papers and podcast topics. The association has already seen a tremendous spike in its webinar attendance since the coronavirus outbreak hit.
CEDIA will be hosting regional roundtable discussions, live online events bringing integrators and manufacturers together to share insights on how they're conducting business during these unusual times, how best to prepare for recovery, and how to market services in this time of crisis.
New CEDIASTRONG marketing assets will be available so members can help spread the word and generate new business opportunities in their local markets.
And finally, once we get beyond the eye of the storm, CEDIA plans to establish the CEDIASTRONG Fund to provide financial assistance to members in need with the goal of accepting donations later this year and awarding grants to individuals and businesses sometime in 2021.
"We know the fund is an ambitious idea and it is in the early stages, but we know there is a need," says O'Connor. She adds that once the parameters of the funding program are established, CEDIA will be soliciting donations from the industry, "no matter how big or how small."
"The fund is the anchor of the intiative," adds Cashen. "It will take all of us to make this impactful."