CE Pro Podcast #29: Nortek Control CEO Forecasts Supply Chain, Market Conditions Post-COVID-19
Nortek Control President/CEO Chris Larocca offers advice for the remainder of 2020 and into 2021 on where integrators should focus.
Listen to this podcast using the embedded player below, or use the link to download (right-click to save) or to listen using your system's media player. On mobile devices simply click the Download this Audio File link below and your devices player will automatically play the file.
Listen to this podcast right now.
Format: • Length: • Filesize: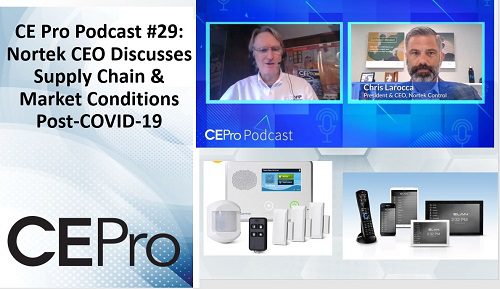 Civil unrest, supply chain chaos, and, of course, the pandemic. Those are what Nortek Control President and CEO Chris Larocca calls the "triple storm" hitting the security and custom installation market. It is also why he tells CE Pro that he is ready to "put a bow on 2020" and head into 2021 with renewed energy. Larocca, who took over his current position at Nortek Control in January 2020, also advises integrators to focus on building their business in the areas of the residential smart home market, security market, and smart analytics that can boost recurring revenue.
"Obviously, it's been a challenging year — not just for other markets that we address, but just the economy in general — with COVID-19," admits Larocca, but he says there are "great tailwinds" related to technology and innovation for the variety of markets that the company addresses, including security, home automation, audio, video, and health and wellness.
"I'm really excited about where we can take this business," he adds.
Looking back to the early spring, Larocca says the uncertainly was huge. Nortek Control has its factories based in China, so the company was forced to address the pandemic very early on in February.
"A lot of our employees were quarantined; they were not allowed to leave their apartments or their homes. At the time, my concern was what it was going to do to the supply chain domestically, with China being shut down the better part of February. I was not really thinking at the time that the virus itself would have such an impact domestically. Like a lot of other companies, we shut down almost all of our facilities. I think out of our 13 facilities, we shut down 11 of them," he says.
Larocca says the second week of April was the bottom point, but since then Nortek Control has seen steady increases in sales. As of the first week in October, he says the company is at or above pre-COVID sales levels in terms of market activity. Those sales increases are across the board for its brands, including 2GIG, Elan, SpeakerCraft, Proficient and others. He pointed in particular to the garage door control market as being off the charts in terms of demand.
Indeed, Larocca says the smart home control market was really not impacted greatly by the pandemic.
"And I would say a little bit later in the recovery cycle, the security market has been red hot. Obviously, a lot of the social unrest that's going on is probably driving some of that. We've seen tremendous strength of the last 60 days in our security segment. Business is very strong right now… surprisingly strong, given what we see in the economy. When I look at our business and the stock market, everything seems to be firing on all cylinders right now," he says.
Larocca says the upcoming election and the potential for a resurgence in the pandemic that would affect the entire global economy are the wild cards. Short of something that's unforeseeable, he is anticipating the remainder of 2020 and into 2021 as being very strong.
Christopher Larocca: We're seeing unprecedented demand in our garage operator space right now again as I mentioned earlier, our home automation market.
On the commercial front, he sees the market continuing to languish until the full effects of COVID-19 are gone and the hospitality and corporate markets can come back in full strength. In the meantime, he advises integrators to focus on the security niche and the smart home space. He points to Nortek Control's inclusion of analytics in much of its hardware, such as the IntelliVision facial recognition software, that will allow dealers to get more information to their clients.
"A residential security system is not just a home automation system, in a lot of cases you're installing a smart system that's providing some additional benefits to that user that you may not have had one or two years ago. The social unrest that's out there has a lot of people that want to protect the homeland. They want to protect our house and their families and that's really where a lot of the integrators are starting to shift their time," he notes.
Larocca sees an application for analytics and machine learning in every product that Nortek Control develops.
"We're most successful when we can differentiate by innovation and technology. And that's exactly what we're doing here. This company is rich in technology," he concludes.
As part of that new focus on the technology behind the brands, Nortek Control recently unveiled its new logo, to go along with the new name.
Thus, as part of the rebranding, the company unveiled a new website and a logo that plays off of the "N" in the Nortek name. The new logo pays homage to the "N" but is much more contemporary, innovative and technology-focused.
"Whether you see the logo as an oscilloscope or as an infinity loop, we thought it had the right messaging around technology and innovation," comments Larocca.
Check out more CE Pro Podcast episodes by subscribing to our YouTube channel.