Whisker Labs' AI-Driven Ting Could be Huge Breakthrough in Fire Prevention
Exploiting Whisker Labs' machine-learning heritage, the Ting IoT device plugs into any wall outlet, detecting electromagnet anomalies across the entire electrical network, and warning homeowners of potential arcs and faults that could lead to dangerous fires.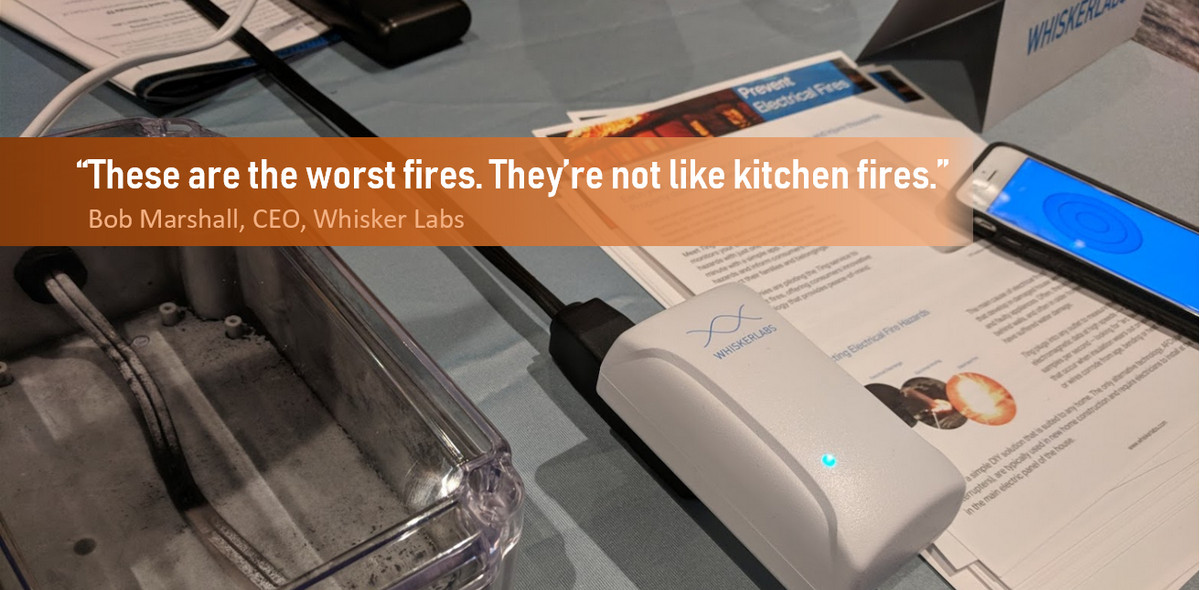 Julie Jacobson
·
May 30, 2018
PRESS RELEASE
Whisker Labs Announces Groundbreaking Fire Prevention Technology
Ting Sensor Service Senses Danger to Alert to Electrical Fire Hazards Throughout the Home with Simple DIY Install
May 22, 2018 --Whisker Labs, Inc., developer of advanced home intelligence technologies, today announced a breakthrough in fire safety with Ting, sensing technology that detects potential fire hazards to help prevent fires. The device installs in minutes to monitor the home's entire electrical network for the precursors to electrical fires, micro-arcs and sparks that develop over time in cords and wires. Ting then alerts homeowners to potential fire danger and provides instructions on what to do next.
"Protection of loved ones and property are consistently the top ranked value propositions for the smart home. Smart home solutions that detect, prevent, or mitigate safety issues in the home create clear value for consumers"
Every year, electrical fires kill hundreds and injure thousands. Property damage is estimated to be $1.5 billion per year, with more than 80% of electrical fires happening in older homes. Whisker Labs is poised to reduce loss by identifying fire hazards before they develop into fires.
Current technology, Arc Fault Circuit Interrupters, are required in most states for new home construction and work on a circuit-by-circuit basis, requiring an electrician to do the install. Retrofitting all U.S. homes could cost as much as $200 billion.
By plugging Ting into any outlet in a home and pairing to WiFi, the service measures electromagnetic data from the home's electrical network to look for arcs and sparks occurring in any part of the home. Whisker Labs' expertise in electromagnetic sensing, signal processing and machine learning enables the company's platform to efficiently detect these possible fire hazards.
"Protection of loved ones and property are consistently the top ranked value propositions for the smart home. Smart home solutions that detect, prevent, or mitigate safety issues in the home create clear value for consumers," said Tom Kerber, Director of IoT Strategy, Parks Associates.
Ting, which enhances electrical fire prevention in all new and existing homes, includes the following features:
DIY Install in Minutes
The Ting sensor takes the form-factor of a simple smart plug and will work when plugged into any outlet in the home. The homeowner uses a Mobile App to pair the device to WiFi. The device has been optimized for quick and easy DIY installation, and typical installation can be done in one minute. No installers or electricians are needed to activate the Ting service.
Whole Home Protection
Only one Ting sensor is needed to provide whole home protection. The Ting sensing and real-time analytics platform mines the electrical network to monitor and alert to tiny arcs and sparks that are happening in any room within the home. These alerts give a homeowner time to determine the cause of the fire hazard and mitigate the situation.
Enterprise Dashboard
As part of the its enterprise service, Whisker Labs provides a dashboard to enterprise customers. The dashboard enables a quick and comprehensive view of all homes within a customer's deployment and gives detailed insight into key metrics such as current fire risks, detection efficiency, WiFi signal strength, and many more.
Additional Benefit: Power Quality Monitoring
The Ting sensor offers additional value to home owners and enterprises by monitoring power quality in the home. Fluctuations in power quality, such as changes in voltage or line frequency, can cause damage to devices and appliances which often requires a full replacement of the appliance. Ting will continuously monitor power quality to the home, and provide real-time visibility through both the enterprise dashboard and homeowner app.
"We are delighted to announce a simple DIY solution that can protect all homes through intelligent fire hazard sensing," remarked Robert Marshall, CEO of Whisker Labs. "My family has seen first-hand the damage and destruction that electrical fires cause, so I am personally excited to bring Ting to market to protect families and homes from fire, especially existing homes which are the most vulnerable."
Availability
Whisker Labs is teaming with insurance, security platform and other companies to bring Ting to market. The ongoing business model includes an upfront activation fee plus a monthly monitoring fee. At present the company is engaged in demonstration pilots with production expected to ramp up in the second half of 2018.
Whisker Labs will demo and discuss Ting at the Connections Conference in San Francisco on May 22-25, 2018. CEO Bob Marshall will also be speaking at a panel on smart monitoring on May 24.
About Whisker Labs
Whisker Labs develops advanced home intelligence technologies for safety and savings. Our Ting™ monitoring service alerts homeowners to electrical fire hazards with just one plug-in sensor that installs in minutes to protect the whole home. Our energy management services thoughtfully reduce demand during peak load times and optimize thermostats for savings and comfort. We partner with insurance, security and energy providers to bring our offerings to market. Visit www.whiskerlabs.com to learn more.
---
7 Clever Ways to Hide Home Technology - CE Pro Download
Most technology products are not that visually appealing. Black boxes and tangled wires do not add to the character of a high-end smart home project. Luckily, our integrator readers have a number of clever solutions so these components don't have to be visible in your next project.
---
About the Author
---
Julie Jacobson, recipient of the 2014 CEA TechHome Leadership Award, is co-founder of EH Publishing, producer of CE Pro, Electronic House, Commercial Integrator, Security Sales and other leading technology publications. She currently spends most of her time writing for CE Pro in the areas of home automation, security, networked A/V and the business of home systems integration. Julie majored in Economics at the University of Michigan, spent a year abroad at Cambridge University, earned an MBA from the University of Texas at Austin, and has never taken a journalism class in her life. She's a washed-up Ultimate Frisbee player currently residing in Carlsbad, Calif. Email Julie at jjacobson@ehpub.com
Follow Julie on social media:
Twitter · LinkedIn · Google+
Julie also participates in these groups:
LinkedIn · Google+
Control & Automation
Office Depot Launches Smart Home Installation Service
Ring Video Doorbell Integrates with Crestron Home Automation in Award-Winning Install
CES 2019: Smartest New Smoke, Fire and CO Detectors
Product Briefs: BluOS adds Alexa Voice Control; Leviton Tool; Z-Wave Gecko; RTI QMotion Driver
Gigantic Elan Project: 700 Lighting Loads, 150 Shades, 25 Cameras
View more on Control & Automation
Take Our Latest Quiz
How Well Do You Understand Ethernet Cables and Connectors?