Whisker Labs' AI-Driven Ting Could be Huge Breakthrough in Fire Prevention
Exploiting Whisker Labs' machine-learning heritage, the Ting IoT device plugs into any wall outlet, detecting electromagnet anomalies across the entire electrical network, and warning homeowners of potential arcs and faults that could lead to dangerous fires.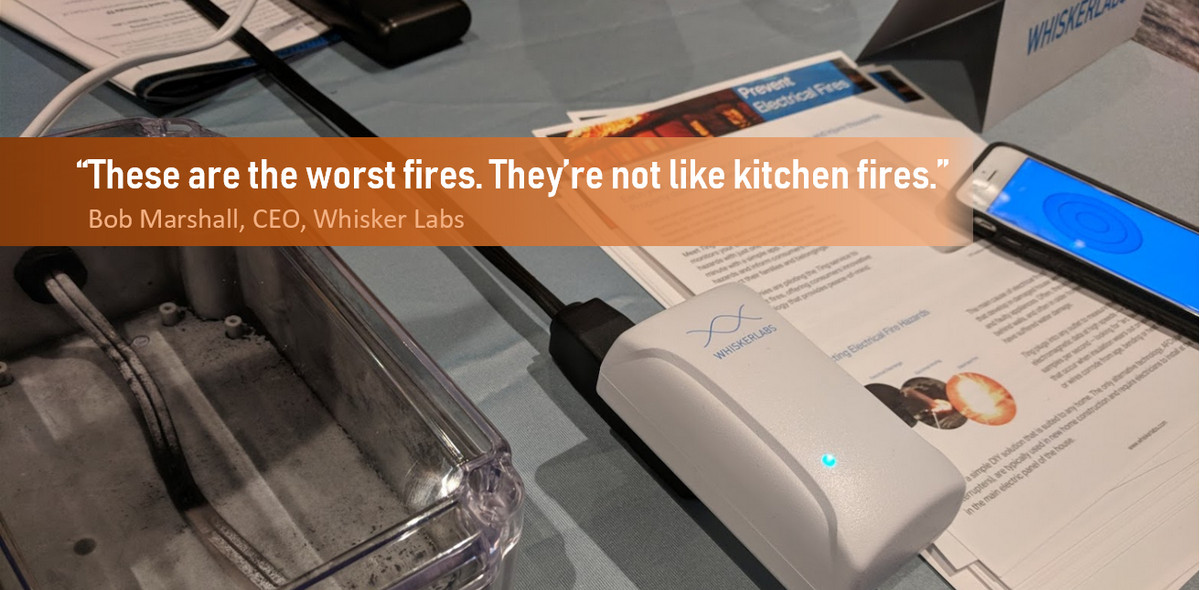 Julie Jacobson
·
May 30, 2018
Whisker Labs doesn't ask for much: Just plug one little "Ting" IoT device into any outlet, and you can predict potential electrical fires days or weeks before they occur.
In announcing Ting last week, Whisker Labs called it a "groundbreaking fire prevention technology." I concur, as long as the device works as demonstrated at Parks Associates' Connections Conference 2018.
The Wi-Fi-enabled Ting measures electromagnetic data from the home's electrical network, seeking anomalies that might suggest dangerous arcs and sparks. The Ting app alerts homeowners to potential fire hazards – yellow for caution, red for danger – and instructs them on the next steps. For starters, kill each circuit breaker one-by-one until the app goes back to green.
Fatal electrical fire averted.
It seems simple enough, but "this is a really hard technical problem," says Whisker Labs CEO Bob Marshall. "We have the best electromechanical engineers on the planet."
VIDEO: Whisker Labs CEO Bob Marshall demos Ting at Connections 2018.
Ting samples electricity 27 million times per second, he says. It might be relatively simple to discern a bad wire on the one circuit where Ting happens to reside – that's kind of what arc-fault circuit interrupters do – but Ting can find faults on any circuit, thanks to machine learning.
Marshall explains that a spark on one line theoretically is contained to a single circuit, but it still passes minute "bits and pieces" of electromagnetic signals through the breaker box to other circuits and eventually down to the outlet where Ting captures the disruption.
"You're fighting a lot of noise and anomalies" on the powerlines, Marshall explains, so parsing these disruptions takes some serious machine learning.
Whisker Labs' Machine-Learning Heritage
If anyone can do it, Whisker Labs can. This is the company that invented a sensor that sits in the breaker box measuring electromagnetic activity for other purposes – ostensibly to disambiguate and identify "non-connected" appliances for diagnostics and energy management.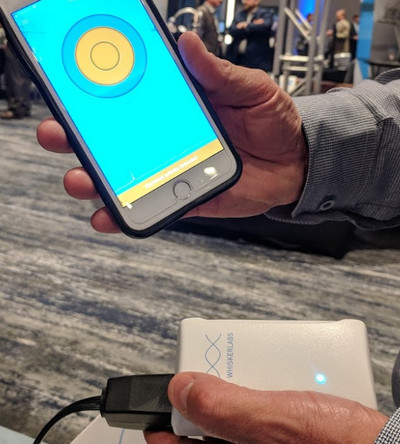 Whisker Labs has already collected loads of electrical data (so to speak) since it launched in 2014, but it benefits from even more intelligence generated by Earth Networks, which acquired the company in late 2016 (and then spun it off in 2017). Earth Networks claims to own the world's largest proprietary network of weather stations – more than 10,000 of them – including more than 1,500 sensors measuring lightning globally.
Through its machine-learning platform, Earth Networks provides "real-time, hyperlocal insights" to commercial and government organizations to mitigate weather-related risks.
Marshall was co-founder and CEO of Earth Networks before he went full-time with Whisker Labs, extending the "hyperlocal insights" to the home, and to a single broken wire within the home.
The Danger of Electrical Fires
According to the National Fire Protection Association (NFPA), electrical distribution or lighting equipment is the fourth leading cause of home fires, with wire and related equipment (e.g., outlets) accounting for the vast majority of these fires and related losses – 69% of fires, 56% of civilian deaths, and 66% of property damages. (Read the NFPA's research report on electrical fires.)
More than one-third (34%) of home electrical fires begin with the ignition of wire or cable insulation.
Marshall explains that damages from faulty electrical wiring are so severe because they remain undetected for so long – spreading through walls before the smoke-detector trips and often while people are sleeping, oblivious to warning signs.
RELATED: Insurance Meets Smart Home at Connections 2018
While the smallest share of all electrical fires (24%) occur between midnight and 8 a.m., they account for the highest share of civilian deaths (57%).
"These are the worst fires," Marshall says. "They're not like kitchen fires."
Whisker Labs has sold a "few thousand" Ting devices to casualty companies who are currently testing the product, according to Marshall.
NEXT PAGE: Ting Press Release
About the Author
---
Julie Jacobson is founding editor of CE Pro, the leading media brand for the home-technology channel. She has covered the smart-home industry since 1994, long before there was much of an Internet, let alone an Internet of things. Currently she studies, speaks, writes and rabble-rouses in the areas of home automation, security, networked A/V, wellness-related technology, biophilic design, and the business of home technology. Julie majored in Economics at the University of Michigan, spent a year abroad at Cambridge University, and earned an MBA from the University of Texas at Austin. She is a recipient of the annual CTA TechHome Leadership Award, and a CEDIA Fellows honoree. A washed-up Ultimate Frisbee player, Julie currently resides in San Antonio, Texas and sometimes St. Paul, Minn. Follow on Twitter: @juliejacobson Email Julie at julie.jacobson@emeraldexpo.com
Follow Julie on social media:
Twitter · LinkedIn · Google+
Julie also participates in these groups:
LinkedIn · Google+