When the Customer says, 'I Don't Need Good Music Quality'
How do you convince clients they DO want good-quality sound for whole-house music when they insist they don't care about fidelity?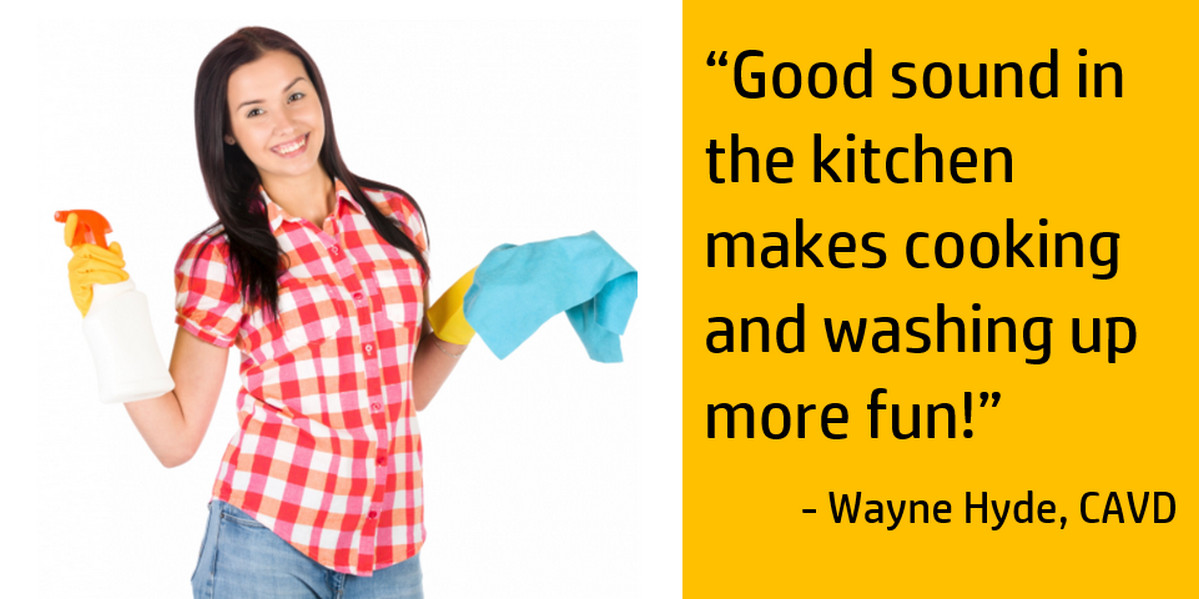 Julie Jacobson
·
November 10, 2017
If you're an A/V integrator, I'm probably your worst nightmare. I'll tell you I rarely listen to music, so just put in some cheap speakers so I can listen to NPR in any room of the house.
UK distributor Custom AV Distribution Limited (CAVD) knows my type. In a blog, technical manager Wayne Hyde writes:
If an AV installer tries to sell "better sound" it can easily lead to a blunt reply along the lines of, "I don't need to hear every detail. I won't be sitting down to listen in a critical way."
Maybe they want a good audio set-up for surround sound, but when it comes to the whole house, "Joe Public [just] wants background multiroom music," Hyde says.
The response, he says, isn't try to convince Mr. and Ms. Public that music sounds so much better when you can hear every instrument and every nuance.
"When it sounds good, you listen for longer, to whole albums, not just the hits."
— Wayne Hyde, CAVD
Instead, frame the conversation in more practical terms. When you're getting ready in the morning, you don't want to strain to hear the news. While cleaning the home, you want to hear an audio book clearly while rambling around.
Importantly, he says, a good-quality multiroom audio system "means hearing more at a lower volume, which is crucial for many properties to help avoid noise pollution."
And then there's this: "When it sounds good, you listen for longer, to whole albums, not just the hits."
That would be the answer to my own objections because it might be that I "never listen to music" because it never sounds good.
(Or, perhaps, I just like it quiet, like Hyde's father-in-law, who allegedly says, "The best music is silence.")
Hyde says good sound quality matters to everyone, not just audiophiles: "A great sounding home is a happier home."
In the kitchen, it makes cooking and cleaning "more fun." At BBQ time, it "helps keep the party going." And at bath-time, good sound is much more soothing than crackly background music.
About the Author
---
Julie Jacobson, recipient of the 2014 CEA TechHome Leadership Award, is co-founder of EH Publishing, producer of CE Pro, Electronic House, Commercial Integrator, Security Sales and other leading technology publications. She currently spends most of her time writing for CE Pro in the areas of home automation, security, networked A/V and the business of home systems integration. Julie majored in Economics at the University of Michigan, spent a year abroad at Cambridge University, earned an MBA from the University of Texas at Austin, and has never taken a journalism class in her life. She's a washed-up Ultimate Frisbee player currently residing in Carlsbad, Calif. Email Julie at jjacobson@ehpub.com
Follow Julie on social media:
Twitter · LinkedIn · Google+
Julie also participates in these groups:
LinkedIn · Google+
Speakers
$2,199 Marantz 4K Surround Pre-Processor is IMAX Enhanced Certified, Dolby Atmos Ready
Product Briefs: AVB, Am Ex Discounts; Crestron, Josh ai Partner; Atlona Dolby Vision
Bose Debuts New Smart Speaker 'Ecosystem' at CEDIA Expo
Wisdom Audio Insight On-Wall Loudspeakers Debut at CEDIA Expo 2018
Sonance Celebrates 35 Years with More Architectural Speaker Innovation
View more on Speakers
Take Our Latest Quizzes
How Well Do You Understand Ethernet Cables and Connectors?
Quiz: Is Your Company Performance Above or Below Average?
How Much Do You Know About Cell Phone Signal Boosters?
How Efficient Is Your Service Department? Take the Quiz
5G and the Need for Cellphone Signal Boosters—Do You Know Enough?