Special Edition: CE Pro's CEDIA Expo 2014 Preview!
Interactive CE Pro eBook with embedded slideshows and videos identifies 8 key sessions to attend, how to effectively 'attack' the show and report back to your staff, and a preview of the 10 most-anticipated exhibits at CEDIA EXPO 2014.
CE Pro Editors ·
July 11, 2014
CEDIA EXPO 2014 can be overwhelming. That's why efficient planning is vital to getting the most benefit from the show, which is once again in Denver this year at the Colorado Convention Center from September 10-13, 2014.
In this special edition interactive eBook from CE Pro, readers can glean:
A special Q&A with CEDIA executive director Don Gilpin, who identifies his secret spot at the show for relaxing with a cocktail
8 video pitches from instructors talking about why you should take their course
10 big, big anticipated booths at this year's EXPO, including the debut of the Comcast Custom Xfinity Integration (CXI) program, the return of Jeremy Burkhardt with Origin Acoustics, and the return of LG Electronics to the exhibit floor
A discussion with one integrator talking about how getting his CEDIA Networking Certification helped his business
Some favorite memories from CEDIA veterans, including the New Orleans flood
The freshmen board members reveal how they hope to change the association and help integrators
The eBook lets readers see slideshows and videos embedded right in the document.
HURRY! Early bird registration for the CEDIA EXPO ends on July 18.
---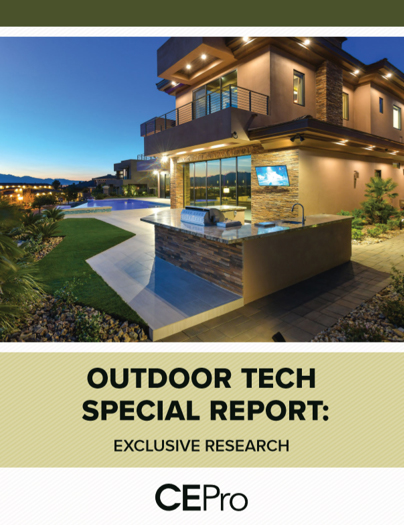 Find Out Why 63% of Integrators Expect Outdoor Business to Grow - CE Pro Download
The outdoor technology market is growing – both the demand from customers and the array of products available. According to our recent CE Pro survey, integrators are taking advantage of this opportunity to grow their businesses. Get your copy of the survey today.
---
News
Luxul Announces Commercial-Grade AV Over IP Networking Lineup
What Integrators Can Learn From Best Buy
McIntosh Unveils $5,000 Digital-Ready, Future-Proof Preamplifier
Hands On: CasaTunes Deftly Integrates Sonos
Marantz, Denon Each Roll Out Pair of New A/V Receivers
View more News
Take Our Latest Quiz
How Well Do You Understand Ethernet Cables and Connectors?
Bose