SnapAV Now Sells Nest and Google Smart Home and Pro-Monitored Security Systems
SnapAV is offering full range of Google/Nest smart-home products, including cameras, thermostats, video doorbells, Thread/Weave Yale locks, Nest Secure pro-monitored alarm systems, and Google Home IoT hubs.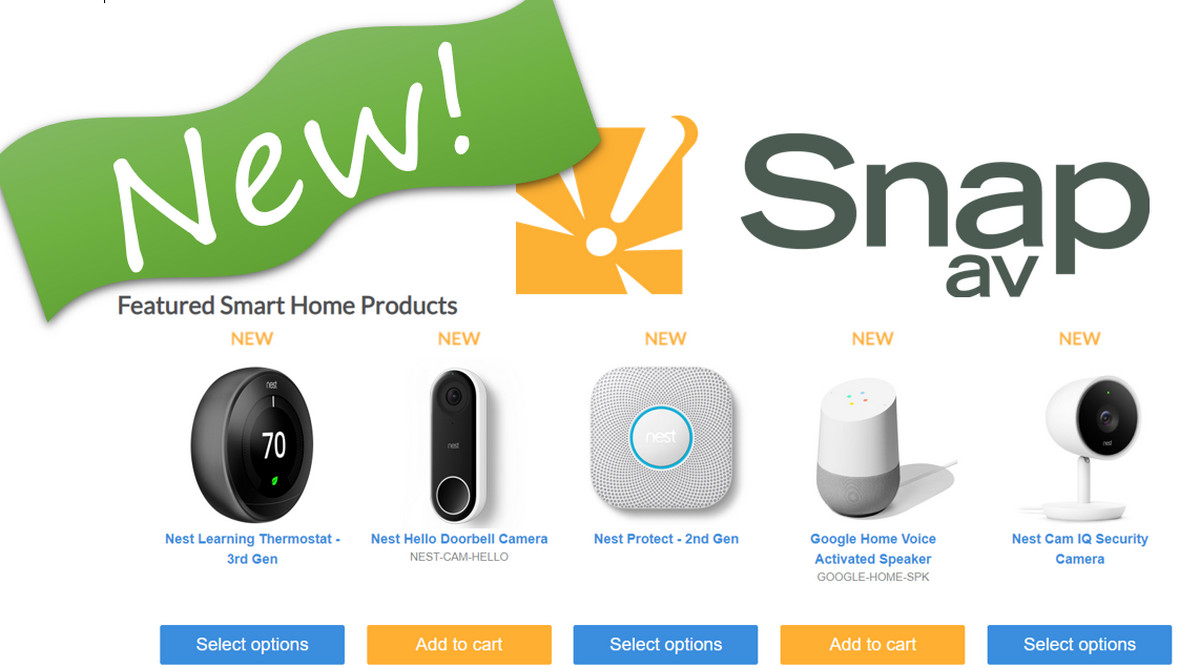 More about SnapAV
SnapAV is a manufacturer and exclusive source of more than 1,800 installation-friendly audio, video and CCTV products for residential and commercial A/V integrators. SnapAV...

SnapAV Company Info
Julie Jacobson
·
November 15, 2018
SnapAV has announced a "partnership" with Nest Pro, the program that provides home-technology specialists with access to, discounts on, and support for smart-home and security systems from Nest and its sister company Google.
SnapAV will carry the full range of connected products from the sister companies, from thermostats to monitored alarm systems to Google Home voice assistants (listed below).
Don't read too much into the "partnership," I'm told. There is no special technology relationship such as SnapAV has with Lutron, for example, and no specific plans for tying Google and Nest into SnapAV's OvrC remote systems management platform.
SnapAV dealers already sell Nest and Google products. They might as well buy from SnapAV and collect points towards the supplier's Partner Rewards program.
"Dealers and customers alike have been asking for Nest by name," says Andras Balassy, SnapAV Product panager for Distributed Products.
SnapAV executives told CE Pro last week that 5 to 10 percent of its revenues come from sales of third-party products through the company's One-Stop program. Atlona, BenQ, Lutron, Pioneer, SureCall and URC all sell through this program.
SnapAV is probably the last home-tech supplier to carry Google and Nest. The two brick-and-mortar distributors acquired by SnapAV this year -- Allnet and Volutone -- already carry the lines.
The most interesting element of the new vendor agreement is the addition of Nest Secure to the SnapAV line card. It will be SnapAV's first foray into professionally monitored alarm systems since a long-ago deal with start-up Sequel Techologies.
Nest provides no revenue-sharing opportunities for monitored security.
Also, the new brands boost SnapAV's home-automation portfolio, which has been slow-growing. Previously, SnapAV carried only Lutron (OvrC-enabled RadioRa 2 Select) and URC.
Nest and Google at SnapAV
Here are the new smart-home products on the SnapAV roster:
Nest learning thermostats and sensors
Nest Protect smoke alarms
Nest Hello video doorbell
Nest indoor and outdoor cameras
Nest Secure alarm system and sensors
Nest x Yale smart door locks with Thread/Weave technology for integrating with other Nest products (and Nest products only ... today)
Google Home voice assistants, including the new Google Home Hub touchscreen
Google Chromecast
Both Nest (Pro) and Google Home have been strong advocates and supporters of the home-tech channel over the years.
---
7 Clever Ways to Hide Home Technology - CE Pro Download
Most technology products are not that visually appealing. Black boxes and tangled wires do not add to the character of a high-end smart home project. Luckily, our integrator readers have a number of clever solutions so these components don't have to be visible in your next project.
---
About the Author
---
Julie Jacobson, recipient of the 2014 CEA TechHome Leadership Award, is co-founder of EH Publishing, producer of CE Pro, Electronic House, Commercial Integrator, Security Sales and other leading technology publications. She currently spends most of her time writing for CE Pro in the areas of home automation, security, networked A/V and the business of home systems integration. Julie majored in Economics at the University of Michigan, spent a year abroad at Cambridge University, earned an MBA from the University of Texas at Austin, and has never taken a journalism class in her life. She's a washed-up Ultimate Frisbee player currently residing in Carlsbad, Calif. Email Julie at jjacobson@ehpub.com
Follow Julie on social media:
Twitter · LinkedIn · Google+
Julie also participates in these groups:
LinkedIn · Google+
Control & Automation
Product Briefs: Mark Levinson adds MQA and Roon; Luxul Firmware; Integra, Pioneer Adopt MQA
Office Depot Launches Smart Home Installation Service
Ring Video Doorbell Integrates with Crestron Home Automation in Award-Winning Install
CES 2019: Smartest New Smoke, Fire and CO Detectors
Gigantic Elan Project: 700 Lighting Loads, 150 Shades, 25 Cameras
View more on Control & Automation
Take Our Latest Quiz
How Well Do You Understand Ethernet Cables and Connectors?