SnapAV Acquires Volutone, Adding 7 Distributor Locations
Interview: Months after acquiring home-tech distributor Allnet, SnapAV adds Volutone for a total of 11 branch locations, with potentially more acquisitions to come.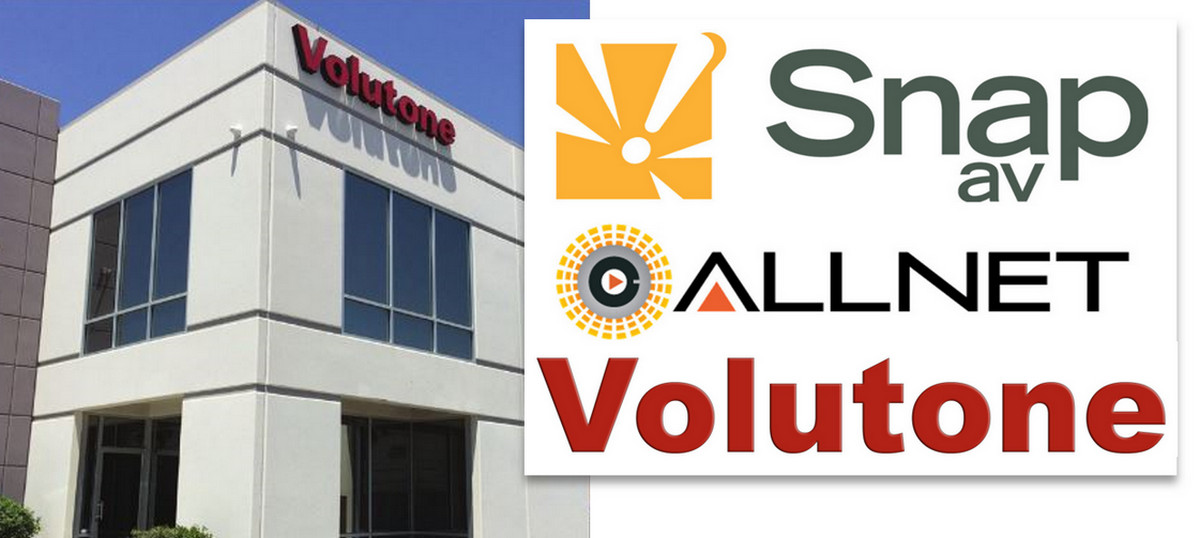 Julie Jacobson
·
November 13, 2018
PRESS RELEASE
SnapAV Accelerates Local Strategy with Acquisition of Volutone
Volutone to enhance its product portfolio with the addition of SnapAV products
Charlotte, NC ­– November 13, 2018 – In line with its mission of making its dealers' lives easier, SnapAV has acquired Volutone, the leading regional distributor in the United States. Volutone has been in business for more than a century and currently operates seven locations throughout Southern California and Las Vegas, offering a portfolio of leading brands backed by expert service and support.
SnapAV's acquisition of Allnet earlier this year has seen tremendous response, reinforcing the notion that having a local presence is important to both dealers and the industry. The Volutone acquisition allows dealers to purchase SnapAV products at each of their locations, in addition to the Volutone distributed brands they currently carry. SnapAV, Allnet and Volutone will continue to support an unprecedented product portfolio with the dealer-first approach and unparalleled service for which they are known.
"If you truly want your dealers to be successful, you have to give them access to the best brands and help them be more productive in their own businesses," said John Heyman, SnapAV CEO. "Dealers are busier than ever, need more training, and have customers who want everything ASAP. We also recognize that they like to have choice in the brands they select. We aspire to continue to build great products for the industry, but we understand that many brands offer amazing value for our customers and it is important that we provide choice."
"We expect to build upon the Allnet success with Volutone," continued Heyman. "We're changing local distribution as you know it. We're giving professional integrators access to the best brands, the best service, the best training, right in their backyard. We have been renown for being easy to do business with, and now we're taking 'easy' to the next level. Dealers can get everything they need for a single job with one stop and, in some areas, we can even deliver directly to the job site that day."
Volutone will retain its name, locations, team, and policies moving forward. Trevor Hansen will remain in his current role as the President of Volutone and become a shareholder in SnapAV.
"We're thrilled to join the SnapAV family," said Hansen. "We've always had our dealers' interests at heart, and it's clear that SnapAV takes that same approach to their work."
SnapAV products will be available through both the Volutone website and distribution locations in the coming weeks. For now, dealers will continue to order where they so choose, through either SnapAV or Volutone, and all services and support will remain the same.
Both SnapAV and Volutone dealers will receive communication in the coming weeks regarding further details.
"SnapAV has always looked for ways to revolutionize the industry," concluded Heyman. "Over the years, we've added dealer benefits to every aspect of our business. Now we want to bring those benefits closer to integrators everywhere."
About SnapAV
Established in 2005 and based in Charlotte, North Carolina, SnapAV is a manufacturer and exclusive source of A/V, CCTV and networking products for professional integrators. As an industry leader, SnapAV helps integrators build their businesses by providing a wide range of high-quality products, easily accessible through an intuitive website and backed by award-winning service and support. With a vast catalogue of today's most popular brands, SnapAV is the premier choice for professional integrators across the globe. Additional information about SnapAV and its products can be found at www.snapav.com.
About Volutone
With more than 115 years of innovation, Volutone leads the industry in customer service, quality products, and cutting-edge technology. Their knowledgeable sales staff is committed to building strong, long-term business relationships, one customer at a time. With seven convenient state-of-the-art facilities located throughout Southern California and Nevada, Volutone is here to service the "Technologist." Volutone supports more than 140 of the top leading manufacturers and continues to bring you the latest in technology. For more information, visit www.volutone.com.
---
We're Looking for Your BEST Projects
Don't miss your chance to enter to win a 2019 BEST Projects Award. We'll be announcing winners at a special Gala event at CEDIA EXPO. We can't wait to see what you've been up to this year! Enter your projects now.
---
About the Author
---
Julie Jacobson is founding editor of CE Pro, the leading media brand for the home-technology channel. She has covered the smart-home industry since 1994, long before there was much of an Internet, let alone an Internet of things. Currently she studies, speaks, writes and rabble-rouses in the areas of home automation, security, networked A/V, wellness-related technology, biophilic design, and the business of home technology. Julie majored in Economics at the University of Michigan, spent a year abroad at Cambridge University, and earned an MBA from the University of Texas at Austin. She is a recipient of the annual CTA TechHome Leadership Award, and a CEDIA Fellows honoree. A washed-up Ultimate Frisbee player, Julie currently resides in San Antonio, Texas and sometimes St. Paul, Minn. Follow on Twitter: @juliejacobson Email Julie at julie.jacobson@emeraldexpo.com
Follow Julie on social media:
Twitter · LinkedIn · Google+
Julie also participates in these groups:
LinkedIn · Google+