Smart-Home Pros (No One Else) Can Own Emerging 'Energy Automation' Field: CEDIA Tech Talk
CEDIA Expo 2018 Tech Talk: With expertise in multiple smart-home subsystems, home-tech pros can dominate emerging 'energy automation' category, encompassing home energy storage, smart-grid integration, renewable energy and home automation.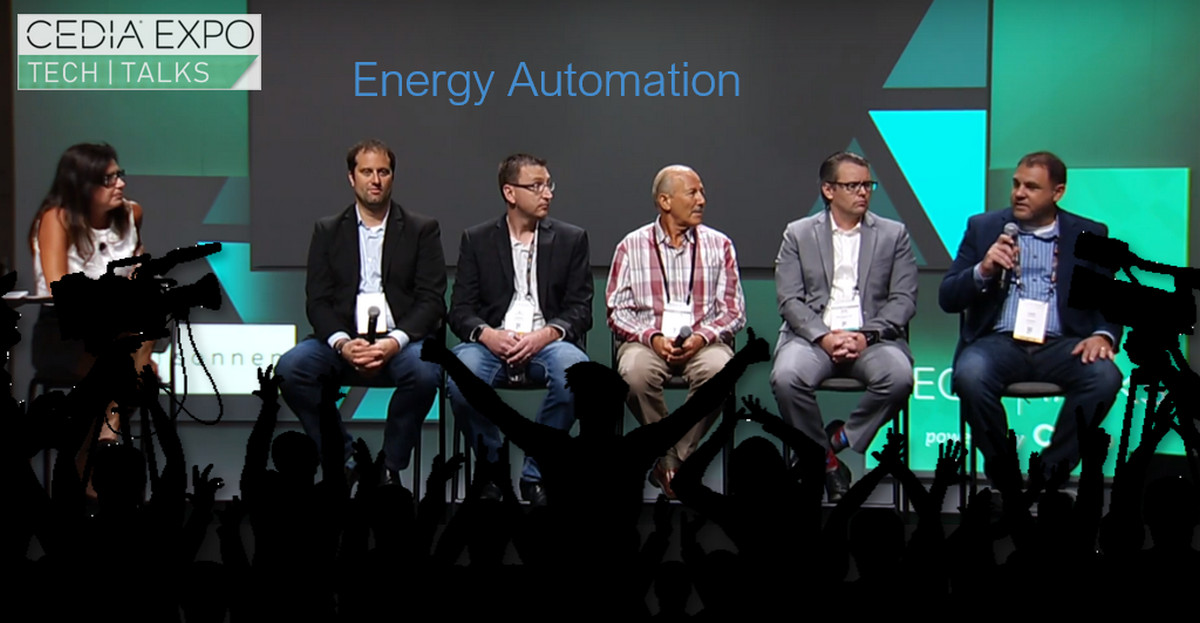 Julie Jacobson
·
September 27, 2018
Fifteen or 20 years ago, smart-home pros never believed they would get into the lighting-control business because "We don't do line voltage!" Later, when motorized shades entered the home-tech channel, the pros balked at that category too, because "We don't do fabric!"
"Fast forward to today, and how many of you are involved in lighting control and automated shades?" asks Blake Richetta, SVP and U.S. head for Sonnen, a leading provider of home energy storage systems.
Speaking at a CEDIA Expo 2018 Tech Talk, Richetta likened the lighting and shading experience to the hottest new category in the smart-home channel: energy automation.
Here again, most integrators maintain it's not for them: "We don't do solar! We don't manage back-up batteries! We want nothing to do with utilities and their smart grids!"
Phooey on that, Richetta protests.
"In 10 years you're going to look back and say, 'I was part of the beginning, where energy automation hit CEDIA.'"
— Blake Richetta, Sonnen
"Mark my words," he says. "In 10 years you're going to look back and say, "'I was part of the beginning, where energy automation hit CEDIA.'"
What is 'Energy Automation'? Like Smart Thermostats?
Home-tech pros have installed "energy management" systems for decades – mostly smart thermostats and motorized shades integrated with home automation systems for comfort, convenience and energy savings.
In Sonnen lingo, "energy automation" encompasses a much broader ecosystem, from the utility-managed electrical grid, to alternative energy sources at the home (mostly solar), to intelligent energy storage and usage via back-up batteries and home automation.
Related: Why Sonnen Was the Busiest Booth at CEDIA Expo 2018
To implement energy automation, says Richetta, is to "be able to control thermostats and lights and shades and loads around the house, in an intelligent way, in a harmonized way, with renewable energy generation and storage."
It's everything the utilities have been promising and piloting for decades, with little to show for their efforts. It is, as Richetta says, "what utility companies want to do but in reality it doesn't happen."
Utilities haven't made it happen – even after three decades of trying really, really diligently – in part because the technology components never quite came together. Even if all the critical hardware, software and infrastructure elements came wrapped in bow, utilities still couldn't deploy end-to-end energy automation because … people.
"Energy people don't know how to make the smart home smart," Richetta says.
No One Else but Smart Home Integrators
So, then, who would make all the energy magic happen? Who could oversee every aspect of the deployment, from installing and integrating the gear at a customer premises, to communicating with the local utility, to optimizing energy utilization at any given household?
In Richetta's world of utilities and energy-management providers, "Every day this is all anybody cares about … but they can't actually do it."
Utilities and their smart-meter techs can't do it. The solar-energy providers can't do it. Electricians alone can't do it. It takes a home-automation specialist – the CEDIA pros – to tie everything together, Richetta stressed throughout the Tech Talk session.
Integrator Gordon Van Zuiden from Cybermanor concurs. Joining Richetta on the energy panel, Van Zuiden acknowledged that integrators like himself aren't solar experts or battery experts, but they do know their smart-home platforms and subsystems like nobody else on the planet.
VIDEO: Energy Automation Tech Talk at CEDIA Expo 2018
He explains how home-tech pros can take the same systems they're already installing and integrating, and create a "richer experience" by incorporating energy products and intelligence from companies like Sonnen.
On a customer's home-control touchscreen, right next to the music icon, could be an energy-management button that reveals "what they're gaining from solar, what the battery is storing, what you're using, and in a real-time way lets them manage their life with energy the way they're enjoying their life now with lighting and music and security …."
He adds, "Our true value-add to the homeowner is bringing that all together and creating a great home automation experience."
In the process, Richetta swears, "you guys could make a lot of money and really help advance energy in the fight against climate change."
More Insights from the Energy Automation Tech Talk
Watch the entire 30-minute Tech Talk in the video above, featuring moderator Lisa Montgomery from CE Pro, along with panelists Richetta, van Zuiden, integrator AJ Brunson from Cinegration, Troy Morgan of the Crestron programming firm PanTech Design, and Ron Callis of the industry marketing company One Firefly.
Skip to some of these highlights, beginning at the times noted.
Richetta on Sonnen's integration with Eaton smart breakers and Control4 and Crestron home automation systems, demonstrated at CEDIA … 4:53
"Win by differentiation," Ron Callis suggests. Energy automation is different, all right. … 13:04
"The solar contractor wants to work with home automation dealers," Richetta explains. … 15:44
Older whole-house battery-backup systems are tiresome to deploy and integrate. The integrator and homeowner has to prioritize loads in preparation for a power outage, and then wire the home accordingly … and then rewire as needs change, like if your mother-in-law moves into the guest wing with her oxygen tank. New software-based systems remove these obstacles, says Brunson. … 22:31
Big opportunities with utilities, home builders and developers who are deploying energy storage and automation systems in a very large scale … 26:37
Utilities still don't grasp the potential of energy automation, and certainly don't recognize that robust and reliable systems exist today, according to Richetta: "Rocky Mountain Power was blown away that this could work right now and that they could get that in their lab right now and they could do a pilot of some houses right now." … 28:10

---
7 Clever Ways to Hide Home Technology - CE Pro Download
Most technology products are not that visually appealing. Black boxes and tangled wires do not add to the character of a high-end smart home project. Luckily, our integrator readers have a number of clever solutions so these components don't have to be visible in your next project.
---
About the Author
---
Julie Jacobson, recipient of the 2014 CEA TechHome Leadership Award, is co-founder of EH Publishing, producer of CE Pro, Electronic House, Commercial Integrator, Security Sales and other leading technology publications. She currently spends most of her time writing for CE Pro in the areas of home automation, security, networked A/V and the business of home systems integration. Julie majored in Economics at the University of Michigan, spent a year abroad at Cambridge University, earned an MBA from the University of Texas at Austin, and has never taken a journalism class in her life. She's a washed-up Ultimate Frisbee player currently residing in Carlsbad, Calif. Email Julie at jjacobson@ehpub.com
Follow Julie on social media:
Twitter · LinkedIn · Google+
Julie also participates in these groups:
LinkedIn · Google+
Control & Automation
Office Depot Launches Smart Home Installation Service
Ring Video Doorbell Integrates with Crestron Home Automation in Award-Winning Install
CES 2019: Smartest New Smoke, Fire and CO Detectors
Product Briefs: BluOS adds Alexa Voice Control; Leviton Tool; Z-Wave Gecko; RTI QMotion Driver
Gigantic Elan Project: 700 Lighting Loads, 150 Shades, 25 Cameras
View more on Control & Automation
Take Our Latest Quiz
How Well Do You Understand Ethernet Cables and Connectors?