Séura Introduces SMART Mirrors for Smarter Homes
Via a suite of apps from the Google Play Store, SMART Mirrors can adjust lighting, temperature, music, shades, and security all from the bathroom.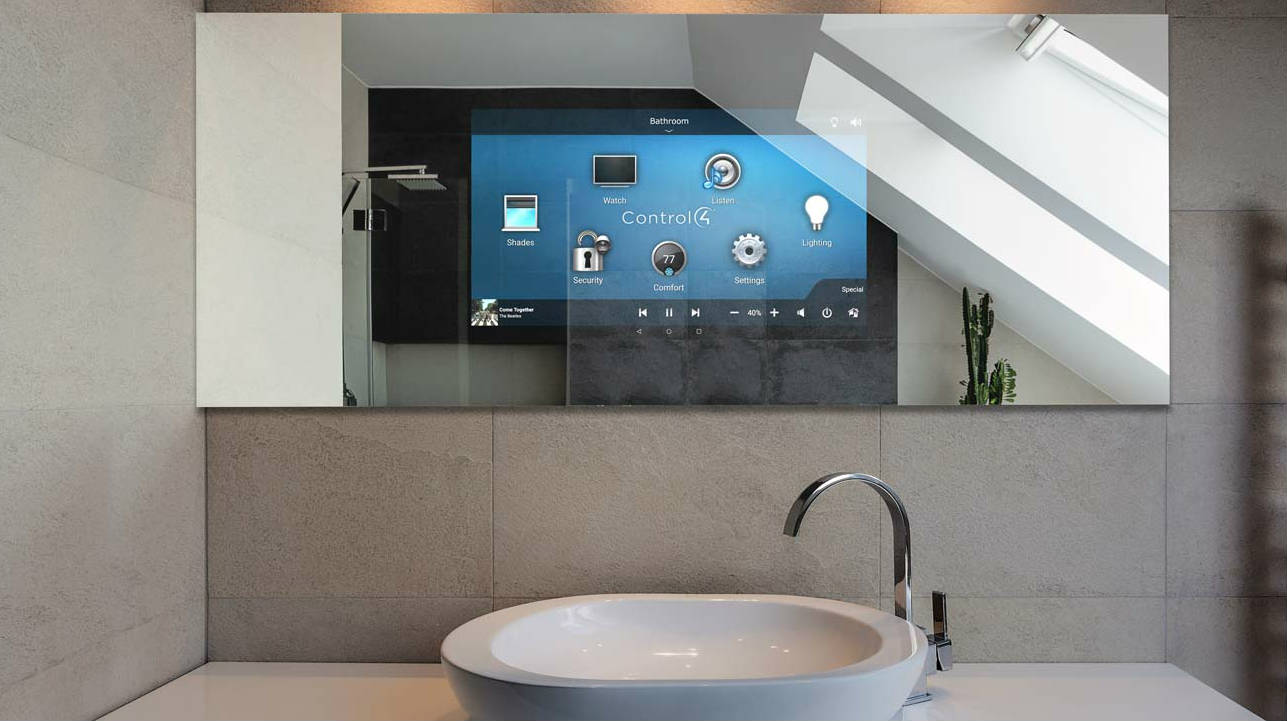 CE Pro Editors ·
August 24, 2018
Séura, a manufacturer of designer technology, is now shipping the new Séura SMART Mirror. The SMART Mirror combines a connected smart home interface to bathroom vanity mirrors.
The SMART Mirror, which Séura says is touch and voice-to-text controlled, is a fully customizable, highly capable interactive display designed to help consumers accomplish even more during the time they spend in front of their mirror.
The user interface allows consumers to create their own custom SMART Mirror dashboards featuring their favorite apps and widgets from the Google Play Store.
This SMART Mirror offers the convenience of bringing one's calendar, weather, email, music, social media, video streaming, news and more to the bathroom mirror. The display also functions as a live TV.
Smart Devices in the Bathroom
Research indicates that as many as 64 percent of American adults report using their smart devices in the bathroom. Séura engineered the SMART Mirror to provide a solution that brings smart capability into the bathroom while being hands-free and allowing for multi-tasking.
"We designed the SMART Mirror user experience with women in mind," says Gretchen Gilbertson, Séura co-founder and CEO.
"As women, we are constantly prioritizing and trying to get the most out of each day. We are also typically spending more than an hour in the bathroom every day getting ready or winding down. The SMART Mirror is a solution that will enable women to make more of this time spent in front of the mirror – whether they use it to organize, to escape, to entertain or anything in between."
Séura says the SMART Mirror also plays an important role in the smart home revolution, bringing comprehensive home control capabilities to the bathroom for the first time ever.
Smart home household penetration is at 32 percent in 2018 and is expected to hit 53.1 percent by 2022.
The interface allows users to access their smart home automation apps to monitor and adjust lighting, temperature, music, shades, and security all from the place they start and end every day: the bathroom vanity.
"The SMART Mirror is our vision for the future of interactive experiences," Gilbertson says. "It is designed to bring more visibility and capability to one's bathroom and daily life – allowing users to easily access the information that matters most to them while getting ready in front of the mirror."
Séura is now accepting SMART Mirror orders for delivery.
---
Save $100 When You Enter the CEPro BEST Product Awards Before May 24
Every year our editors recognize the most advanced products in the professional installation market. Wouldn't you like to tell your customers that your products are among this exclusive group? Enter the CEPro BEST Product Awards and give your sales team something to shout about. Early bird pricing ends May 24.
---
Control & Automation
Product Briefs: Doorbird, Snom; Guardian Protection Services Changes Name; AudioResearch
Sonnen ecoLinx to Anchor New Illinois Sustainable Community
Control4 Unveils New Smart Home OS 3 Platform
Crestron Partners with Domotz for Remote Management
ProSource: 'Strange' Market, 5G Glee, RMR Ambivalence, Marc Fisher Wins
View more on Control & Automation
Take Our Latest Quiz
How Well Do You Understand Ethernet Cables and Connectors?
Bose