Sescom Introduces 2nd Generation Fiber Audio Converter
2-Channel Audio Over Single Fiber Extender Exclusively Distributed by TecNec!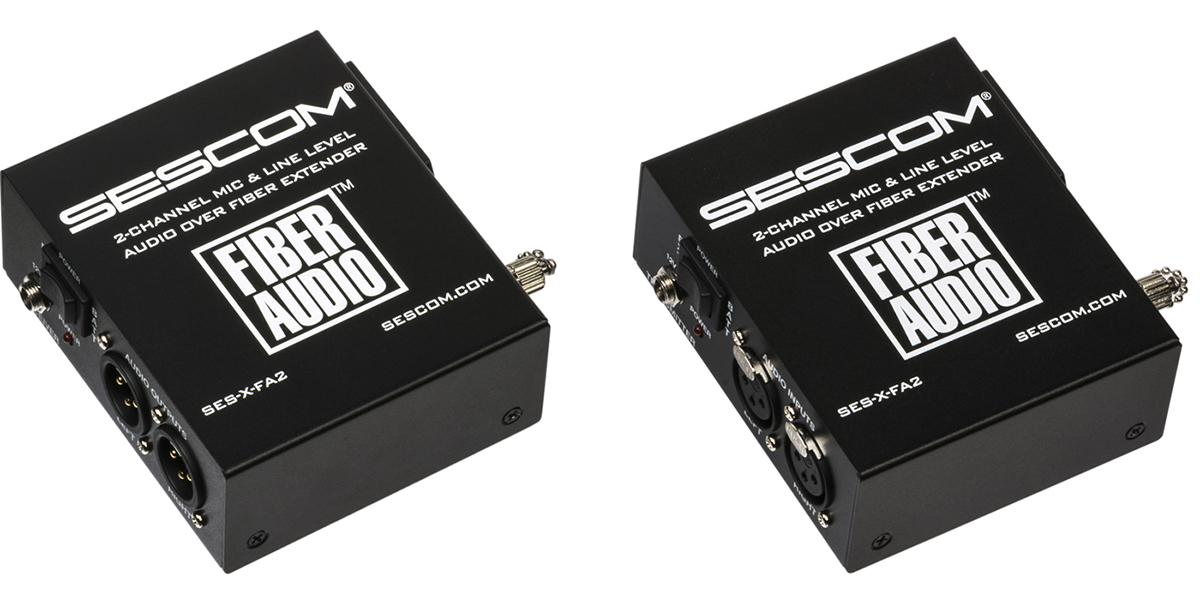 October 24, 2018
When it comes to sending audio over long distances, copper struggles to keep up with its fiber optic counterpart. That's why those who know the difference look to Sescom when a reliable audio extender is required to the get the job done.
The latest Sescom Fiber Audio Converter, the X-FA2, is a battery operated 2-Channel XLR line level audio over fiber optic extender system that's perfect for broadcast or corporate studios, field audio operations, OB vans, rental, theaters, stadiums and more! Sescom's new and improved X-A2 design eliminates potential crosstalk issues.
9V Battery or AC Powered!
The Sescom X-FA2 can be powered externally or with a 9-volt battery making it the perfect fit in field applications.
Selectable Mic or Line Level on Each Channel
The Sescom X-FA2 provides two XLR line level inputs via XLR connectors. The receiver features an independent mic/line level switch on each channel giving you the flexibility to convert the line level audio to mic level.
Miles of Audio
Complete transmitter & receiver system with professional ST Connectors! The X-FA2 has a range of 12.4 miles using single mode fiber and up to 984 feet over multimode fiber cable.

---
7 Clever Ways to Hide Home Technology - CE Pro Download
Most technology products are not that visually appealing. Black boxes and tangled wires do not add to the character of a high-end smart home project. Luckily, our integrator readers have a number of clever solutions so these components don't have to be visible in your next project.
---
Audio/Video
ProjX360 Releases QuickBooks Integration, Previews Inventory Management Software
Product Briefs: Atlona, Josh.ai; Luxul Self Healing; Naim adds AirPlay 2; PS Audio OS; SnapAV
American Audio & Video Introduces $650 and $900 Thorens Turntables
Ultimate CES 2019 Preview - Live Webinar Dec. 19
$250 Bose Sleepbuds Aim to Help You Sleep Better
View more on Audio/Video
Take Our Latest Quizzes
How Well Do You Understand Ethernet Cables and Connectors?
Quiz: Is Your Company Performance Above or Below Average?
How Much Do You Know About Cell Phone Signal Boosters?
How Efficient Is Your Service Department? Take the Quiz
5G and the Need for Cellphone Signal Boosters—Do You Know Enough?