SI's New 'Solo Pro' with ALR is 'World's First' Motorized Screen for Ultra-Short-Throw Projectors
The wire-free, portable Solo motorized video-projection screen introduced by Screen Innovations last year is now available in a Pro model with ambient light rejection (ALR) material, tailor-made for short-throw projectors.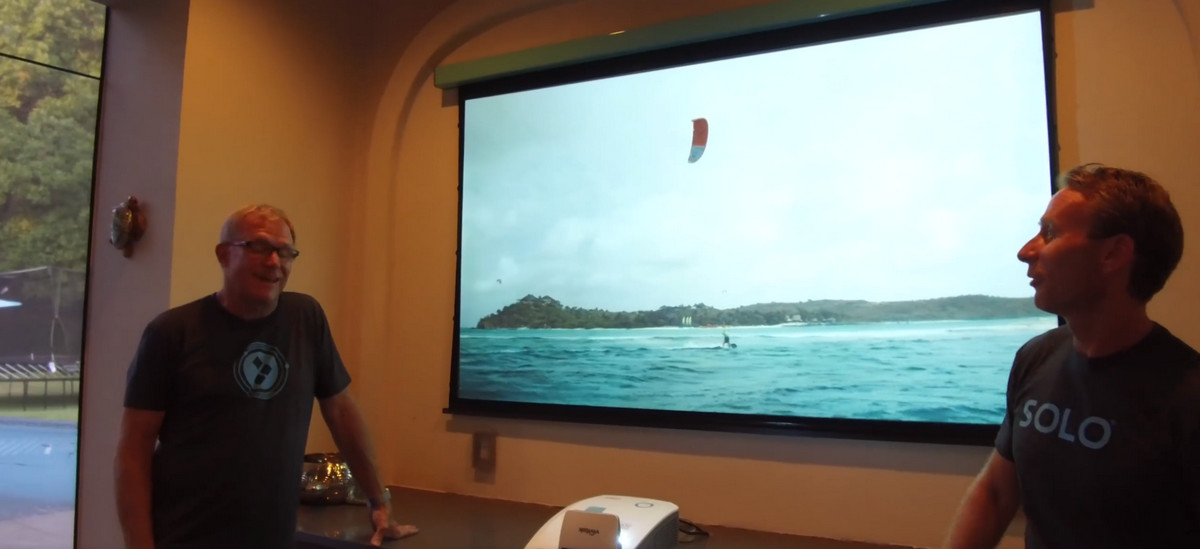 Julie Jacobson
·
August 28, 2018
Screen Innovations's new "Solo" motorized video-projection screen introduced last year at CEDIA was a crowd favorite. For CEDIA Expo 2018, SI takes the portable, battery-powered screen to new levels, so to speak.
The new Solo Pro features ambient light-rejecting (ALR) screen material tailored for short-throw projectors, making it ideal for bright spaces.
Solo was developed with flexibility and portability in mind, so the Pro version makes sense. Users can tote the screen and small projector around, and build a mobile theater on-the-fly in virtually any environment.
SI says the product took 1 1/2 years of development and is the "world's first ultra short-throw motorized projection screen ... patent pending."
Related: SI Solo is One Fun, Wire-Free, Portable Video Projection Screen
---
7 Clever Ways to Hide Home Technology - CE Pro Download
Most technology products are not that visually appealing. Black boxes and tangled wires do not add to the character of a high-end smart home project. Luckily, our integrator readers have a number of clever solutions so these components don't have to be visible in your next project.
---
About the Author
---
Julie Jacobson, recipient of the 2014 CEA TechHome Leadership Award, is co-founder of EH Publishing, producer of CE Pro, Electronic House, Commercial Integrator, Security Sales and other leading technology publications. She currently spends most of her time writing for CE Pro in the areas of home automation, security, networked A/V and the business of home systems integration. Julie majored in Economics at the University of Michigan, spent a year abroad at Cambridge University, earned an MBA from the University of Texas at Austin, and has never taken a journalism class in her life. She's a washed-up Ultimate Frisbee player currently residing in Carlsbad, Calif. Email Julie at jjacobson@ehpub.com
Follow Julie on social media:
Twitter · LinkedIn · Google+
Julie also participates in these groups:
LinkedIn · Google+
Home Theater
SnapAV Acquires Volutone, Adding 7 Distributor Locations
Product Briefs: Atlona, Josh.ai; Luxul Self Healing; Naim adds AirPlay 2; PS Audio OS; SnapAV
American Audio & Video Introduces $650 and $900 Thorens Turntables
Wounded U.S. Army Captain Nick Vogt Receives Custom ELAN Smart Home
Video Maven John Bishop: MicroLED Claims are 'Fake News'
View more on Home Theater
Take Our Latest Quizzes
How Well Do You Understand Ethernet Cables and Connectors?
Quiz: Is Your Company Performance Above or Below Average?
How Much Do You Know About Cell Phone Signal Boosters?
How Efficient Is Your Service Department? Take the Quiz
5G and the Need for Cellphone Signal Boosters—Do You Know Enough?