Research: Voice Assistant Adoption Growing Despite Security and Privacy Concerns
A newly published study from Accenture finds voice assistant tech has a 98% satisfaction rate, but consumers have concerns about the security of these products and how their personal data is stored.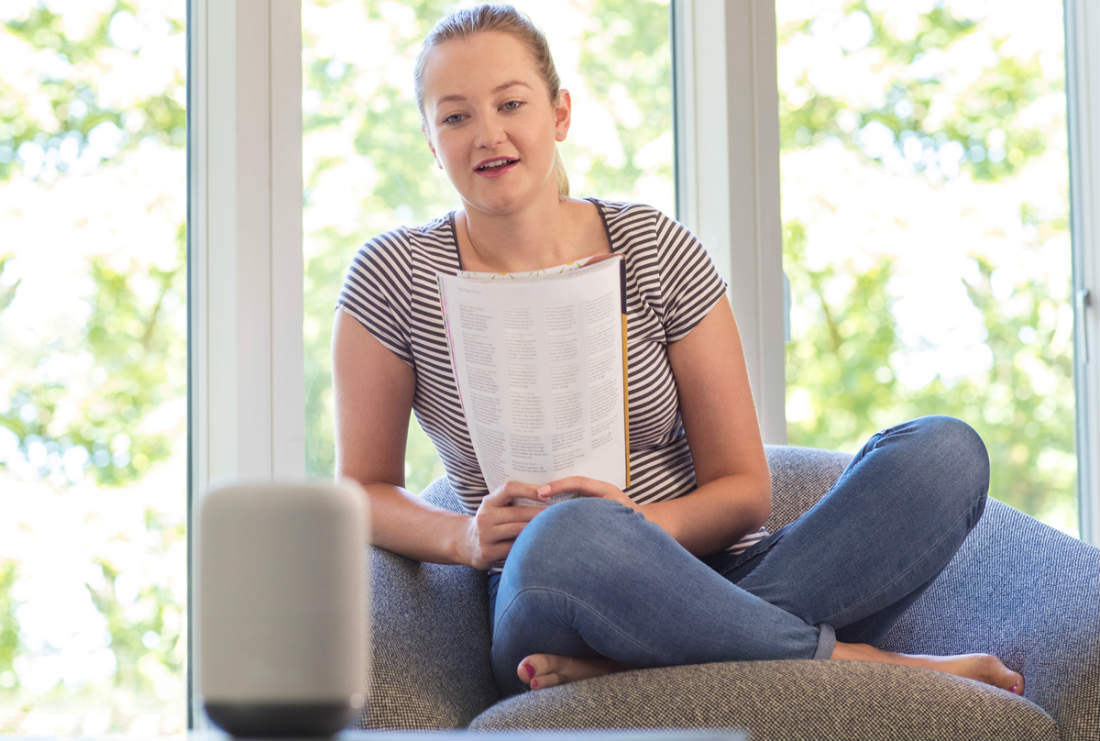 Robert Archer
·
January 14, 2019
A recent study from Accenture finds half of online consumers now use digital voice assistants, with emerging markets leading the way in adoption.
Accenture says that standalone voice assistants—or smart speakers—are one of the fastest-adopted technologies in U.S. history. The technologies have a 98 percent satisfaction rate among U.S. consumers, according to new research conducted based on a global survey of 22,500 consumers across 21 countries.
"Adoption and satisfaction with smart speaker technology is booming," says Robin Murdoch, co-author of the report and managing director of global software and platforms industry practice, Accenture.
"Convenience and accessible price points are helping drive increased use but maintaining this loyalty will require companies to stay relevant with consumer needs while creating and constantly renewing trust."
The report, "Reshape to Relevance," finds that smart speakers are disrupting the consumer technology and service ecosystems. The study notes that 93 percent of consumers say they expect their choices on home connected device purchases to be influenced by the ease of integration with their voice assistant.
Security and Privacy Top Consumer Concerns
According to Accenture, the relevance of smart speakers is reflected in consumers' expectations to use these devices for more-advanced tasks beyond routine activities like voice calling, playing music, reading eBooks, and accessing news.
"Brands that offer advanced artificial intelligence capabilities will be well positioned for success. But to attract more customers, they will have to be transparent in how they store, use and share data."
— Greg Roberts, Accenture
The research suggests consumers see value in voice assistants managing home security (61 percent of respondents), as well as providing connected home automation (59 percent), paying bills and providing payment alerts (55 percent), making restaurant reservations (53 percent), and providing access to virtual medical advice (52 percent).
Accenture also says trust is a potential impediment to greater adoption of smart speakers with 41 percent of consumers citing privacy concerns and 40 percent citing security concerns.
Just under half of those consumers surveyed (46 percent) believe they don't have control of their data with voice assistants, and 58 percent are more likely to reevaluate their trust in this service by continually checking how their information is being used.
Greg Roberts, another co-author of the report and managing director of North America high tech industry practice, Accenture, adds that as the market continues to mature, voice assistant manufacturers will have to be clearer about how they handle consumers' personal information.
Related: Research—28% of U.S Households Use Smart Speakers to Control Smart Home Products
"Consumers expect their smart speakers to handle complex workloads and integrate with other products," asserts Roberts.
"Brands that offer advanced artificial intelligence capabilities will be well positioned for success. But to attract more customers, they will have to be transparent in how they store, use and share data. Establishing an agreed trust standard with consumers is essential."
---
2019 State of the Industry Special Report - CE Pro Download
The custom electronics industry saw a healthy 8 percent growth rate in 2018, down slightly from the blazing 11 percent growth in 2017 but still admiringly strong. Our 2019 State of the Industry indicates that readers expect to see even more growth in 2019. Get your copy today.
---
About the Author
---
Bob is an audio enthusiast who has written about consumer electronics for various publications within Massachusetts before joining the staff of CE Pro in 2000. Bob is THX Level I certified, and he's also taken classes from the Imaging Science Foundation (ISF) and Home Acoustics Alliance (HAA). Bob also serves as the technology editor for CE Pro's sister publication Commercial Integrator. In addition, he's studied guitar and music theory at Sarrin Music Studios in Wakefield, Mass., and he also studies Kyokushin karate at 5 Dragons in Haverhill, Mass. Have a suggestion or a topic you want to read more about? Email Robert at rarcher@ehpub.com
Follow Robert on social media:
Twitter
Robert also participates in these groups:
LinkedIn · Google+
Speakers
3 More Show-Stoppers from ISE 2019: 'Quite Revolutionary'
Product Briefs: Josh.ai Integrates with Savant;Dow Electronics; Elite Anniversary; Crestron Security
16-Channel Acurus Muse Processor Delivers Dolby Atmos, DTS:X
15-Zone Wireless Audio System Too Much for DIY
Genelec Loudspeaker Features Finnish Design, Auto-Calibration Software
View more on Speakers
Take Our Latest Quiz
How Well Do You Understand Ethernet Cables and Connectors?
Bose