Massive Home Addition Features 11 Somfy Motors and Integration with Existing Control4 System
Tampa Bay Electronics combines wired and wireless Somfy motors for window coverings and clever room divider.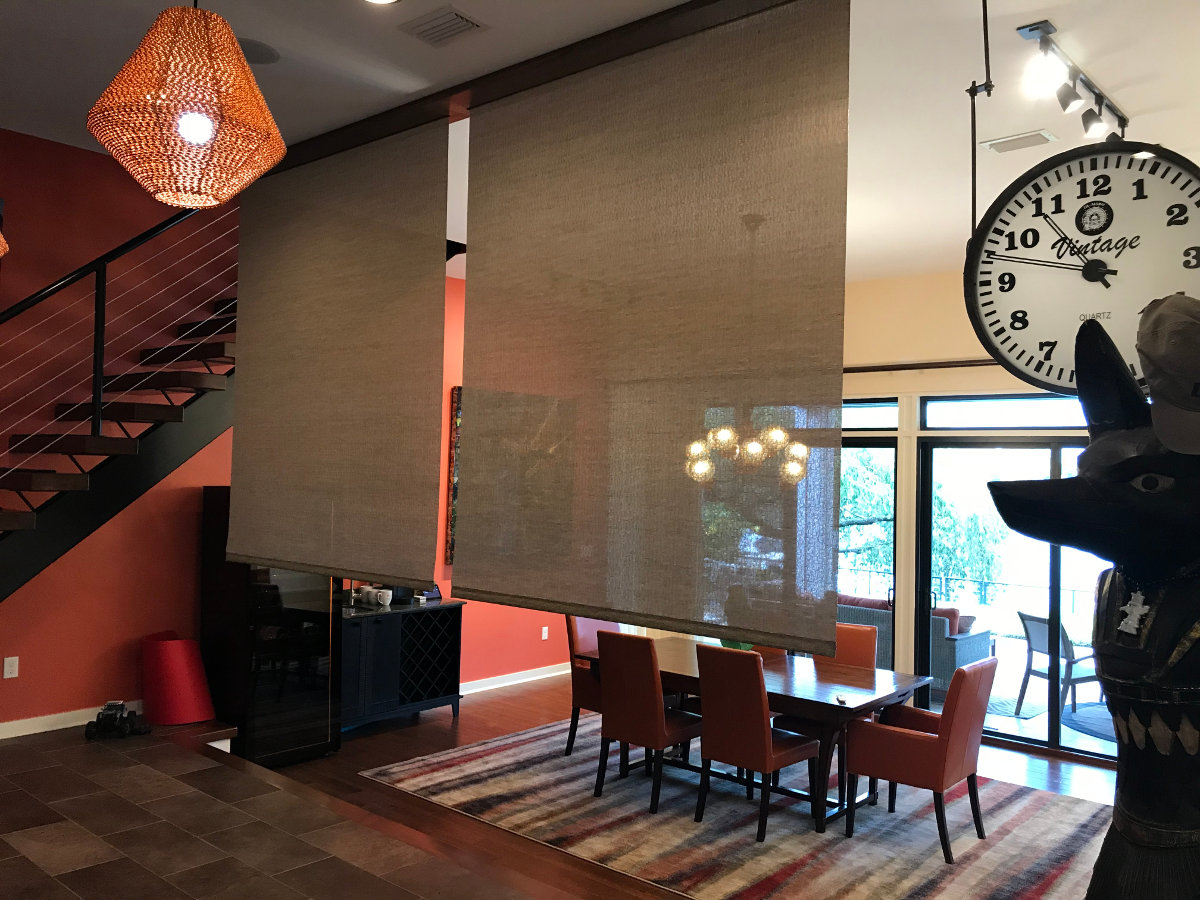 Lisa Montgomery
·
July 26, 2018
There are many reasons why homeowners choose to renovate. The idea could spring from outdated appliances in the kitchen or warped flooring in a den. Sometimes the décor needs a makeover. No matter the circumstances, a home redo is an opportune time to integrate technology.
Consider this: According to a smart home study by Houzz, Nearly half of homeowners are installing smart systems or devices during their renovation projects (45%), with the average renovating homeowner adding one smart system or device to the home in the course of a renovation.
Capitalizing on Renovation Craze with Somfy® Motors
The team at Tampa Bay Electronic Systems (TBES) capitalized on this trend recently by installing more than a dozen Somfy shading motors into a new home addition. Because the addition would feature several huge windows, shading the home environment from the hot Florida sun was crucial to the comfort of the homeowners.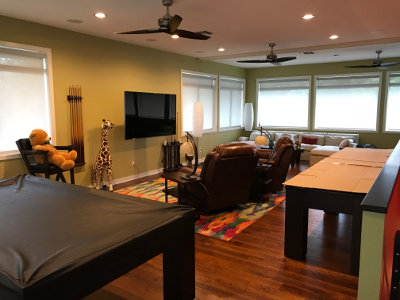 "The owners blew the existing roof off and created a second floor with three walls of windows," says TBES owner Jaret Nichols. "Meanwhile, the ceiling of the first floor was raised to 10 feet."
It would be easy for TBES to run wiring during the construction of the new upper-level bonus room, but difficult in the finished existing first level.
Somfy, which Nichols refers to as his "go-to" manufacturer for shading motors, had a solution for both the old and new portions of the house.
TBES installed 11 hardwired Sonesse® 30 RS485 DC hardwired motors for the window shades in the new addition and two ultra-quiet Sonesse ULTRA 50 RTS wireless motors with 24V DC power supplies for two huge shades in the existing main level.
"Without the addition of the shades on the second-floor, the media system would have been unusable due to sunlight. Somfy and TBES collaborated with Universal Window Coverings to fabricate the coverings for the motors.
Creative Application of Somfy Shades Provides Owners with a Custom Room Divider
The two wireless motorized shades were installed above the newly constructed ceiling to house two 6-foot-wide-by-11-foot-high shading fabrics that would function as a room divider.
"We worked with the builder while the ceiling was exposed to create a removable wooden panel with a thin nearly imperceptible slit through which the shade could move through freely," Nichols explains.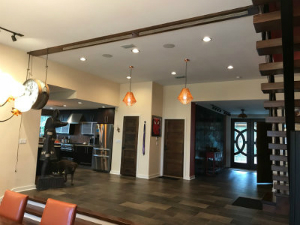 From its casing above the ceiling, the shade drops 11 feet to divide the dining room from a dance hall.
"The owners are able to host an intimate dinner with the shade down then invite guests into the dance room by raising the shade," Nichols continues.
Seamless Integration with Control4
TBES integrated the hardwired and wireless motors with the home's existing Control4 system, which the owners were using for control of their A/V equipment.
"The owners were already familiar with Control4, and Somfy integrates easily with it, making this installation easy for us and a huge hit for the homeowners," Nichols says.
TBES added a Control4 keypad at the entrance of the new bonus room; the owners use an existing portable touchscreen to operate the room divider in the lower level. They can also use a handheld remote or mobile app.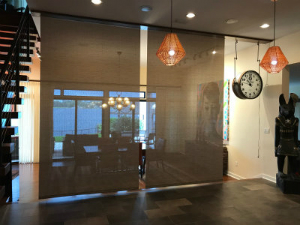 Thanks to a wide variety of motors, innovative design, and compatibility with many top-name home control systems, Somfy provided TBES with all the tools it needed to make a new addition comfortable and breathe new life into an existing part of a house.
Add the fact that the homeowners were able to select from a wide variety of window covering styles and fabrics, not limited by compatibility with other systems, and finding a solution for their unique needs was straightforward and uncomplicated.
Through clever design, engineering and integration, Somfy and TBES were able to deliver the ideal shading solution.
---
2019 State of the Industry Special Report - CE Pro Download
The custom electronics industry saw a healthy 8 percent growth rate in 2018, down slightly from the blazing 11 percent growth in 2017 but still admiringly strong. Our 2019 State of the Industry indicates that readers expect to see even more growth in 2019. Get your copy today.
---
About the Author
---
Lisa Montgomery has been a member of the CE Pro and Electronic House editorial teams for nearly 20 years; most of that time as the Editor of Electronic House. With a knack for explaining complex high-tech topics in terms that average consumers can understand, her style of writing resonates with people who are interested in adding electronic systems to their homes, but are unsure of the steps involved and the solutions available. From basic lighting control systems to full-blown automation systems, Lisa understands the home electronics market well, and is able to point consumers in the right direction on their quest for a smarter, more convenient, efficient and enjoyable home. Over the years, she has developed close relationships with key manufacturers and seasoned custom electronics professionals, giving her a keen sense of what home technologies are hot now and what is on the horizon. She shares this wisdom regularly through feature stories, product roundups, case studies technology spotlights and comprehensive guides and books. Have a suggestion or a topic you want to read more about? Email Lisa at lmontgomery@ehpub.com
Follow Lisa on social media:

Lisa also participates in these groups:
LinkedIn · Google+
Control & Automation
Here's Savant's Real Two-Way IP Control of Apple TV via Siri
Product Briefs: Josh.ai Integrates with Savant;Dow Electronics; Elite Anniversary; Crestron Security
Crestron's For-Real Two-Way IP Control of Apple TV: TSR-310 as Siri Remote
Savant Shows Home Automation OSD through Apple TV
Metra Home Theater IR Kit Extends Control Signals
View more on Control & Automation
Take Our Latest Quiz
How Well Do You Understand Ethernet Cables and Connectors?
Bose