A/V Shop Sells Almost $280k in Samsung 8K QLEDs in 4 Hours
CE Pro 100 integrator Just One Touch/Video & Audio Center sells $285K in Samsung 8K TVs during wine-and-cheese event to early adopter clients.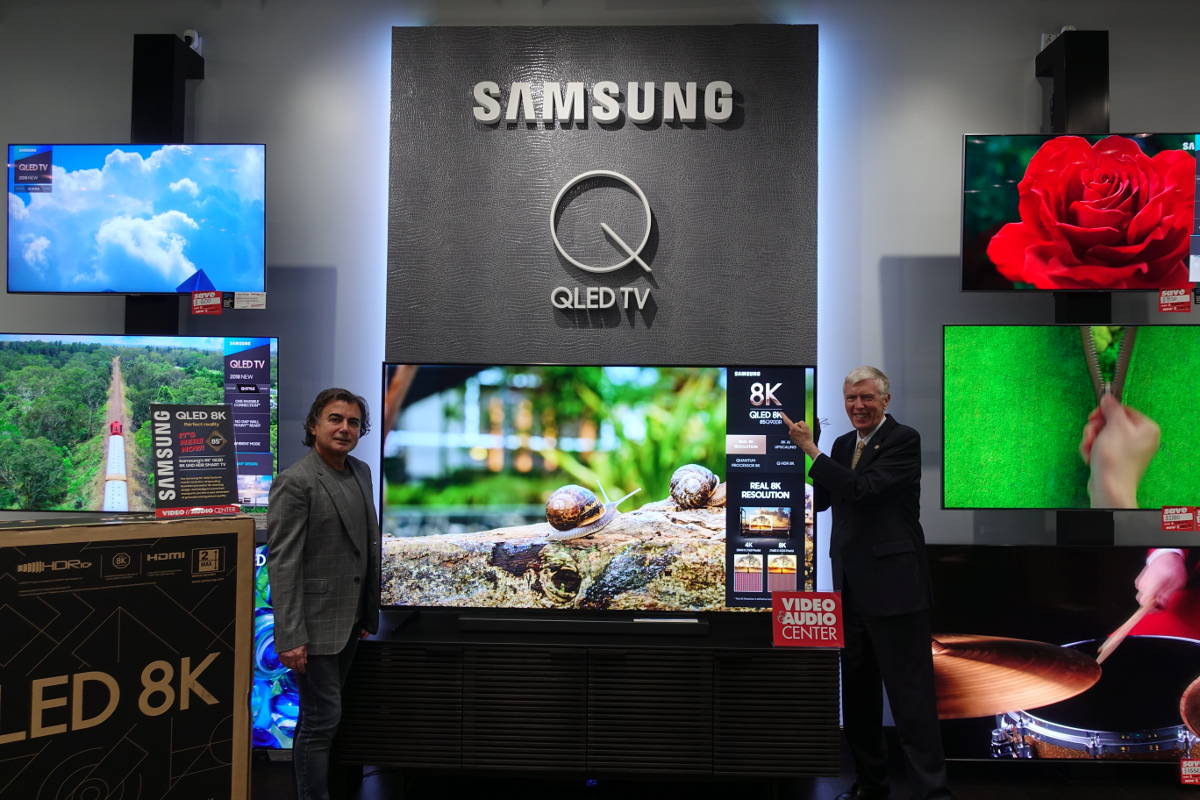 Jason Knott
·
November 1, 2018
How is it that most integrators ignore 8K TVs today because there's no content, insufficient bandwidth, technological uncertainties and obviously no demand for the pricey sets ... and yet one specialty shop in Southern California sells nearly $300,000's worth in a single four-hour session?
Last Friday, HTSA-member integrator Just One Touch/Video & Audio Center held an invitation-only evening event dubbed the "Exclusive Introduction & Sale of the First Samsung 8K TVs" at its Westfield Century City Mall showcase store location.
At the end of the night, the shop had completed 14 pre-sales and five new sales of the new 85-inch Samsung QN85Q900R QLED UltraHD displays. Each of the new 8K TVs retails for $14,999. That equates to a cool $284,281 in sales. Not bad for one night's work.
Starting a few days prior to the event, Just One Touch/Video & Audio Center, the No. 6 company on the CE Pro 100, reached out via phone calls and emails to its customer database, targeting those clients who tend to be early adopters based on their past history of purchases.
The giant 8K TV was set up in the rear of the store adjacent to several 4K TVs so viewers could see the difference.
Samsung 8K Has Built-in Demo Content
But what do you demo on an 8K TV? Every Samsung 8K TV comes with built-in native 8K content with stunning visuals of nature, animals and even Central Park in New York City.
Supplemental to the visual demo content is captioned and voiceover explanations of what viewers are experiencing in the 8K content and why it is so different from 2K or 4K visuals.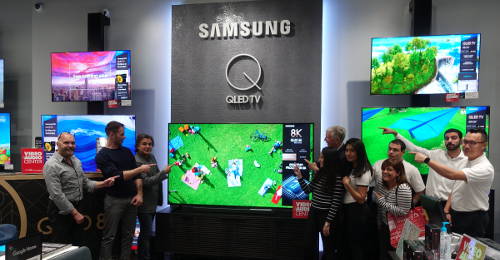 "Clients today are sophisticated and they embrace new technology… some even have a thirst for new technology," comments Tom Campbell, corporate director/chief technologist at Just One Touch/Video & Audio Center. "The enthusiasm from our valued clients was amazing."
He noted that during the event, one skeptical client wanted to see how non-8K content looked on the 85-inch Samsung. Campbell says they quickly changed the input to an HD cable TV feed.
Related: SoCal Integrator Opens New High-End Mall Location
"The up-conversion from 2K and 4K content was incredible," he notes. "The demo showed that even though there is a limited amount of 8K content available, an 8K TV is compatible with current content and capable of upconverting."
Scores of customers strolled through during the wine-and-cheese evening, which was scheduled to run from 6 p.m. to 8 p.m. but ended up going until 10 p.m. As part of the promotion, Just One Touch offered free set up and delivery for any client who purchased that night.
"We thank Samsung for selecting Video & Audio Center to be one of the first to launch this new technology," says Joseph Akhtarzad, owner. "The consumer excitement and acceptance of this product is just amazing."
Akhtarzad expects the showcase launch to dovetail into a record-breaking fourth quarter for his integration company.
---
2019 State of the Industry Special Report - CE Pro Download
The custom electronics industry saw a healthy 8 percent growth rate in 2018, down slightly from the blazing 11 percent growth in 2017 but still admiringly strong. Our 2019 State of the Industry indicates that readers expect to see even more growth in 2019. Get your copy today.
---
About the Author
---
Jason Knott is Chief Content Officer for Emerald Expositions Connected Brands. Jason has covered low-voltage electronics as an editor since 1990, serving as editor and publisher of Security Sales & Integration. He joined CE Pro in 2000 and serves as Editor-in-Chief of that brand. He served as chairman of the Security Industry Association's Education Committee from 2000-2004 and sat on the board of that association from 1998-2002. He is also a former board member of the Alarm Industry Research and Educational Foundation. He has been a member of the CEDIA Business Working Group since 2010. Jason graduated from the University of Southern California. Have a suggestion or a topic you want to read more about? Email Jason at jknott@ehpub.com
Follow Jason on social media:

Jason also participates in these groups:
LinkedIn · Google+
Home Theater
Product Briefs: Fibaro, SmartThingsRutherford Audio, Goldnote; ProSource adds Dish
Dish Enhances Custom Integration Program with RMR Bonuses
Hands On: BenQ HT9060 4K LED Projector is Ideal for Multipurpose Rooms
Dynamic Mounting Launches 12 TV Mounts for Over-the-Fireplace Installs
Josh.ai Integrates With LG Displays for Voice-Controlled Entertainment
View more on Home Theater
Take Our Latest Quiz
How Well Do You Understand Ethernet Cables and Connectors?
Bose