Josh.ai Integrates With LG Displays for Voice-Controlled Entertainment
Josh.ai's voice-control engine is now compatible with 2018 and 2019 LG OLED, Super UHD, and UHD model televisions.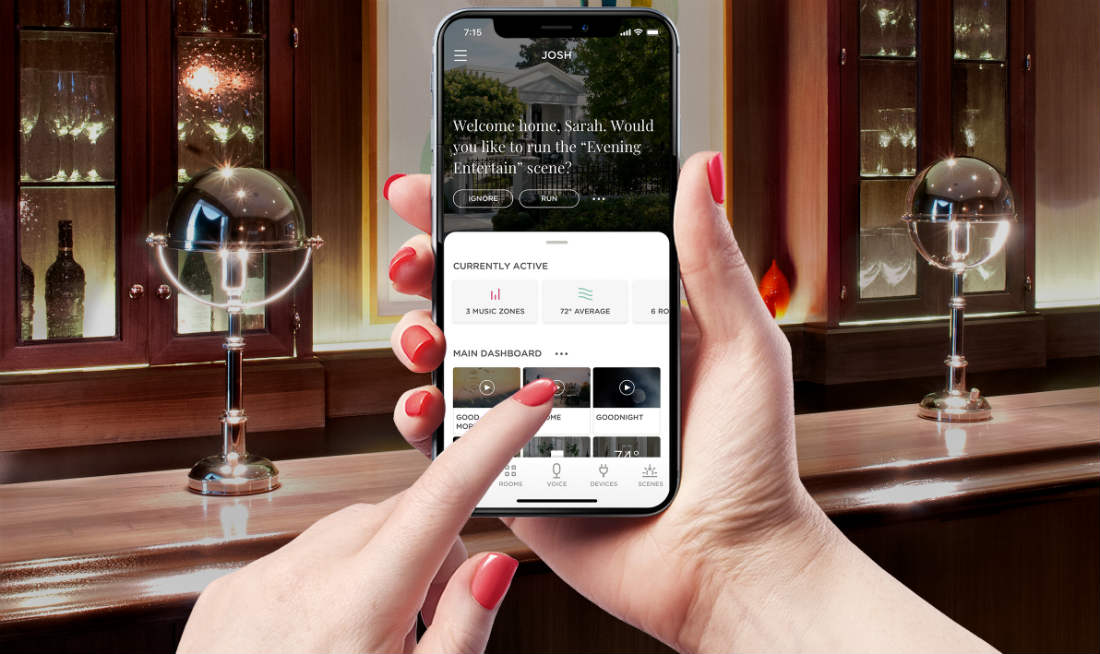 CE Pro Editors ·
March 19, 2019
Josh.ai now has a driver for integrating its voice-control engine with LG displays. Users will be able to walk from room to room and simply ask Josh Micro to turn on desired content through 2018 LG displays, as well as 2019 OLED, Super UHD, and UHD model televisions.
LG televisions will be controllable with natural language-oriented commands including "raise the volume" and "switch inputs to Roku." Compound commands like, "watch Stranger Things season 2 episode 3, turn up the volume on the TV, draw the shades 40 percent, and dim the lights a little" will also execute for all of the devices assigned to the room a user is in.
According to the companies, device compatibility not only results in an unmatched client experience but an intuitive setup process for the system integrator as well. After connecting to the network, Josh auto-populates supported LG televisions and provides authorization instructions, making it easier than ever before to configure HDMI inputs and seamlessly deploy a distributed video system.
"LG is committed to developing features within our TV's to make it easier to integrate with smart home control for the CI Market. Josh.ai has been on the cutting edge of natural voice integration and we are excited to bring this solution to our friends within the CI community," says Joseph Colombo, CI technical manager at LG Electronics USA.
Read Next: Bosch, Thermador Open Smart-Appliance APIs for Home Automation Integration
"We're excited to align with LG as a fellow innovator in the industry. Our device integrations are incredibly important as we recommend solutions for luxury clients who want performance as well as reliability, with the simplicity of being able to ask for any video content in a room and have it instantly play," says Alex Capecelatro, CEO, Josh.ai.
"LG is a prominent manufacturer for many of our dealers, and we're excited to kick off our development with their televisions. Our goal with Josh.ai is to deliver an elegant user experience and our relationship with LG will help us achieve that vision."
---
Secure Your Free Pass to CEDIA EXPO 2019
Register before Sept. 2 to gain free access to the opening keynote, product training & education series as well as the show floor including Innovation Alley and much more. Don't miss your chance. Sign up today.
---