Jeremy Burkhardt Launches Origin Acoustics
Burkhardt and SpeakerCraft founder Ed Haase Launch Origin Acoustics with Dave Donald. Burkhardt says SpeakerCraft has lost its way.
Julie Jacobson
·
April 14, 2014
Former SpeakerCraft chief Jeremy Burkhardt is back, this time with a brand new audio company called Origin Acoustics.
I'm supposed to keep quiet about the new venture but the word is out ever since Burkhardt changed his Linkedin status. Joining the business is Ed Haase, the ace engineer who founded SpeakerCraft in 1976. Burkhardt's longtime sidekick Dave Donald, who left Artison earlier this year, also joins the team to lead sales and marketing.
Burkhardt tells me that Origin has developed "great IP [intellectual property] that will make the lives of our dealers and end users a lot easier."
He says the company has filed for five independent patents on a product portfolio that includes home theater speakers, architectural speakers and electronics.
A select group of dealers will convene in Southern California in June to get the very first look at the products and the culture of Origin.
One of those dealers says all he was told is that Origin will be showing them some "really cool stuff."
Another says, "I think he has something that will surprise us all. Maybe some bagpipes?"
That was a reference to Burkhardt's finale at a CE Pro 100 Summit sponsored by SpeakerCraft a few years ago. The previous year he hosted a drum circle.
SpeakerCraft has produced no such spectacle since then.
RELATED: Imagining a SpeakerCraft without Jeremy Burkhardt
In a harshly worded note to the leadership of Core Brands, the Nortek organization that includes SpeakerCraft, Burkhardt accused the parent company of undermining the brand he helped to build.
CE Pro obtained a copy of that email, which has circulated among Burkhardt followers. It begins:
You assured me upon my decision to retire that you would be a brand steward and manage the success of SpeakerCraft going forward. You have failed doing so in the highest fashion.
After Burkhardt left SpeakerCraft in 2012, he sued Nortek, claiming the corporation was thwarting his employment efforts through an allegedly invalid non-compete.
Despite that non-compete, Burkhardt attempted to acquire outdoor speaker company Soundcast, but that deal fell through.
In his recent email to Core Brands, Burkhardt says, "I have decided to launch a new brand and will deliver the service and product SpeakerCraft once stood for."
He won't comment on the issue of non-competes.
So … will dealers come back?
Many have fled to SnapAV, Sonance, Totem Acoustic, The Da Vinci Group (founded by former SpeakerCraft execs) and other speaker brands. Others, of course, have stuck with SpeakerCraft.
The only thing we know for sure is this: It will be a colorful ride.
Origin Acoustics will make its debut at CEDIA 2014 in typical Burkhardt fashion.
—————————————————————



Follow us on Twitter!
@juliejacobson
@ce_pro
---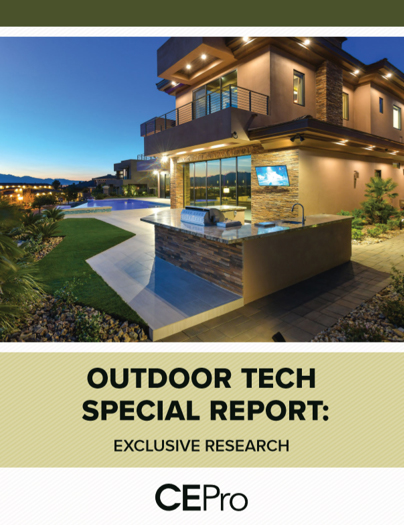 Find Out Why 63% of Integrators Expect Outdoor Business to Grow - CE Pro Download
The outdoor technology market is growing – both the demand from customers and the array of products available. According to our recent CE Pro survey, integrators are taking advantage of this opportunity to grow their businesses. Get your copy of the survey today.
---
About the Author
---
Julie Jacobson is founding editor of CE Pro, the leading media brand for the home-technology channel. She has covered the smart-home industry since 1994, long before there was much of an Internet, let alone an Internet of things. Currently she studies, speaks, writes and rabble-rouses in the areas of home automation, security, networked A/V, wellness-related technology, biophilic design, and the business of home technology. Julie majored in Economics at the University of Michigan, spent a year abroad at Cambridge University, and earned an MBA from the University of Texas at Austin. She is a recipient of the annual CTA TechHome Leadership Award, and a CEDIA Fellows honoree. A washed-up Ultimate Frisbee player, Julie currently resides in San Antonio, Texas and sometimes St. Paul, Minn. Follow on Twitter: @juliejacobson Email Julie at julie.jacobson@emeraldexpo.com
Follow Julie on social media:
Twitter · LinkedIn · Google+
Julie also participates in these groups:
LinkedIn · Google+