Home Remodeling Spending to Grow 7 Percent into 2019
Home remodeling spending expected to reach $346 billion in Q2 2019, up 20 percent from two years ago.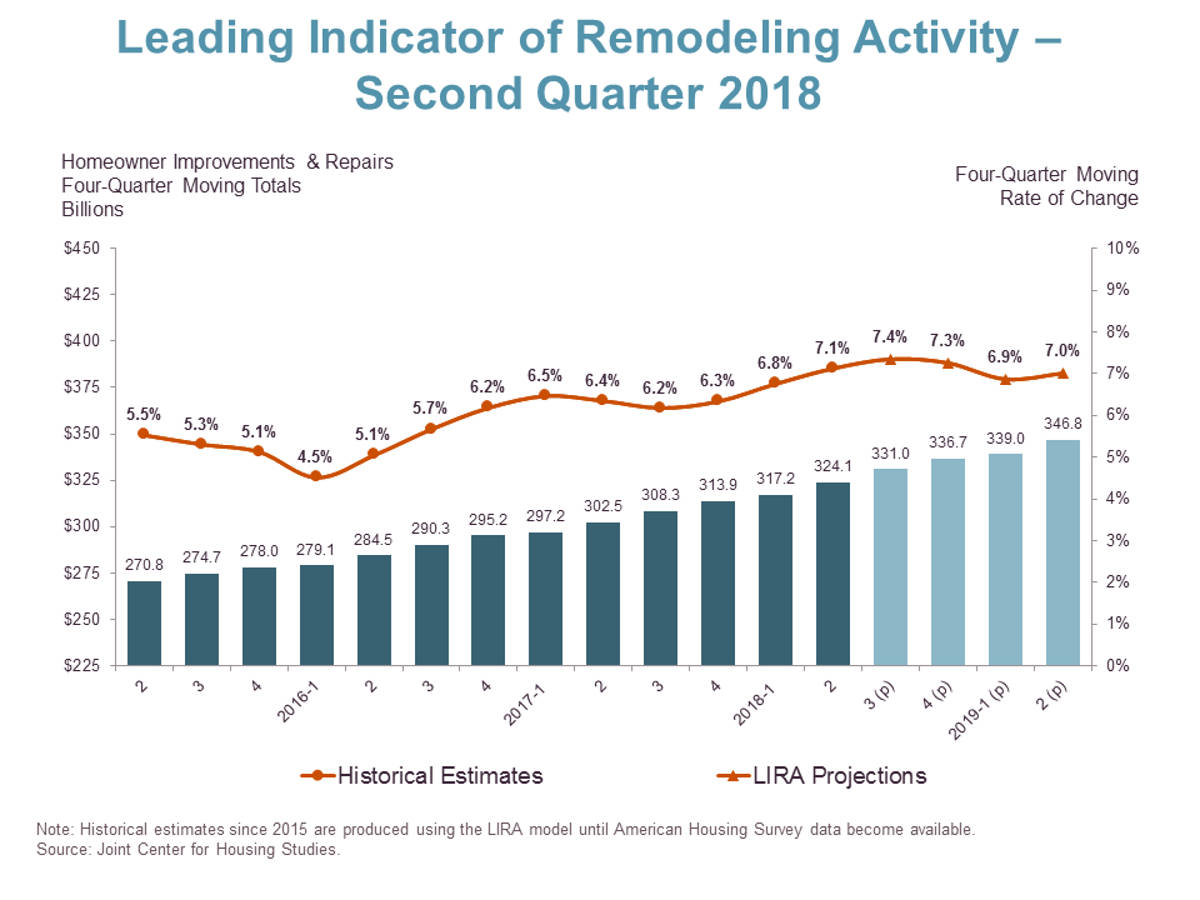 Jason Knott
·
July 19, 2018
The good news for integrators just keeps coming on the remodeling front. The latest data from the Remodeling Futures Program at the Joint Center for Housing Studies of Harvard University expects increased home remodeling activity through the middle of 2019.
The data from the Leading Indicator of Remodeling Activity (LIRA) study shows homeowners spent $324 billion in Q2 2018 on remodeling projects. That represents an increase of $54 billion compared to two years ago, or a 20 percent growth rate.
According to data from the National Association of Home Builders (NAHB), between 7 percent and 12 percent of new home construction is devoted to electronics.
If those percentages also carry over for remodeling spending, it means homeowners will spend between $4.6 billion and $38.8 billion on electronics as part of remodeling projects for existing homes between July and October, 2018.
The study predicts annual growth in homeowner remodeling expenditure will taper somewhat in the first half of 2019, but still remain around 7 percent to hit $346 billion. The research shows the hottest growth quarter will be Q3 of 2018, with a 7.4 percent predicted growth rate.
Related: NAHB Report—Housing Starts Reach Post-Recession High
"A growing economy and stronger job market are boosting owners' willingness to invest in home improvements," says Chris Herbert, managing director of the Joint Center for Housing Studies. "Rising home values and increased home equity levels are also encouraging more owners to do larger upgrade and replacement projects."
"A growing economy and stronger job market are boosting owners' willingness to invest in home improvement."
— Chris Herbert, Joint Center for Housing Studies
"Although the projected growth for remodeling activity remains strong, the low inventory of existing homes for sale is holding back even larger gains, since significant remodeling and repair often occurs around the time of a sale," says Abbe Will, associate project director in the Remodeling Futures Program at the Joint Center.
"Even so, annual spending on residential improvements and repairs by homeowners is expected to reach nearly $350 billion by the middle of next year."
According to the 2018 CE Pro State of the Industry Study, more than half (52.2 percent) of integrators' revenues are derived from remodeling projects at existing homes.
The Leading Indicator of Remodeling Activity (LIRA) provides a short-term outlook of national home improvement and repair spending to owner-occupied homes.
The indicator, measured as an annual rate-of-change of its components, is designed to project the annual rate of change in spending for the current quarter and subsequent four quarters, and is intended to help identify future turning points in the business cycle of the home improvement and repair industry.
---
7 Clever Ways to Hide Home Technology - CE Pro Download
Most technology products are not that visually appealing. Black boxes and tangled wires do not add to the character of a high-end smart home project. Luckily, our integrator readers have a number of clever solutions so these components don't have to be visible in your next project.
---
About the Author
---
Jason has covered low-voltage electronics as an editor since 1990. He joined EH Publishing in 2000, and before that served as publisher and editor of Security Sales, a leading magazine for the security industry. He served as chairman of the Security Industry Association's Education Committee from 2000-2004 and sat on the board of that association from 1998-2002. He is also a former board member of the Alarm Industry Research and Educational Foundation. He is currently a member of the CEDIA Education Action Team for Electronic Systems Business. Jason graduated from the University of Southern California. Have a suggestion or a topic you want to read more about? Email Jason at jknott@ehpub.com
Follow Jason on social media:

Jason also participates in these groups:
LinkedIn · Google+
Business
People & Places: Legrand Hires Atkins; MSE Promotes McManus; New Lowell Mfr Reps; SSE Reps
CEDIA Brings New Courses on Home Cinema Design, Emerging Trends to ISE 2019
27 Business Processes Every Integrator Should Document…in Writing
4K TVs Now Represent 44% of All Displays Sold
ConnectWise Acquires Sienna Group, Adds Data Security to Productivity Suite
View more on Business
Take Our Latest Quiz
How Well Do You Understand Ethernet Cables and Connectors?