Hands-On Review: Brilliant Packs Whole-House Control Into a Super Smart Light Switch
Brilliant's new smart switches with built-in voice control can automate the dumb old lights ... and virtually every other connected device in the house.
Jason Knott
·
December 11, 2018
For professional installers, the new Brilliant smart switches are a seamless solution to bring complete home control to the previously old-fashioned light switch.
Here was my situation: our pastoral home (a converted barn built in 1875) has a mix of technology, all designed to blend in with the old pinewood walls.
And in recent years, no technology has become more important to the family than voice control. Two Amazon Echoes and one Amazon Echo Dot sit in key locations, with Alexa as the preferred means of control for numerous Lutron Caséta lights, three Nest thermostats, and a Sonos wireless audio system.
So when we finally embarked on our years-in-the-planning kitchen remodeling project, the opportunity presented itself to bring integrated controls — and particularly voice control — to the heart of the home.
Installation could not have been easier. For integrators, the Brilliant switches are designed to be so easy to install that there is no need to send your lead technician. The system requires no addition hubs, wiring, batteries or programming.
No Hassle Installation
My local electrician, Nathan Rondeau of J. D. LeBlanc Electric in Sturbridge, Mass., quickly installed three Brilliant switches in various locations with standard three-wire connections. The two-gang model, dubbed the Two Switch controller by Brilliant, was placed in the kitchen next to the side-entry door.
Two single-gang Brilliant units, dubbed the One Switch, were mounted in the over-the-garage bonus room and inside the master suite walk-in closet — two locations where we previously did not have voice controls. Brilliant also offers three- and four-gang models.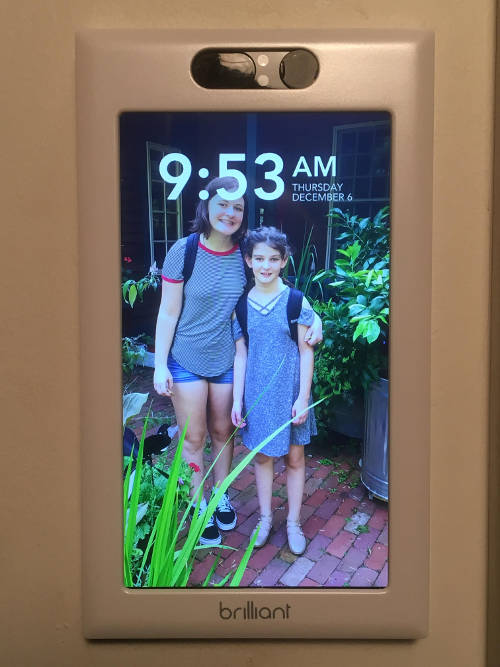 Even though he was completely unfamiliar with the Brilliant product prior to the installation, Rondeau was impressed with the ease of install, design, and functionality. He is now even considering getting one for his own home to test out.
Once the switches are in, they immediately search for an available wireless network. I simply plugged in my password and the units were hooked to the network.
Since the upstairs bonus room traditionally has spotty wireless coverage, we installed a Netgear wireless extender to strengthen the signal. Bluetooth can be used to synchronize the settings if Wi-Fi is not present.
Besides the Caséta voice controls, the 120V, 5-amp, two-gang switch by the door controls the exterior porch lights as well as the mudroom fixture.
The Two Switch unit includes a 5-inch diagonal touchscreen with 720 x 1280 resolution with two side-by-side touch sliders. You can swipe up and down on the sliders to raise or lower the lights, or just hold to dim.
Each of the switches not only has a camera, microphone, and speaker built-in for interacting with Alexa, but also acts as a two-way intercom. More on that later.
Using the touchscreen on the Two Switch unit, we named the three HVAC Nest zone and the seven lighting zones, which included an additional five Caséta switches as part of the kitchen remodel. We also created several lighting Scenes, including the all-important "Full Kitchen On." It was very simple. The touchscreen has not large digital buttons so there was very little "fat-finger" syndrome that I am used to encountering on an iPhone. We also added a new Sonos PLAY 1 speaker to the control.
In addition to the devices in my home, the award-winning Brilliant Control also interacts with products from August Smart Lock, Philips Hue, SmartThings, Wemo, Ring, Ecobee, and Honeywell, among others. During setup, many of these devices appear on Brilliant's interface by default, while others need to be added manually.
Another cool customizable feature is the ability to upload up to 24 images as the screen saver background for the switches. In my case, photos of my hockey-playing daughters and Ginger the puppy were easily uploaded. The photos are a minor element in the grand scheme of the controller, but they bring a nice personalized touch to the technology.
How We Use It
When I say that we now use home control multiple times per day, I mean it. Instantaneously, the ease of access to smart home commands has increased the entire family's usage of lighting control, thermostat adjustment, and audio, not to mention just asking Alexa questions.
Now, as my daughters prepare for school each morning, asking Alexa what the expected weather is for the day via the Brilliant switch by the kitchen door is a daily routine. The two-way intercom function is also being used regularly.
Related: Brilliant Wins 2018 IoT Award
But by far, the lighting control is our most frequent use, especially since the new kitchen has four separate lighting zones: the pantry area, the cooking area, under-cabinet and over the sink. Only the oven hood light and fan are not controllable via the Brilliant. The ability to turn all four zones on with a simple voice command is a big-time convenience.
Over the air updates to the control software happen automatically, using industry standard encryption. Also, Brilliant can be controlled from the Brilliant mobile app, although we have not used that feature commonly.
Each switch has a motion sensor that activates when someone enters the space. That has been especially nice inside the walk-in closet.
What Would I Change?
There are only a few things I would change about Brilliant. First, the units run a bit warm. It's not a big deal, but always makes me wary of the power usage when a device is running hot. I guess I will see when the next electric bill comes.
Second, the physical slide cover for the tiny camera is black and small. It is so tiny it is hard to tell if the camera is shielded even with my eyes within 6 inches of the switch. The camera status is especially important since we placed one of the single switch Brilliants inside our master bedroom closet.
To solve this problem (and to put my wife at ease), I added a small colored dot of bright nail polish to the exterior face of the camera shield so now it is readily apparent when the camera is hidden. Since we use the intercom function quite frequently, it isn't a viable solution to just keep the camera shield slid closed all the time.
For integrators looking for a seamless way to extend smart home controls, particularly Alexa, for clients who can't (or don't want to) accommodate a physical smart speaker, Brilliant is a great alternative.
In a nutshell, Brilliant is pretty darn smart.
MSRP: One Switch Control: $299; Two Switch Control: $349

Brilliant.tech
---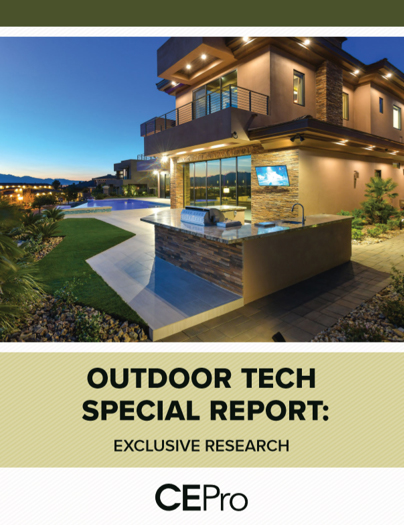 Find Out Why 63% of Integrators Expect Outdoor Business to Grow - CE Pro Download
The outdoor technology market is growing – both the demand from customers and the array of products available. According to our recent CE Pro survey, integrators are taking advantage of this opportunity to grow their businesses. Get your copy of the survey today.
---
About the Author
---
Jason Knott is Chief Content Officer for Emerald Expositions Connected Brands. Jason has covered low-voltage electronics as an editor since 1990, serving as editor and publisher of Security Sales & Integration. He joined CE Pro in 2000 and serves as Editor-in-Chief of that brand. He served as chairman of the Security Industry Association's Education Committee from 2000-2004 and sat on the board of that association from 1998-2002. He is also a former board member of the Alarm Industry Research and Educational Foundation. He has been a member of the CEDIA Business Working Group since 2010. Jason graduated from the University of Southern California. Have a suggestion or a topic you want to read more about? Email Jason at jason.knott@emeraldexpo.com
Follow Jason on social media:

Jason also participates in these groups:
LinkedIn · Google+
Control & Automation
Product Briefs: AudioResearch, Kwikset; Play-Fi, AirPlay2; Lenbrook Joins D-Tools i3
Control4, SnapAV CEO Interviews: Analyzing the Home Automation Merger
10 #SoCustom Solutions to Inspire Your BEST Project Awards Entries
Amazon Alexa Guard Sound-Detection Turns Echo into Smart Security System
Intuitive Interface Is Key to Lighting, Energy Storage/Management Systems
View more on Control & Automation
Take Our Latest Quiz
How Well Do You Understand Ethernet Cables and Connectors?
Bose