Fibaro Home Automation Acquired for $73M by European Controls Co.
Nice Group acquires Fibaro (Fibar Group S.A.), popular maker of Z-Wave sensors and smart-home hubs, shortly after acquiring Abode, a DIY security and home-automation company with professionally monitored alarm systems.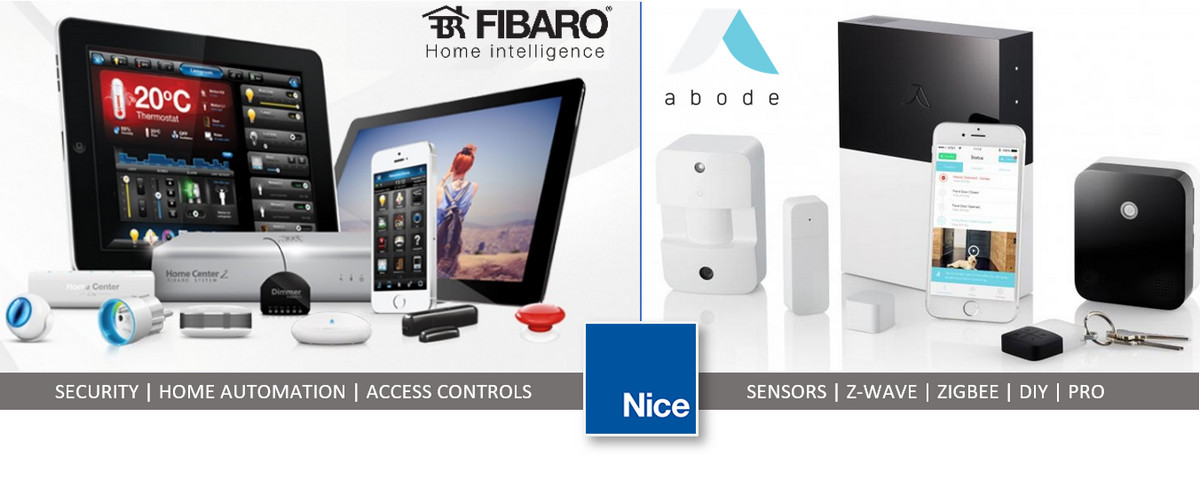 Julie Jacobson
·
July 13, 2018
Nice S.p.A. is on a smart-home tear. Today it acquires Fibaro, a popular maker of DIY/pro home-automation systems and Z-Wave sensors. Recently it purchased Abode, an up-and-coming manufacturer of DIY/pro security systems and ZigBee/Z-Wave IoT devices.
Based in Italy, Nice acquired Fibaro for €63 million ($73 million).
Nice is a leading manufacturer of motorized gates, garage doors, solar shading systems and parking systems with annual revenues of more than €350 in 2017.
Related: Abode is Most Promising Security, Home Automation Solution in a Long Time
We discovered Nice last year at CEDIA Expo 2017 as a newcomer to the U.S. smart-home channel. The company swore at the time it would be making a big play in the market. So far, it's delivered.
In April of this year, Nice acquired a majority stake of Abode, an increasingly popular manufacturer of DIY-oriented security with no-contract professional monitoring. The company's home-automation hub includes Z-Wave, ZigBee, Wi-Fi, cellular communications and a back-up battery.
CE Pro recently interviewed executives from Nice and Abode, and will provide more insight on Nice's growing IoT portfolio shortly.
About the Author
---
Julie Jacobson, recipient of the 2014 CEA TechHome Leadership Award, is co-founder of EH Publishing, producer of CE Pro, Electronic House, Commercial Integrator, Security Sales and other leading technology publications. She currently spends most of her time writing for CE Pro in the areas of home automation, security, networked A/V and the business of home systems integration. Julie majored in Economics at the University of Michigan, spent a year abroad at Cambridge University, earned an MBA from the University of Texas at Austin, and has never taken a journalism class in her life. She's a washed-up Ultimate Frisbee player currently residing in Carlsbad, Calif. Email Julie at jjacobson@ehpub.com
Follow Julie on social media:
Twitter · LinkedIn · Google+
Julie also participates in these groups:
LinkedIn · Google+
Control & Automation
Product Briefs: Simpfony adds AirPlay; Legrand and Lumileds Partner; Magnavox Roku TVs
Study: Unresolved Technical Problems with Smart Home Devices Rise 240% in 3 Years
Honeywell Total Connect Video Cameras Install Using QR Code
CEO Interview: The Scoop on AVAD, WAVE Electronics Merger
Marine Corps Major and Paralympic Gold Medalist Receives Customized ELAN Controlled Smart Home
View more on Control & Automation
Take Our Latest Quizzes
How Well Do You Understand Ethernet Cables and Connectors?
Quiz: Is Your Company Performance Above or Below Average?
How Much Do You Know About Cell Phone Signal Boosters?
How Efficient Is Your Service Department? Take the Quiz
5G and the Need for Cellphone Signal Boosters—Do You Know Enough?