Ruckus Parent Co. ARRIS Acquired by CommScope for $7.4 Billion
With CommScope set to acquire ARRIS, which itself recently acquired Ruckus, the new owner is expected to generate approximately $1 billion in cash flow from operations and gain more ground in 5G and IoT technologies.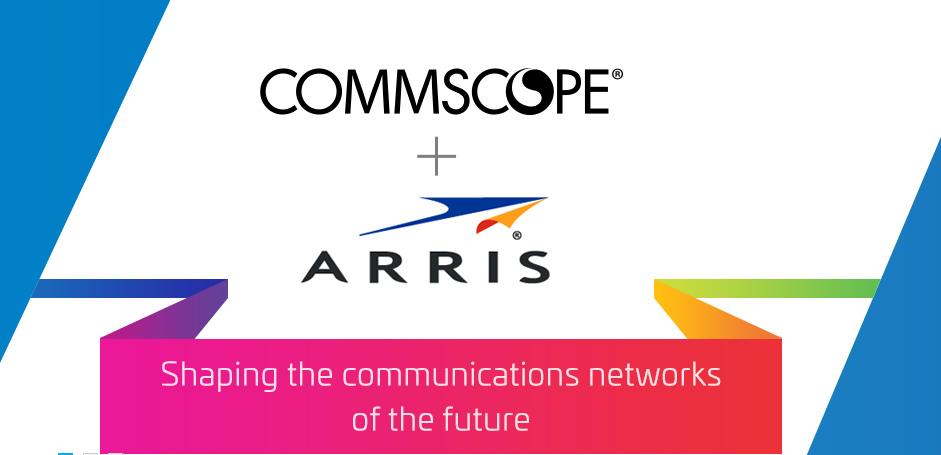 Andrew Nichols
·
November 9, 2018
Today, CommScope, a telecommunications equipment manufacturer, has announced it is buying set-top box maker and Ruckus parent company ARRIS for $31.75 per share, or $7.4 billion in cash. In addition, private equity firm The Carlyle Group is partially funding the deal via a minority equity investment in CommScope worth about $1 billion.
The combination of CommScope and ARRIS will create a company worth an estimated $11.3 billion in revenue.
In November, 2017, Arris acquired Ruckus, a leading supplier of wireless networking systems in the custom channel, for $800 million.
According to the press release, "The combined company is expected to drive profitable growth in new markets, shape the future of wired and wireless communications, and position the new company to benefit from key industry trends, including network convergence, fiber and mobility everywhere, 5G, Internet of Things and rapidly changing network and technology architectures."
ARRIS is known for its work in broadband, video, and wireless technologies, and has strong leadership positions in three segments:
Customer Premises Equipment (CPE), featuring access devices such as broadband modems, gateways and routers, and video set-tops and gateways.
Network & Cloud (N&C), combining broadband and video infrastructure with cloud-based software solutions.
Enterprise Networks, incorporating the recently acquired Ruckus Wireless® and ICX Switch® businesses, and focusing on wireless and wired connectivity, including Citizens Broadband Radio Service solutions.
For the 12 months ended September 30, 2018, ARRIS generated revenues of approximately $6.7 billion, consisting of $3.9 billion from CPE, $2.2 billion from N&C and $568 million from Enterprise Networks (reflecting only a partial year of Ruckus since its acquisition in December 2017).
"After a comprehensive evaluation of our business and the evolving industry we operate in, we are confident that combining with ARRIS is the best path forward for CommScope to grow and provide the greatest returns for shareholders," says Eddie Edwards, president and chief executive officer, CommScope.
"CommScope and ARRIS will bring together a unique set of complementary assets and capabilities that enable end-to-end wired and wireless communications infrastructure solutions that neither company could otherwise achieve on its own.
"With ARRIS, we will access new and growing markets, and have greater technology, solutions and employee talent that will provide additional value and benefit to our customers and partners," Edwards continues.
Read Next: Instruments Giant Ametek Nabs Alarm.com Competitor Telguard with Acquisition of Parent Co. Telular
"CommScope is an ideal partner for ARRIS. In addition to providing immediate and substantial cash value to our shareholders, we are excited for what this combination will deliver for our customers, partners and employees around the world," says ARRIS CEO Bruce McClelland. "With CommScope, we expect to further advance ARRIS' strategy to drive innovation across our iconic brands and pioneer the standards and pathways for tomorrow's personalized, connected always-on consumer experience."
CommScope Keeps Edwards, McClelland
Via the acquisition, CommScope is looking to capitalize on industry trends like 5G and the Internet of Things (IoT).
The company expects to more than double its total product addressable market to more than $60 billion, with a unique set of complementary assets and capabilities that enable end-to-end communications infrastructure solutions such as:
Converged small cell solutions for licensed and unlicensed wireless spectrum.
Complimentary wired and wireless communications infrastructure.
Integrated broadband access.
Private network solutions for industrial, enterprises and public venues.
Comprehensive connected and smart home solutions.
Combined, CommScope and ARRIS hold approximately 15,000 patents and spend more than $800 million on R&D.
Also Read: Top 2017 Mergers & Acquisitions in IoT, Security and Consumer Electronics
Following completion of the combination slated for the first half of 2019, Eddie Edwards will continue in his role as president and chief executive officer of CommScope, with Bruce McClelland and other members of the ARRIS leadership team joining the combined company.
CommScope will also remain headquartered in Hickory, N.C., but the combined company will continue to have a strong presence in Suwanee, Ga.
To read the full report, click here.
---
2019 State of the Industry Special Report - CE Pro Download
The custom electronics industry saw a healthy 8 percent growth rate in 2018, down slightly from the blazing 11 percent growth in 2017 but still admiringly strong. Our 2019 State of the Industry indicates that readers expect to see even more growth in 2019. Get your copy today.
---
About the Author
---
Andrew is a journalist and educator living in the Providence area. He was previously the Editor-in-Chief of a gaming and tech website, and the Managing Editor of his university newspaper, The Torch. He received his Bachelors in Writing and Masters in Teaching from the University of Massachusetts Dartmouth. Have a suggestion or a topic you want to read more about? Email Andrew at andrew.nichols@emeraldexpo.com
Follow Andrew on social media:

Andrew also participates in these groups:
LinkedIn · Google+
Networking & Cables
Product Briefs: Fibaro, SmartThingsRutherford Audio, Goldnote; ProSource adds Dish
Are Your Ethernet Connections Exposed to Harsh Elements?
Key Digital KD-DA2 HDBaseT Amplifiers Deliver 18Gbps for 4K Video
4 Adhesives Every Technician Should Have in Their Truck
Here's How to Use Yamaha MusicCast to Build the Backbone of A/V System Interoperability
View more on Networking & Cables
Take Our Latest Quiz
How Well Do You Understand Ethernet Cables and Connectors?
Bose