Chicago Museum's Smart Home Gets Makeover
Exhibit at Chicago Museum of Science & Industry includes donated equipment and time from Lutron, Sonance, Trufig, Middle Atlantic, AMX, Planet Waves and ReQuest.
Jason Knott
·
May 16, 2011
Since first opening in 2008, the Smart Home exhibit in Chicago's Museum of Science & Industry has hosted more than 250,000 guests. But it wasn't' all that foot traffic that precipitated a makeover, it was new technology.
The exhibit, dubbed "Chicago's Greenest Home," is now outfitted with even more green technologies. The tech portion of the project was an example of some of the best levels of industry cooperation ever witnessed. Here's a quick list of the tech participants.
Doherty Design Group: Led by former CEDIA president Tom Doherty, the company provided oversight and brought together many of the home automation partners to "make the smart home even smarter," says the museum. Doherty also installed the Lutron products in the exhibition.
Integrated Control Experts (ICX): Based in Westmont, Ill., ICX's Eric Lee provided the system design and project management for the three-week job.
GSLogic: Donated GSL Home, a turnkey software solution for AMX residential dealers. Custom programming by Gary Spaniola allows Museum guides to control custom scripts from the keypads.
Module Depot donated software modules for additional green system support.
Best Buy/Geek Squad: The installation labor for the job was donated by Geek Squad. According to Lee, the two Geek Squad technicians had never built a rack before, "but because of that were excited to have the opportunity. They had great attitudes and aptitude. They worked late into the evening at my office wiring the racks. We [ICX] loaded the software," says Lee. The duo retrofit wiring within the home, and built the equipment rack. "I also taught them how to use various software tools, like Netlinx Studio, terminal emulator, and how to solder DB9 connectors for RS232 terminations," adds Lee.
Photos: Chicago Museum's Smart Home Gets Makeover
Meanwhile, Best Buy donated an Insignia 55-inch LED TV for the lounge, a 46-inch LED TV for the master bedroom, a 19-inch touchpanel for the kitchen, Sony S580 Blu-ray player, Casio Green Slim XGA projector for the upstairs bedroom, and an Acer Aspire Revo computer.
Lutron Electronics donated Sivoia QED shade control for the window treatments, and HomeWorks lighting control for the entire smart home.
AMX donated its whole-house automation system and control modules for the project.
Sonance donated its Invisible Series speakers and amplifiers for the living room and lounge, and amplifiers for the whole house. Trufig provided the light switches and outlets in the kitchen.
Middle Atlantic donated the rack, power and accessories for the job.
Planet Waves donated all of the interconnects and HDMI cabling. The connectors are all re-usable, fitting with the green sustainability theme of the project.
ReQuest loaned an F2 v5 two-zone audio and video server.
---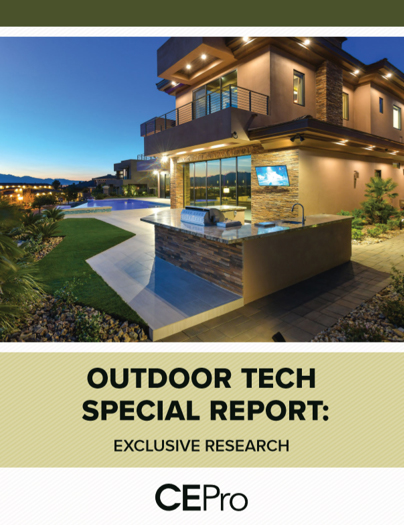 Find Out Why 63% of Integrators Expect Outdoor Business to Grow - CE Pro Download
The outdoor technology market is growing – both the demand from customers and the array of products available. According to our recent CE Pro survey, integrators are taking advantage of this opportunity to grow their businesses. Get your copy of the survey today.
---
About the Author
---
Jason Knott is Chief Content Officer for Emerald Expositions Connected Brands. Jason has covered low-voltage electronics as an editor since 1990, serving as editor and publisher of Security Sales & Integration. He joined CE Pro in 2000 and serves as Editor-in-Chief of that brand. He served as chairman of the Security Industry Association's Education Committee from 2000-2004 and sat on the board of that association from 1998-2002. He is also a former board member of the Alarm Industry Research and Educational Foundation. He has been a member of the CEDIA Business Working Group since 2010. Jason graduated from the University of Southern California. Have a suggestion or a topic you want to read more about? Email Jason at jason.knott@emeraldexpo.com
Follow Jason on social media:

Jason also participates in these groups:
LinkedIn · Google+
News
Luxul Announces Commercial-Grade AV Over IP Networking Lineup
What Integrators Can Learn From Best Buy
McIntosh Unveils $5,000 Digital-Ready, Future-Proof Preamplifier
Hands On: CasaTunes Deftly Integrates Sonos
Marantz, Denon Each Roll Out Pair of New A/V Receivers
View more News
Take Our Latest Quiz
How Well Do You Understand Ethernet Cables and Connectors?
Bose