CES 2019 Day 2 in Tweets
A roundup of CES 2019 tweets that summarize a bunch of the latest and greatest new tech to grace the show floor.
Andrew Nichols
·
January 9, 2019
CES 2019 is in full "impress everybody" mode, and largely it's doing just that. The problem with such an expansive show is that it's often hard to keep track of all of the cool stuff on the show floor. Thankfully, our very own Julie Jacobson has been documenting her trip over @juliejacobson on Twitter. Read on to see what she has her mind on while wandering around Las Vegas.
Well, that's an interesting licensing agreement. Simple Home has a licensing agreement to market a ton of WiFi home-automation devices under the @Energizer brand - Energizer Connect, to be specific. Dirt cheap stuff. #CES2019 pic.twitter.com/1xZDqfyR5T

— Julie Jacobson (@juliejacobson) January 9, 2019
At #CES2019@viaroomhome is showing how you can endow kinda-smart products like @Honeywell_Home thermostat with really smart smarts to create a true AI home. pic.twitter.com/BcHzNLKUzw

— Julie Jacobson (@juliejacobson) January 9, 2019
Looks like @HipCamSmartHome has the first consumer-oriented video doorbell with two-way video conference. Not a bad idea, really. Who ARE these people? HUGE booth at #CES2019 given its small product line. #CEPro pic.twitter.com/ypIbGwIJLk

— Julie Jacobson (@juliejacobson) January 9, 2019
Unfortunately, Capstone Industries doesn't this cool mid-century modern furniture -- just purpose built for the show to demo use cases for their "smart mirrors." Yes, please. #CES2019 pic.twitter.com/8lGi3IG5yh

— Julie Jacobson (@juliejacobson) January 9, 2019
I was stuck on @netatmo 1.0 and thought they were still just making cute little cube thermostats and weather sensors. Beautiful smart stuff these days! Nice acquisition, @Legrand. pic.twitter.com/P8bmdx7Uq2

— Julie Jacobson (@juliejacobson) January 9, 2019
Check out @orbitirrigation's Yard Enforcer motion-activated sprinkler. Keeps deer away, not so much the armadillos. CEO says newer version will catch those little buggers too. #CES2019 #CEPro (hilarious video https://t.co/k43z1b1LTI) pic.twitter.com/Wj7G3XqXbD

— Julie Jacobson (@juliejacobson) January 9, 2019
Pretty cool, huh? I'll be updating this list of tweets as CES 2019 continues. Please tweet at us @ce_pro with any cool finds!
---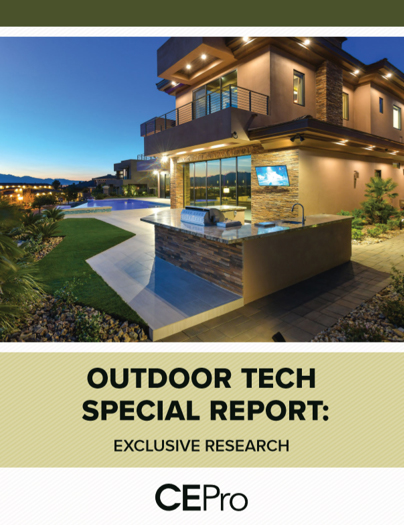 Find Out Why 63% of Integrators Expect Outdoor Business to Grow - CE Pro Download
The outdoor technology market is growing – both the demand from customers and the array of products available. According to our recent CE Pro survey, integrators are taking advantage of this opportunity to grow their businesses. Get your copy of the survey today.
---
About the Author
---
Andrew is a journalist and educator living in the Providence area. He was previously the Editor-in-Chief of a gaming and tech website, and the Managing Editor of his university newspaper, The Torch. He received his Bachelors in Writing and Masters in Teaching from the University of Massachusetts Dartmouth. Have a suggestion or a topic you want to read more about? Email Andrew at andrew.nichols@emeraldexpo.com
Follow Andrew on social media:

Andrew also participates in these groups:
LinkedIn · Google+
Events
CEDIA Global HQ Opens: Take a Video Tour
'Disruptive' Keynote at CEDIA Expo 2019: Adios Tech-Talking Futurists
CEDIA Expo 2019 Registration Now Open
Sony's Dazzling Booth at CEDIA Helps Earn Quest for Quality Award
ISC West 2019: Security Show Made Me Go Hmmm
View more on Events
Take Our Latest Quiz
How Well Do You Understand Ethernet Cables and Connectors?
Bose