CE Pro 100: Biggest Opportunities for Home-Technology Integrators in 2018
For the highest-revenue home-technology installers, the biggest opportunities in 2018 are lighting fixtures/control, motorized shades, security/surveillance systems, increased home automation demand, and RMR opportunities.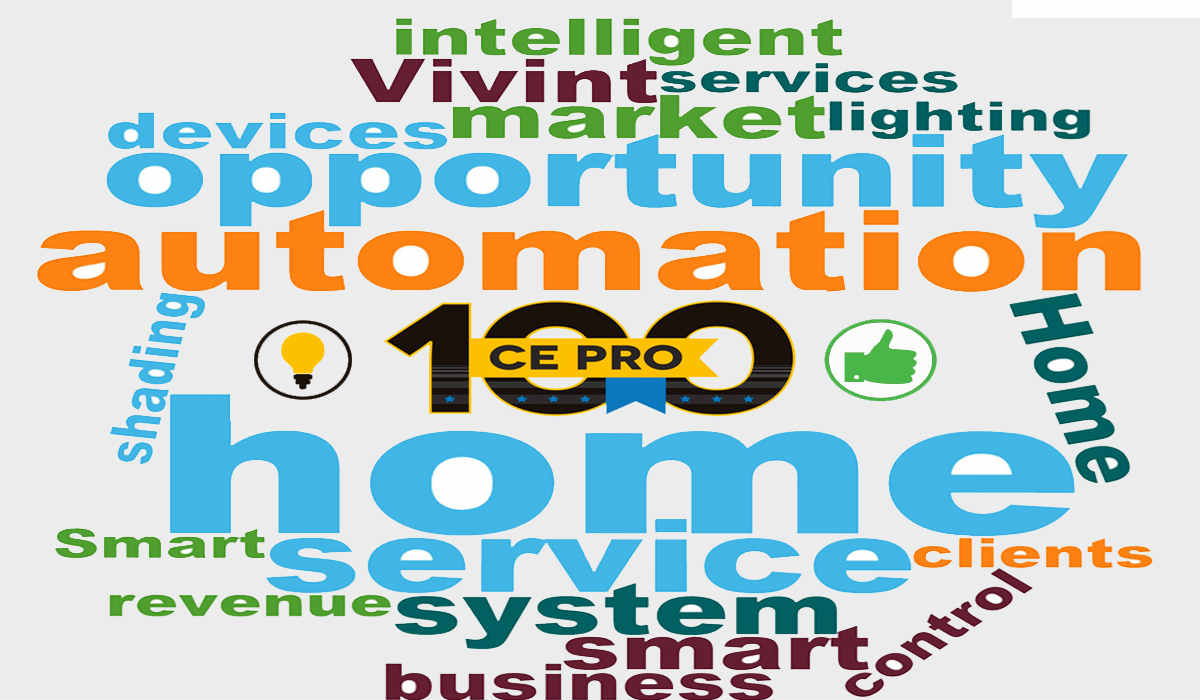 Jason Knott
·
May 9, 2018
CE Pro 100 companies definitely see the burgeoning DIY home automation market as a catalyst for the professional installation space. Indeed, when asked, "What is the biggest opportunity you anticipate in 2018?" home automation seemed to be top-of-mind for many. Service revenue/recurring monthly revenue (RMR), and lighting are also common themes.
Read on and compare how your own company stacks up when it comes to potential opportunities for 2018. Also check out the full CE Pro 100!
---
Home Automation
---
"Biggest opportunities continue to be in the home automation field. We've expanded our services to include lighting plans, which have become a necessity in these large projects. We're looking to add lighting fixtures as we take the responsibility to oversee the lighting system and program it so why not sell the fixtures as well instead of relying on an electrician who doesn't understand the complexity involved in specifying the right fixtures to work properly on a control system. We're adding more automation features to our showroom and better demonstrations." —Spencer Clark, Vice President, Audio Breakthroughs
"Consumer-focused home automation systems are the biggest opportunity that we may have ever encountered. We're addressing by creating enticing solutions using household brands and charging for the value we bring." —Siobahn Haut, Executive Assistant, Brilliant AV
"Definitely the home automation market. It's becoming more of a known segment, and the majority of people want something 'smart' in their home." —Stacy Worley, CFO, Desert Valley Audio Video
"We see continued opportunity in home automation, coupled with life-safety services." —Justin Demek, Financial Analyst, Guardian Protection Services
"The biggest opportunities will be some growth in automation, and possibly some light commercial. We see voice control as a big upgrade opportunity to all our past automation clients." —Ryan Heringer, President, Sound Concepts
"The DIY market is one of our challenges and also an opportunity: More products are coming out for this market so the end users have more options, like voice control with Alexa. But at the same time, the growing knowledge of the home automation market lets us take advantage and complement the DIY target with our experience and knowledge. We see art display products like Samsung Frame as a great opportunity, along with short-throw projectors that allow us to make a dedicated home theater in a smaller space." —Jessica Persyko, Marketing, MAXICON
"The home automation market continues to grow exponentially and will continue to drive sales in 2018." —
Dee Straub, VP/COO, Structured Cable of VA
"Moving from connected homes to truly intelligent homes is a big opportunity. Today, homeowners can manage their security system, locks, lights, cameras and more from a panel or app, but they want more than these intelligent devices — they want an intelligent home. They want these devices to work together throughout the home in an intelligent way, creating a single, cohesive experience.
"Last year, Vivint Smart Home introduced the first true smart home assistant powered by artificial intelligence. Vivint will automatically manage the connected devices in a smart home, including locks, lights, thermostat, and security system. Vivint takes full advantage of the greater number of sensors and devices that are part of every Vivint smart home system, an average of 15 per home. Machine learning algorithms use data from these sensors, as well as from mobile devices and system usage, to provide intelligent recommendations and take action to streamline the home experience.
"Vivint is breaking down the barriers to mass-market smart home adoption, making it easy and affordable to create a smart home with innovative purchasing options, including a partnership with Citizens Bank to offer zero-percent financing, and a first-of-its-kind interactive retail offering in Best Buy." —Vivint Smart Home
---
Service/RMR
---
"The opportunities in 2018 are abundant and we're really seeing our clients willing to upgrade their solutions to keep up with the technology, along with making investments in maintenance contracts. Our reputation as a true service provider 24/7 has helped build trust in our marketplace and we continue to strive to be the best. We're expanding into our Chattanooga showroom and are involved with some incredible projects where the builders and developers understand offering the right solutions to their clients." —Wes Bradshaw, Owner, Sunbelt Technology
"Service and maintenance agreements. There are just too many things that can affect a well-designed and installed A/V system. We want to provide our clients with a very high level of service; we also want them to pay for it. We've developed a service team that pushed service agreements and we include remote management on all of our projects. The choice the client has is, do you want me to support it or not?" —Steve Burke, President/Owner, Texadia Home Technologies
"I believe the largest opportunity in our business for 2018 is in the service department. I believe in service and think that if you are not a service-centric integrator you won't be around for the long haul. We've spent a significant amount of time, energy and resources to develop a world-class service organization. Increasing recurring revenue through premium service plans is a major opportunity and something we are focused on for 2018." —Randy Schram, Owner, Smart Home Systems
"Focus on higher-end sales by reducing the time we spend on low-profit business. Other opportunities are Wi-Fi distribution, recurring revenue through remote maintenance contracts and upgrading outdated control systems." —
Tracey Westbrook, Vice President, Home Theater Technologies
"Monitoring services for low-voltage systems (RMR)." —
Keith Burrowes, Managing Member, Sierra Integrated Systems
"Continue to grow our recurring revenue and evolve our service teams to be more efficient." —Jordan Wills, Marketing Director, Cloud9 Smart
---
Lighting/S

hades
---
"The biggest challenge we've had from eroding equipment margin over the last few years has led to our biggest opportunity, which has been the motorized shading business. We realized we were already in these homes and we were seeing the shading and drapery contracts signed from another vendor for often 2x and 3x of what our A/V contract was. So now on most of our jobs, we are able to add shading as a service, which represents almost 30 percent of our business right now." —Bryan Gorog, President, BCG Concepts
"Launching our new Lighting and Shading Design Center in our showroom. We've added a business development manager to help us launch this new division and bring in new opportunities to Livewire." —Henry Clifford, President, Livewire
---
Secure Your Free Pass to CEDIA EXPO 2019
Register before Sept. 2 to gain free access to the opening keynote, product training & education series as well as the show floor including Innovation Alley and much more. Don't miss your chance. Sign up today.
---
About the Author
---
Jason Knott is Chief Content Officer for Emerald Expositions Connected Brands. Jason has covered low-voltage electronics as an editor since 1990, serving as editor and publisher of Security Sales & Integration. He joined CE Pro in 2000 and serves as Editor-in-Chief of that brand. He served as chairman of the Security Industry Association's Education Committee from 2000-2004 and sat on the board of that association from 1998-2002. He is also a former board member of the Alarm Industry Research and Educational Foundation. He has been a member of the CEDIA Business Working Group since 2010. Jason graduated from the University of Southern California. Have a suggestion or a topic you want to read more about? Email Jason at jason.knott@emeraldexpo.com
Follow Jason on social media:

Jason also participates in these groups:
LinkedIn · Google+