The 43 Metrics You Need to Track to Measure Success in the A/V Industry
Use these 43 Key Performance Indicators (KPIs) – from labor profit to project backlog – to check if your custom installation business is on track… or off-track.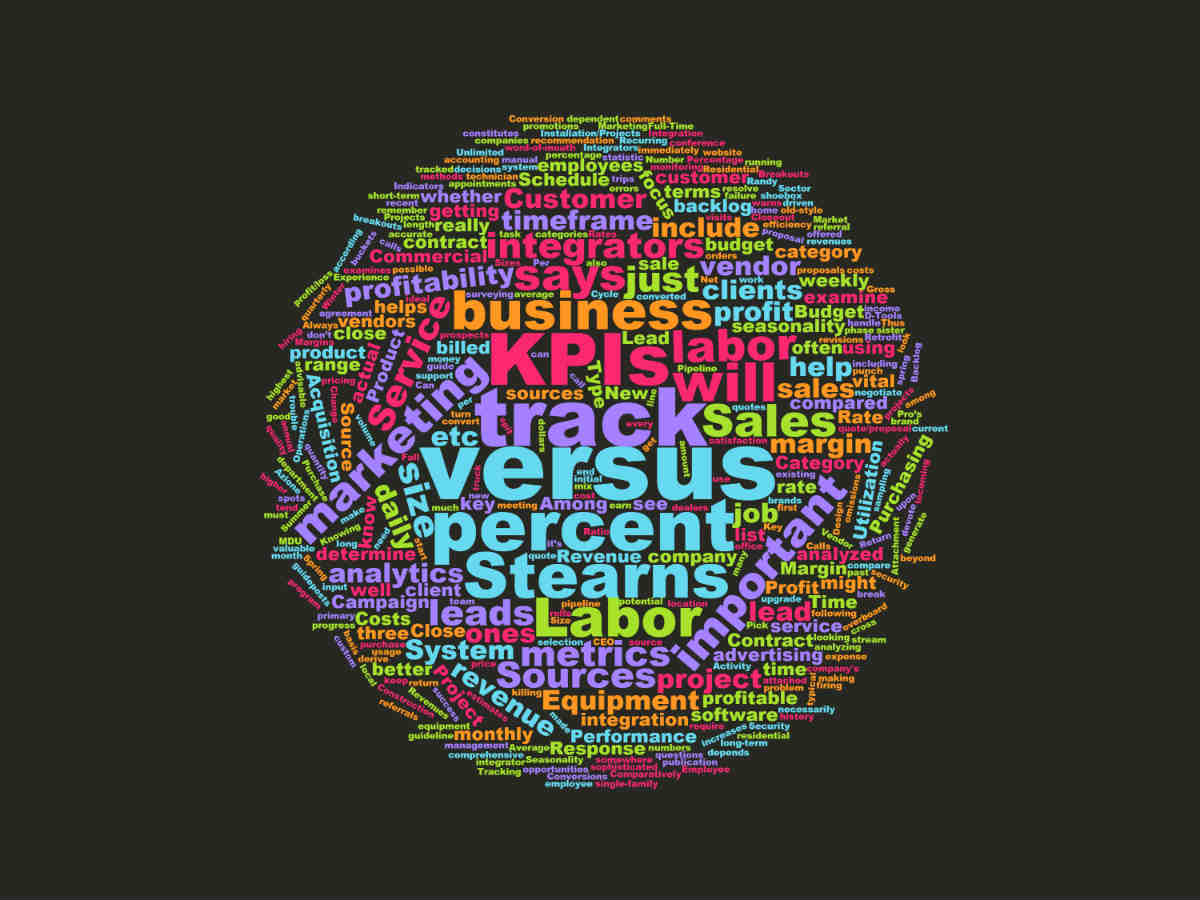 Jason Knott
·
May 4, 2018
Do you know your company's daily, weekly or monthly profitability? Can you see trouble spots or opportunities long before they are upon you? Which product category or brand of equipment is your most profitable line?
Those are just some questions integrators might have about their business, whether they use sophisticated business management software or old-style "shoebox" accounting methods to track their progress. But which business metrics are the most valuable ones to track?
At the recent Azione Unlimited spring conference, Randy Stearns, CEO of D-Tools, offered up a comprehensive list of Key Performance Indicators (KPIs) for integrators to examine on a daily, monthly, quarterly or annual basis.
"KPIs are the guideposts to keep your business on track. It increases your profitability," he says. "But don't go overboard with the analytics. Always remember that your clients and your employees are more important than your analytics. My recommendation is to just start somewhere. Pick three KPIs to track. You will immediately see how it help you make better business decisions."
Here is a sampling of some vital KPIs to track. Which ones are you using?
---
Revenues: Sources, Margins, Labor, Equipment
---
Revenue Sources – When analyzing your revenue sources, it's advisable to first break it out into three primary buckets:
Installation/Projects
Service
Recurring
Other important revenue breakouts include:
Percentage from Equipment versus Labor – "50/50 is ideal, but most integrators will derive about 35 percent of their revenues from labor," says Stearns.
Commercial versus Residential
New Construction versus Retrofit
Seasonality: Winter versus Spring versus Summer versus Fall – This will help you determine if there is a seasonality to your income stream.
Gross Margin / Net Profit Breakouts – Sources of profit/loss and margin by:
Equipment
Labor – "If you are making 50 percent profit on your labor, you are doing OK," comments Stearns.
System Type and Product Category
Market Sector / Project Type – Commercial versus residential, MDU versus single-family, etc.
Project Backlog – There is no guideline for what constitutes a good project backlog, it really is dependent on past history, the size of your company, and seasonality. "Tracking your project backlog helps you determine whether you need to be hiring or firing. You must look well beyond the current month when running your business," says Stearns.
Revenue Per Full-Time Employee – "If you are under $175,000 in revenue per employee, you might just be getting by because you have higher profit on your labor. It really depends on your local labor market and your labor costs," says Stearns.
---
Marketing: Conversions, Acquisition Costs
---
Most custom integration companies do not focus on marketing. They tend to be word-of-mouth driven. Comparatively, a typical security integration company will devote 6 percent of its expense budget to marketing, according to CE Pro's sister publication Security Sales & Integration. Thus, for most integrators, these marketing KPIs are not necessarily important, but if you are an integrator who does do some marketing, among the key metrics to track are:
Lead Sources – Which lead sources generate the most and the highest quality leads? Incoming leads should be tracked in both the short-term and long-term by:
Source (website, advertising, referrals, etc.)
Campaign (referral program, cross promotions with vendors, etc.)
Lead Conversion – Which leads most often turn into sales? The leads should be analyzed for profitability compared to the advertising contract amount by:
Campaign
Source
New Customer Acquisition Costs – How much does it cost you to get a new client versus upgrade an existing client? This should be analyzed.
---
Sales Performance: Close Rates, Contract Sizes
---
The following are important KPIs to track for each sales team, office location and lead source:
Sales Activity (appointments, proposals, proposal revisions)
Sales Pipeline (size of pipeline, quantity of potential dealers, and average quote size in dollars)
Close Ratio (percent of prospects or quotes that are converted into a sale)
Sales Cycle (timeframe to convert a lead into a sale, timeframe from initial meeting to close, timeframe from quote/proposal to close)
Average Contract Size
Attachment Rate – What percent of projects will have a service agreement or monitoring contract attached to it?
---
Operations: Labor Utilization, Budget, Schedule
---
"All of these KPIs require some manual input… the software will not just spit these numbers out," warns Stearns.
Projects versus Budget and Schedule – Among the metrics to track here daily or weekly include:
Labor budget versus actual (by phase, by technician and by task)
Design errors and omissions
Change orders (including which ones were billed for)
Purchasing (How accurate were your pricing estimates compared to the actual purchase price?)
Closeout efficiency (compare the length of the punch list against the project size)
Return trips (how many truck rolls were made to the job)
Labor Utilization Rate – This is a key statistic that examines the percentage of your employees' time that is actually being billed to a job. "If you are in the 85 percent range, you are killing it," says Stearns. "If you are in the 55 percent to 60 percent range, you have some work to do."
---
Customer Experience: Service Calls, Response Time
---
Integrators should also be looking at how well they handle customer service. Among the KPIs to examine are:
Number of customer calls
Response time
Time to resolve the problem
Service call success rate
Service department return visits
System failure rate
System usage analytics (How often are clients using the system in the home?)
Customer satisfaction (Are you surveying clients at the end of every job?)
---
Purchasing: Margin by Vendor, Category
---
It is important to know if you are getting the most from your vendors in terms of support. Some vital metrics to track include:
Purchase volume by vendor (This can help you negotiate better terms.)
Profit margin by vendor (Knowing which brands earn you the most money helps guide vendor selection.)
Product mix and profit margin by category (You should focus sales and marketing on the most profitable product categories when possible.)
---
Secure Your Free Pass to CEDIA EXPO 2019
Register before Sept. 2 to gain free access to the opening keynote, product training & education series as well as the show floor including Innovation Alley and much more. Don't miss your chance. Sign up today.
---
About the Author
---
Jason Knott is Chief Content Officer for Emerald Expositions Connected Brands. Jason has covered low-voltage electronics as an editor since 1990, serving as editor and publisher of Security Sales & Integration. He joined CE Pro in 2000 and serves as Editor-in-Chief of that brand. He served as chairman of the Security Industry Association's Education Committee from 2000-2004 and sat on the board of that association from 1998-2002. He is also a former board member of the Alarm Industry Research and Educational Foundation. He has been a member of the CEDIA Business Working Group since 2010. Jason graduated from the University of Southern California. Have a suggestion or a topic you want to read more about? Email Jason at jason.knott@emeraldexpo.com
Follow Jason on social media:

Jason also participates in these groups:
LinkedIn · Google+