Colorado-based integration company Cinegration designs ultra-intuitive control interfaces, making the homeowner feel at home even when he's away.
Traveling can put a monkey wrench into anyone's schedule. A well-designed and configured control system, however, can help get even the most frequent of travelers easily back on track — or at least well-aware of and in charge of what's happening at home. Remote access to all the things that matter was a key objective for the systems integrators at Cinegration when developing and implementing a well-rounded, easily accessible control and surveillance package for the owner of a new 6,000-square-foot custom home.
As a builder of luxury homes, the owner was no stranger to the benefits of home tech. For his own house, he needed an intuitive control solution that would be just as easy to monitor and manage abroad as it is from the comfort of his couch. Cinegration selected the Control4 platform for the job, tying in a wide assortment of lighting, motorized shading, AV, thermostats, and security devices over a robust and professionally monitored Ubiquiti Wi-Fi network.
This home and its creature comforts may be out of sight while the owner travels, but they are never out of mind. The thoughtfully programmed Control4 software makes sure of that, providing the owner a status report of the integrated subsystems directly from the Control4 app on his smartphone.
---
Equipment List:
Control4 controls, AV distribution
Samsung, Sony displays
Sonance, Episode speakers
Strong, MantelMount mounts
Roku, Sonos AV sources
Moen water detection
DSC security
Nest doorbell
Hunter Douglas shades
Ubiquiti network
---
But the real value of this remotely accessible control system stems from the instant notifications of critical situations like water leaks, trespassers, and other security breaches. Cinegration integrated into the Control4 platform a Flo water shut off sensor and valve from Moen and UniFi surveillance cameras with advanced vehicle detection and facial recognition to trigger the alerts.
The owner can visually inspect the situation, shutting off the water valve and zooming in the cameras for a better look. If the garage door is open for more than 30 minutes while the DSC security system is disarmed or breached, he is also informed.
Smart Lighting Helps Keep Home Looking Lived-In While Away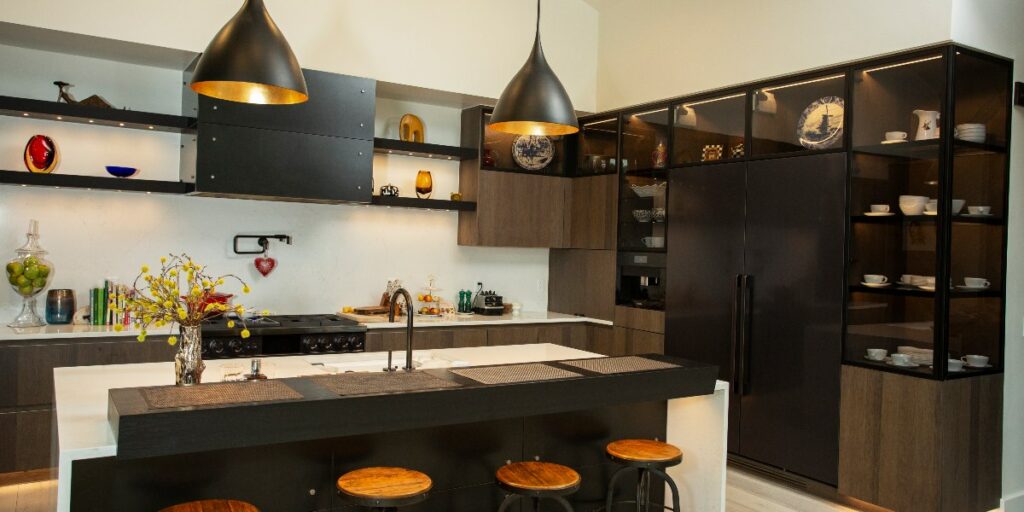 Enhancing the Control4 system's home protection capabilities are the lights. They turn on and off randomly to make the unoccupied home look lived-in. It's a fairly standard automation exercise, but one that Cinegration has simplified by using its own proprietary Modes Agent technology.
There are no worries about the working condition of the other components, either. Should a problem arise with any device on the IP network, Cinegration is on the case in an instant. The in-house technicians can monitor and troubleshoot issues and the surveillance system remotely, ensuring that every connected component is operating optimally. When everything is working as it should, it makes coming home after weeks on the road that much sweeter.
The home — and its Control4 control and management system — stands ready for the owner's arrival, welcoming him to a warm, inviting home environment, complete with a variety of discreet, design-forward speakers and displays that never detract from the magnificent views of the Breckenridge ski slopes.
Samsung displays set the tone. A 75-inch Frame TV looks right at home mounted above the fireplace mantle in the family room, while a Serif TV propped on a simple easel complements the minimalist aesthetic of the master suite. Sonance speakers mounted flush with the ceiling spread audio imperceptibly to these viewing locations and elsewhere in the home, courtesy of a Control4 EA-3 Entertainment Bundle.
Settled at home, the owner is free to continue to use his Control4 app, as well as Control4 remotes and keypads. The transition between control from afar and at home is seamless, thanks to Cinegration's attention to programming detail.
This, combined with a smart, comprehensive approach to home monitoring and protection, make the owner feel completely at ease no matter how long he's away from his home. In fact, the job done by Cinegration ended up winning the company a CE Pro Home of the Year Award for the best Whole House Smart Home Under $150,000!
Click here to see more photos of this award-winning home!