CE Pro Podcast #22: Getting the All-Star Band Back Together, Virtually
The CEDIA Expo Virtual Experience, set for Sept. 15-17, will be capped by a return engagement from the CE Pro All-Star Band comprising talented industry players.
Listen to this podcast using the embedded player below.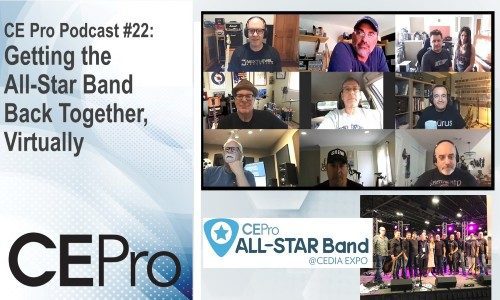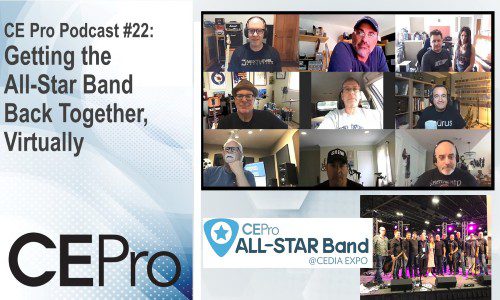 To borrow a famed song title from Thin Lizzy's Phil Lynott, the boys are back in town. Yes, after their triumphant return at last year's CEDIA Expo in Denver, the CE Pro All-Star Band will once again perform during this year's CEDIA Expo Virtual Experience, which takes place Sept. 15-17.
After three jam-packed days of education, exhibitor meetings and other presentations, kick back at the end of day 3 and enjoy a six-song video set from the CE Pro All-Star Band beginning around 5 p.m. on September 17. (Register for the Expo at cediaexpovirtual.com.)
Made up of industry members from the manufacturing, integrator and media communities, the CE Pro All-Star Band welcomes back one of its original members Jeff Gardner, who just retired from his teaching position with CEDIA. Coincidentally, Gardner just completed the build of his Plus One Audio recording studio, which the band put to good use this year.
Gardner will play guitar with the band along with Kevin Kent, Geoff Meads, Vince Luciani, Richard Charschan, and Bob Archer. Handling bass duties will be Mitch Klein and Dave Silkin. Jim Garrett and Tim Bigoness will sit behind the drum kit, while Ethan Kaplan and Jason Barth will play keyboards.
Serving as the band's horn section are Rick Santiago and Bret Jacob. Bigoness and Meads will pull double duty by also providing lead vocals for the group.
All-Stars Bring Pro Work Ethic to Virtual Performance
Unlike past iterations of the CE Pro All-Star Band, the setlist for 2020 stands out for a number of reasons.
Under normal circumstances, the singers would work with the rest of the band to develop a setlist. Once the setlist is settled upon, the next step is for everyone to learn the songs on their own and then gather within a rehearsal studio to work through the songs.
This year, however, due to the impact of the coronavirus, the performances required much more effort.
Because it's a virtual performance, the band recorded separate audio and video tracks, which were mixed and edited, respectively, by Gardner and CE Pro vice president of multimedia Larry Holmes.
Wearing multiple hats, Gardner is serving as a band member, mix engineer and producer, helping each player achieve the best possible performance and sound quality they can respectively deliver.
After Gardner completed his audio production duties, he passed the audio files along to Holmes who synced the audio performances to each song. Holmes also edited the band members' videos together to form each song's virtual performance.
Running Down a Dream Roster
Here's a look at the complete CE Pro All-Star Band for 2020:
Tim Bigoness, D-Tools, (drums, vocals)
Jim Garrett, Harman Luxury Audio (drums)
Kevin Kent, Harman Luxury Audio (guitar)
Mitch Klein, Z-Wave (bass, mandolin)
Dave Silkin, DSG Distributors (bass)
Geoff Meads, Presto AV (acoustic guitar, vocals)
Vince Luciani, SurgeX (guitar)
Bret Jacob, Nortek Security & Control (trumpet)
Rick Santiago, Indy Audio Labs (saxophone)
Jason Barth, Premier Group (keyboards)
Jeff Gardner, Plus One Audio/former CEDIA educator (guitar, audio production)
Richard Charschan, AcousticSmart (guitar)
Ethan Kaplan, Leon Speakers (keyboard)
Bob Archer, CE Pro (guitar)
The band's 2020 performance includes six songs from artists that include Tom Petty, Aerosmith, Darius Rucker and Chris Stapleton … so stay tuned!
For more on the CEDIA Expo Virtual Experience, check out the last two CE Pro Podcasts featuring a handful of instructors previewing education, and how to navigate the Expo platform with associate show director Ashley Sprengnether.