If you attended CEDIA Expo 2022 last fall, chances are 99.99% you heard the word "design" used in booth after booth. Whether it's product aesthetics, the ability to conceal home technology, lighting fixtures to add function and flair, or promoting healthier smart living (along with much more), the influence of design and the prospects of fostering interior design relationships echoed throughout the Kay Bailey Hutchison Convention Center during the Dallas event.
That's a good thing. Manufacturers in the channel are trying to help get integrators into projects earlier, and connecting dealers with designers is one way to do so. Once designers understand how integrators can assist by creating proposals that utilize invisible speakers or color-changing lighting or TV mounts that fold up into the ceiling (to name a few) they may be the ones bringing potential jobs to their trusted technology partners.
The Smart Home and Home Design Go Hand-in-Hand
Last year at CEDIA Expo, designers were welcomed to the revitalized in-person tradeshow. CEDIA hosted the return of Design + Connection tours that brought interior designers around several booths including including Crestron, Google, Harman Luxury Audio, HTSN Nationwide/Azione Unlimited, Lutron, Origin Acoustics, Samsung, Sony and AiSPiRE/WAC.
I visited several of those booths and many more whose exhibitors told varying ways interior design has influenced their product development and engineering, whether it was new products, revisions or new category entries. I found design impacting products ranging from LED lights, motorized shades, loudspeakers, displays, and even security and automation devices.
Take smart home manufacturer Crestron, for example, with its new LED lighting fixtures or Origin Acoustics working with Bang & Olufsen on a reimagined soundbar that fits in with the Danish company's renowned design heritage.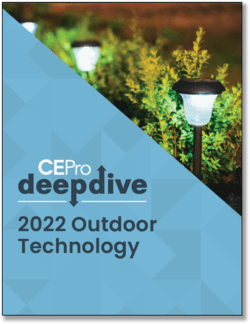 The 2023 CE Pro Outdoor Technology Deep Dive reveals unique set of impediments, including explaining pricing and interacting with outdoor-centric trades.
Get your copy now to take a "deep dive" into the trends and challenges of outdoor technology.
Download the report now!
In addition to Bang & Olufsen, Leon Speakers as usual showcased its custom soundbars plus its latest artist edition Ente SoundTiles and was celebrating a quarter-century in the industry. In fact, for its 25th anniversary the company featured its original Horizon custom-width soundbar, which will be available in a limited-edition finish.
Sonance/James Loudspeaker do invisible, custom and low-profile well with their design mantra and one example is the Small Aperture series, in which the small speaker grille hides a much-larger footprint chassis installed within the stud bay to help deliver higher performance despite the ultra-low profile. "Small aperture has kind of been the hero product for James for a long time," Sonance director of marketing Mike Cleary says. Invisible speaker specialist Stealth Acoustics noted at the Expo that the company is ramping up its facilities for its impending eighth-generation release of the technology in the coming years.
Interior Design Mainstays Grow More Advanced
The display manufacturers have been catering to the home design crowd for years now, as the likes of Sony, Samsung and LG have continued to slim down, embiggen and help their products double as wall art, now able to fill entire walls with the rise of microLEDs.
Stylish keypads from Basalte and the capability from Wall-Smart to flush-mount keypads (and touchpanels, Josh.ai devices, Sonos soundbar concealment and more) into various construction materials offer unique aesthetic perspectives for integrators and their clients.
The LED lighting fixture category has opened up all sorts of avenues for integrators to wow interior designers and clients with stunning solutions addressing many areas and applications. Personally, my favorite eye-catching design enhancement at the Expo was countertop backlighting, shown by some of the fixture providers such as Proluxe by American Lighting and Environmental Lights. Something that caught my eye, beyond the usual lighting fixture types, are 2×1 canvas sheets with individual LED diodes that can be used for backlighting applications — most notably for beautifying places such as kitchen backsplashes and onyx countertops and islands.
"You can take the sheets and cut them down to size, there's multiple places you can cut," says Proluxe national sales manager Jennifer Kirkpatrick. "Accent walls are becoming more popular. I have a dealer that has a customer who's putting up a Himalayan sea salt stone wall, it's over 60 feet long and they're backlighting it with this canvas. It's a $90,000 job — but the main place they're using it is to underlight countertops."
Throw in some invisible loudspeakers, voice control, motorized shades and lighting control and it doesn't take much these days to pull together a compelling technology package that can fulfill homeowner and interior designer needs especially in frequented secondary spaces such as kitchens and bathrooms.
This is Only the Beginning for Integrators
There's much work to be done connecting integrators and designers, as I observed while attending my first KBIS show last year, and moderating a session with integrator and Home Technology Association panelists in front of an audience of curious designers (HTA's Josh Christian provides myriad resources for designers to learn technology basics, budgeting and more). And if CEDIA Expo 2022 is any indication, the technology makers are leading the bandwagon to bring the trades together — there are head-turning products across all categories of the custom industry waiting to be installed, so it's time to get the word out.
This is part of CE Pro's 'Technologies to Watch' series. To read more about the technologies experts expect will shape the custom integration industry, click here.