The HDBaseT Alliance booth at CEDIA Expo Virtual is a hot spot for integrator attendees seeking more information about the recently released HDBaseT Spec 3.0 for their myriad system design needs.
Malcolm Edwards, GM of the Americas for HDBaseT inventor Valens Semiconductor, covered a range of details regarding HDBaseT3 (look for the logo with the superscript 3) during a press event at CEDIA Expo Virtual.
Now on its third-generation products, integrators can upgrade residential installations with more robust audio, higher-quality USB 2.0 connection, fully uncompressed HDMI 2.0, HDCP 2.3, 1Gb Ethernet, power and controls, Edwards explains.
"All with virtually zero latency, which is of course great for gamers," Edwards notes of a big potential customer segment.
Uncompressed Video, Enhanced Audio & Port Duality Flexibility
Edwards explains that HDBaseT 3.0 works as an integrator's go-to solution for HDMI thanks to the HDBaseT link bandwidth support for uncompressed HDMI 2.0 4K/60/4:4:4/8-bit and full 18Gbps support as well as Dolby Vision and HDR10 high dynamic range formats.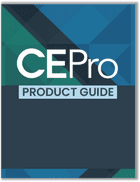 CE Pro's 2022 Product Guide showcases some of the latest and innovative solutions from manufacturers serving the custom electronics industry in a cross-section of categories.
Download the guide now!
He adds that employing HDBaseT Spec 3.0 devices that integrate Valens' VS3000 Stello chipset will be backwards-compatible with previous-generation HDBaseT products to help deliver greater overall interoperability on a project.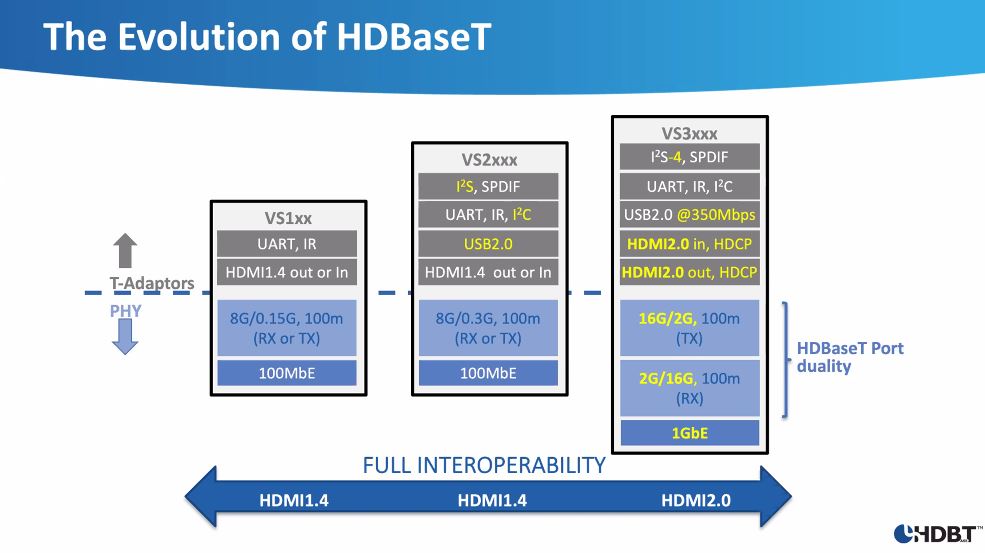 Plus, HDBaseT's "port duality" means the same chip is configurable as a transmitter (Tx) or receiver (Tx), so for integrators that translates to "lower costs and a lower number of SKUs" to deal with when ordering for a job.
"The Tx or Rx port can be configured on the fly, which allows for increased flexibility," Edwards says.
On the audio front, the enhanced audio features enable audio insert, extraction and duplication that includes S/PDIF and I2S-4, to give integrators full 7.1-channel surround sound and eARC capabilities, he says.
When using an HDBaseT 2.0 and 3.0 mix, note that "they will negotiate at lowest common denominator of features," Edwards says.
Choosing HDBaseT Devices Bolstered by More Robust Online Certified Product List
"We are now delivering chips to manufacturers and design guidelines," he notes. "I would expect we'd see 3.0 devices in production before the end of the year."
Meanwhile, to help integrators search for the appropriate devices available to them for an interoperable HDBaseT setup, the Alliance has also enhanced its online Certified Product list, Edwards notes.
In collaboration with database provider AV-iQ, HDBaseT's enhanced web portal gives integrators the ability to do advanced searches and filtering for products, product categories, certain vendors, and certain features for installation, Edwards says.
"There's full product descriptions certified by manufacturer, they can compare various receivers and transmitters; compare a Tx box to a projector, example, to make sure you've got best picture and best interoperability between devices," he explains.
The HDBaseT Alliance Certification Program ensures Alliance members' products are compliant with the HDBaseT standard, guaranteeing interoperability for a true plug-and-play solution.
Also at the CEDIA Expo Virtual booth, installers can find a number of case studies that illustrate home integration possibilities that include AV entertainment, system expansion to outdoors, work from home, gaming and golf simulation and more.