The post-CES 2019 dust is starting to settle, and with it comes a whole host of "Best of CES 2019" lists from industry staples like CNET, Ars Technica, and Engadget. While all of those lists make for an engaging read, we were curious to find the common threads woven between them.
As it turns out many of those publications shared our interest in the announcements from LG, Samsung, and Apple (despite not having a physical presence at the show). Take a look at our roundup of the roundups and let us know what you thought was the coolest announcement of CES 2019 in the comments below (or on Twitter @ce_pro).
---
LG Rollable Dominates 'Best of' Lists
Present on every major list, the new 65-inch LG OLED TV R (the R standing for "rollable') impressed crowds and tech writers alike with its ability to shrink down into an aluminum base (which also houses a 100-watt soundbar) when not in use. This type of thing has been teased before by LG and others in the past, but it gets real (and real expensive, we assume) in 2019.
The bendy TV was first teased at CES 2018, but this year you can actually buy it. With gorgeous color and deep blacks, a display that's just 3mm thick, and of course the rollable design, LG's TV is easily one of the coolest things at CES. – Mashable
---
Vive Pro Eye Improves VR
Virtual Reality continues to become less virtual and more real, with new products shipping, and real live buying customers. CES reviewers seemed to gravitate toward the HTC Vive Pro Eye. The headset adds eye-tracking capabilities to the Vive Pro, allowing users to simply look at menu options instead of having to use the accompanying wand controllers.
Eye-tracking enables an even more sophisticated technique than that called "foveated rendering," which reduces image rendering quality in your peripheral vision. […] By employing this technique, game and VR experience developers can further improve the rendering of what's right in front of you without much downside. – Ars Technica.
---
AirPlay Opens Up to Smart TVs
CES 2019 was flush with new products boasting Apple AirPlay support. This is thanks to Apple finally loosening its grip on the technology, giving manufacturers the ability to incorporate the software into more smart TVs.
More background can be found on the Apple website.
For the first time ever the iPhone company opened up its ecosystem to work with TV makers. Samsung, Sony, LG and Vizio can work with the AirPlay 2 system, which uses iPhones, iPads or Mac computers to control video, music and photo playback on the TV from numerous apps. – CNET
---
Lenovo Smart Clock – A Better Google Assistant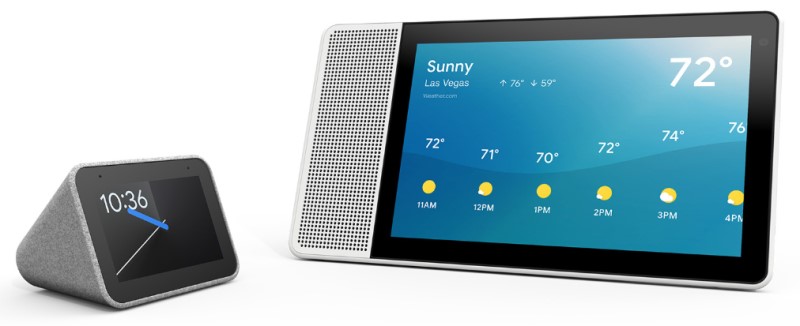 Alarm clocks might seem passe these days, but Lenovo built a better and smarter one for CES 2019. The aptly named Lenovo Smart Clock with built-in Google Assistant features Google's "gentle wake up" alarm function, a calendar, a speaker (think Google Home Mini), and the ability to control other smart devices via its 4-inch touchscreen display.
Really cheap
CES was filled with a seemingly infinite number of Google Assistant-enabled smart devices, but there was one that stood out: Lenovo's Smart Alarm Clock. At $80, the little guy and its 4-inch touchscreen display is cheap — like really cheap. The built-in speaker's not gonna compare to a Google Home or any beefier smart speaker, but it'll do the trick like a Home Mini. The ambient light sensor that dims the display is also pretty neat. Lenovo's known for its computers, but Smart Alarm Clock is its Trojan horse into the bedroom. – Mashable
Sunrise simulator
The Lenovo Smart Clock has all the features we want in a high-end alarm clock. It comes with several customizable clock faces of course, but it also has an ambient light sensor that will dim the light when it's time for bed. When it's time to get up, the display will actually simulate sunrise to ease you from your slumber. Plus, it has all of the usual functions of Google Assistant, like smart home controls and showing your daily calendar. – Engadget
---
Samsung Space Monitor
Beyond the big 4K HDR computer monitors demonstrated this year, Samsung impressed numerous "judges" at CES with a stupid-simple Space Monitor, which mounts to the back of a desk, out of the way when not in use, and easily positioned forward when work calls.

Thoughtful design
There's nothing flashy about Samsung's Space monitor. However, as anyone who works with a small working space knows, a monitor can hog up quite a bit of desk surface area. That's why Samsung's Space monitor is so genius. It's designed for small work spaces and props up elegantly against a wall and extends downwards on your desk. The Space monitor's thoughtful in a way every computer monitor isn't. – Mashable
Space saver
"The chief benefit is that it can be pushed back completely flat against the wall without a wall mount (provided your desk is also up against the wall), saving critical space in small workspaces or apartments. It's the sort of thing that instantly attracts the attention of creative designer types. – Ars technica
---
Sexy Computer Monitors – OLED and Big Format Gaming Display
The gaming space has been dominated by 4K for a while now, with major video game companies like Microsoft and Sony releasing 4K-enabled versions of the Xbox One and PS4. PC gamers have been a little less enthused by the tech since it requires much beefier hardware (often meaning upgrades to expensive system parts), so it's nice to see Alienware embracing both 4K and OLED technologies for gamers.
Related: Microsoft Xbox One X Becomes First Device to Support New HDMI 2.1 Features
The Alienware OLED is the company's first OLED monitor. Its 55-inch 4K display can run up to 120Hz, mirroring the abilities of LG's recently-announced 2019 OLEDs and providing a much more fluid experience than the standard 60Hz you'd expect from most displays of this resolution. Of course, actually driving such a monitor to its full potential will require at least one of the best graphics cards in the world, and maybe two! The Alienware OLED will unsurprisingly support HDR, although we're not sure which flavour just yet, as well as variable refresh rates (presumably via Adaptive Sync or FreeSync). – Eurogamer
Best of CES 2019 | Sources
If you enjoyed this article and want to receive more valuable industry content like this, click here to sign up for our digital newsletters!